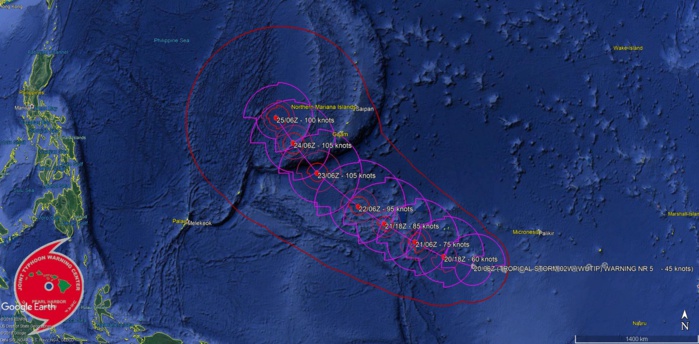 2019 FEB 20 0830UTC WESTERN NORTH PACIFIC
TS
#
WUTIP
#
02W
This system is currently analysed as a 45knots TS.
WARNING 5/JTWC
Click on the TC graphic to read the Remarks for Warning 5 .
Satellite bulletins are to be found in the comments of this post on JTWC BIS.
As of 06:00 UTC Feb 20, 2019:
Location: 4.8°N 153.6°E
Maximum Winds: 45 kt (85km/h)
Gusts: 55 kt (100km/h)
Minimum Central Pressure: 996 mb
https://www.facebook.com/groups/1817419381676514/
Cheers,
Patrick Hoareau
WDPN31 PGTW 200900
MSGID/GENADMIN/JOINT TYPHOON WRNCEN PEARL HARBOR HI//
SUBJ/PROGNOSTIC REASONING FOR TROPICAL STORM 02W (WUTIP)
WARNING NR 05//
RMKS//
1. FOR METEOROLOGISTS.
2. 6 HOUR SUMMARY AND ANALYSIS.
TROPICAL STORM (TS) 02W (WUTIP), LOCATED APPROXIMATELY 742 NM
SOUTHEAST OF ANDERSEN AFB, GUAM, HAS TRACKED WESTWARD AT 10 KNOTS
OVER THE PAST SIX HOURS. ANIMATED MULTISPECTRAL SATELLITE IMAGERY
DEPICTS A PARTIALLY-EXPOSED LOW-LEVEL CIRCULATION CENTER (LLCC)
POSITIONED OVER THE EASTERN EDGE OF AN AREA OF PERSISTENT CORE
CONVECTION WITH FRAGMENTED DEEP CONVECTIVE BANDING OVER THE NORTHERN
AND WESTERN PERIPHERIES. A 200545Z SSMIS 91GHZ COLOR COMPOSITE
MICROWAVE IMAGE INDICATES SHALLOW BANDING WRAPPING INTO A DEFINED
LLCC WITH A DEEP CONVECTIVE BAND OVER THE WESTERN SEMICIRCLE.
OVERALL, THERE IS FAIR CONFIDENCE IN THE INITIAL POSITION BASED ON
THE FORMATIVE STRUCTURE OF THE LLCC EVIDENT IN SATELLITE IMAGERY.
THE INITIAL INTENSITY REMAINS ASSESSED AT 45 KNOTS BASED ON DVORAK
INTENSITY ESTIMATES OF T3.0 (45 KNOTS) FROM ALL AGENCIES. UPPER-
LEVEL CONDITIONS REMAIN FAVORABLE WITH STRONG DIFFLUENCE ALOFT,
PARTICULARLY POLEWARD OUTFLOW, AND LOW TO MODERATE VERTICAL WIND
SHEAR. ADDITIONALLY, SST VALUES (29C) AND HIGH OCEAN HEAT CONTENT
VALUES REMAIN CONDUCIVE FOR FURTHER DEVELOPMENT. TS 02W IS TRACKING
WESTWARD UNDER THE STEERING INFLUENCE OF THE LOW- TO MID-LEVEL
SUBTROPICAL RIDGE POSITIONED TO THE NORTH.
3. FORECAST REASONING.
A. THERE IS NO CHANGE TO THE FORECAST PHILOSOPHY SINCE THE
PREVIOUS PROGNOSTIC REASONING MESSAGE. THIS FORECAST REMAINS HIGHLY
CONSISTENT WITH THE PREVIOUS JTWC WARNING.
B. THROUGH TAU 72, TS 02W IS EXPECTED TO TRACK WESTWARD TO WEST-
NORTHWESTWARD ALONG THE SOUTHERN PERIPHERY OF A DEEP-LAYERED STR
ENTRENCHED TO THE NORTH. DUE TO THE VERY FAVORABLE ENVIRONMENTAL
CONDITIONS, THE SYSTEM IS FORECAST TO INTENSIFY RAPIDLY TO 105 KNOTS
BY TAU 72. NUMERICAL MODEL GUIDANCE IS IN GOOD AGREEMENT WITH A
SPREAD OF 125NM AT TAU 72.
C. IN THE EXTENDED PERIOD, UNCERTAINTY INCREASES SIGNIFICANTLY
WITH A BIFURCATION IN THE MODEL GUIDANCE. IN GENERAL, THE SPREAD HAS
DECREASED OVER THE PAST DAY BUT REMAINS LARGE AT TAU 120 (340NM).
GFS, GFS ENSEMBLE, AFUM, EGRR, JGSM AND NAVGEM INDICATE A RECURVE
SCENARIO WEST OF GUAM, WHICH APPEARS UNLIKELY DUE TO THE LACK OF A
DEEP SHORTWAVE TROUGH (ALTHOUGH THERE IS A WEAK MIDLATITUDE
SHORTWAVE TROUGH PRESENT WELL TO THE NORTH, OVER AND EAST OF
MAINLAND JAPAN). GFS AND NAVGEM CONTINUE TO ERRONEOUSLY DRIVE THE
SYSTEM DIRECTLY INTO AND THROUGH A STRONG STR POSITIONED OVER GUAM.
ECMWF REMAINS THE SOLE OUTLIER BUT PRESENTS A MORE REALISTIC,
CONSISTENT SOLUTION WITH A STAIR-STEP PATTERN AFTER TAU 120 AND
EVENTUAL TRACK TOWARD THE WEST. THE JTWC OFFICIAL FORECAST FAVORS A
NON-RECURVE SCENARIO CLOSER TO THE ECMWF SOLUTION DUE TO THE LACK OF
A MIDLATITUDE RECURVE MECHANISM (DEEP SHORTWAVE TROUGH AND
ASSOCIATED FRONTAL SYSTEM), AND PRESENCE OF A STRONG STR. TS 02W IS
FORECAST TO MAINTAIN INTENSITY AT 100 TO 105 KNOTS AS IT SKIRTS
SOUTHWEST OF GUAM, AND MAY STILL PRODUCE GALE-FORCE SUSTAINED WINDS
AND ISOLATED GUSTS NEAR 50 KNOTS OVER GUAM. OVERALL, CONFIDENCE
REMAINS LOW DUE TO THE BIFURCATION IN THE NUMERICAL GUIDANCE.//
NNNN