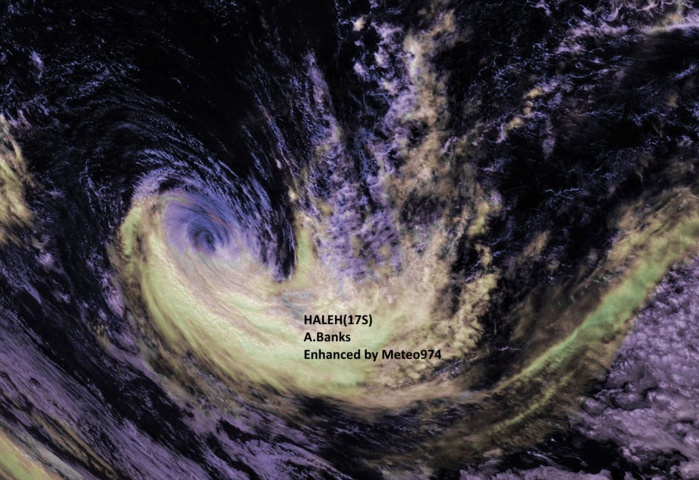 06UTC
TC HALEH 17S
https://www.facebook.com/groups/1817419381676514/
As of 06:00 UTC Mar 08, 2019:
Location: 31.0°S 66.0°E
Maximum Winds: 45 kt (85km/h)
Gusts: 55 kt (100km/h)
Minimum Central Pressure: 986 mb
REMARKS:
080900Z POSITION NEAR 31.6S 65.8E.
TROPICAL CYCLONE (TC) 17S (HALEH), LOCATED APPROXIMATELY 805 NM
SOUTHEAST OF PORT LOUIS, MAURITIUS, HAS TRACKED SOUTHWARD AT 14
KNOTS (KTS) OVER THE PAST SIX HOURS. THE INITIAL POSITION IS PLACED
WITH HIGH CONFIDENCE BASED ON A FULLY EXPOSED LOW LEVEL CIRCULATION
CENTER IN ANIMATED MULTISPECTRAL SATELLITE IMAGERY WHICH ALSO SHOWS
ISOLATED DEEP CONVECTION DISPLACED OVER 70 NM TO THE SOUTH OF THE
LLCC. THE INITIAL INTENSITY OF 45 KTS IS ABOVE THE PGTW AND KNES
DVORAK ESTIMATES OF T2.5 (35 KTS) BASED ON A PARTIAL 080501Z METOP-B
ASCAT PASS WHICH SHOWS A LARGE REGION OF 45 KT WINDS TO THE EAST AND
SOUTH OF THE LLCC. SEA SURFACE TEMPERATURES BELOW 26 CELSIUS AND
VERTICAL WIND SHEAR VALUES OF 30-35 KTS ARE UNFAVORABLE AND WILL
CAUSE TC 17S TO STEADILY WEAKEN, DESPITE GOOD POLEWARD OUTFLOW, AND
DISSIPATE BELOW WARNING THRESHOLD BY TAU 36. CONCURRENTLY, TC 17S IS
UNDERGOING EXTRATROPICAL TRANSITION (ETT) AND THERE IS A POSSIBILITY
THE WINDS WILL REMAIN ABOVE WARNING THRESHOLD UNTIL THE CYCLONE
COMPLETES ETT PRIOR TO TAU 72. THROUGH TAU 24, TC 17S WILL FOLLOW
THE PERIPHERY OF A NORTH-SOUTH ORIENTED SUBTROPICAL RIDGE (STR) TO
THE EAST. BY TAU 36, THE TRACK WILL TURN SOUTHEASTWARD AS THE
CYCLONE ROUNDS THE STR AXIS. NUMERICAL MODEL GUIDANCE IS IN
EXCELLENT AGREEMENT, LENDING TO HIGH CONFIDENCE IN THE JTWC TRACK
FORECAST. MAXIMUM SIGNIFICANT WAVE HEIGHT AT 080600Z IS 35 FEET.
NEXT WARNINGS AT 081500Z, 082100Z, 090300Z AND 090900Z.//
NNNN