CLICK TO ANIMATE.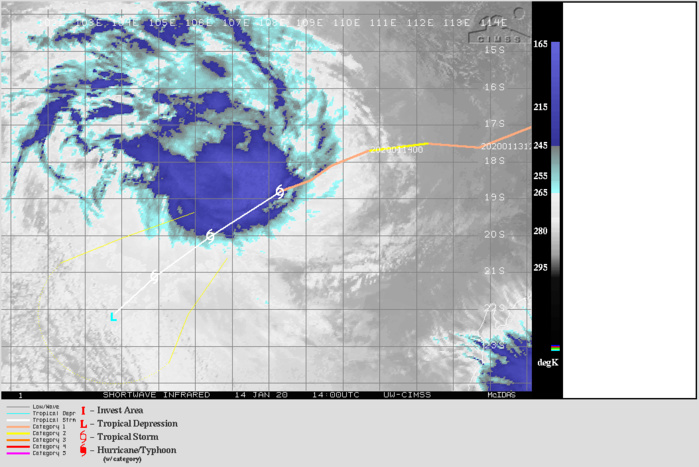 TC 07S (CLAUDIA) SOUTH INDIAN/WESTERN AUSTRALIA
As of 18:00 UTC Jan 14, 2020:
Location: 18.8°S 108.3°E
Maximum Winds: 45 kt ( 85km/h)
Gusts: 55 kt ( 100km/h)
Minimum Central Pressure: 995 mb
WEAKENING
REMARKS:
142100Z POSITION NEAR 19.1S 107.8E.
14JAN20. TROPICAL CYCLONE (TC) 07S (CLAUDIA), LOCATED APPROXIMATELY
388 NM WEST-NORTHWEST OF LEARMONTH, AUSTRALIA, HAS TRACKED WEST-
SOUTHWESTWARD AT 10 KNOTS (KTS) OVER THE PAST SIX HOURS. THERE IS FAIR
CONFIDENCE IN THE INITIAL POSITION BASED ON LOW LEVEL TURNING TO THE
SOUTHEAST OF ISOLATED CONVECTION IN ANIMATED ENHANCED INFRARED
SATELLITE IMAGERY. THE INITIAL INTENSITY FALLS BELOW PGTW/KNES DVORAK
FIX INTENSITIES OF T3.5-4.0 (55-65 KTS) DUE TO A 141450Z METOP-B ASCAT
PASS SHOWING A MAX OF 35-40 KT WINDS AND A 141040Z SMAP FIX OF 46 KTS.
WITH FAIR NORTHWESTWARD OUTFLOW, STRONG (25-30 KT) VERTICAL WIND
SHEAR, AND MARGINAL (26-27 CELSIUS) SEA SURFACE TEMPERATURE, THE
ENVIRONMENT IS HOSTILE OVERALL. THE HOSTILE ENVIRONMENTAL CONDITIONS
WILL LEAD TO DISSIPATION BY TAU 36 AS TC 07S TRACKS ALONG THE
NORTHWEST PERIPHERY OF A SUBTROPICAL RIDGE. WITH THE EXCEPTION OF
NAVGEM, WHICH IS A SLIGHT NORTHERN OUTLIER, NUMERICAL MODEL GUIDANCE
IS IN GOOD AGREEMENT. DESPITE GOOD AGREEMENT AMONG THE MODELS, THERE
IS FAIR CONFIDENCE IN THE JTWC TRACK FORECAST DUE TO FAIR CONFIDENCE
IN THE INITIAL POSITION. MAXIMUM SIGNIFICANT WAVE HEIGHT AT 141800Z IS
20 FEET. NEXT WARNINGS AT 150300Z, 150900Z, 151500Z AND 152100Z.//
NNNN

01/14 1451UTC ASCAT
TRACK AND INTENSITY GUIDANCE.