CLICK TO ANIMATE.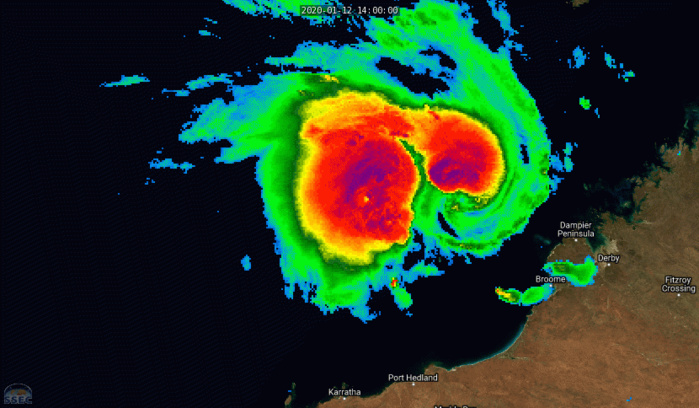 TC 07S (CLAUDIA) SOUTH INDIAN/WESTERN AUSTRALIA
As of 18:00 UTC Jan 12, 2020:
Location: 15.7°S 118.7°E
Maximum Winds: 70 kt ( 130km/h)
Gusts: 85 kt ( 160km/h)
Minimum Central Pressure: 978 mb
CATEGORY US: 1
REMARKS:
122100Z POSITION NEAR 16.0S 117.9E.
12JAN20. TROPICAL CYCLONE (TC) 07S (CLAUDIA), LOCATED APPROXIMATELY
240 NM WEST-NORTHWEST OF BROOME, AUSTRALIA, HAS TRACKED WEST-
SOUTHWESTWARD AT 21 KNOTS OVER THE PAST SIX HOURS. ANIMATED ENHANCED
INFRARED SATELLITE IMAGERY SHOWS PERSISTENT BUT ASYMMETRIC DEEP
CONVECTION LOCATED AROUND THE LOW LEVEL CIRCULATION CENTER (LLCC)
WITH A LARGE AREA OF DEEP CONVECTION TO THE WEST OF THE LLCC.
HOWEVER, MICROWAVE IMAGERY SHOWS A WELL DEFINED MICROWAVE EYE IN
BOTH THE UPPER AND LOWER LEVELS. THE INITIAL POSITION IS PLACED WITH
HIGH CONFIDENCE AND IS BASED ON A 121831Z GMI 37GHZ IMAGE, WHICH
SHOWS A DEFINED MICROWAVE EYE. THE INITIAL INTENSITY OF 70 KNOTS IS
HEDGED ABOVE DVORAK CURRENT INTENSITY (CI) ESTIMATES OF T4.0 (65
KNOTS) FROM KNES AND PGTW BASED ON THE IMPRESSIVE STRUCTURE SEEN IN
THE MICROWAVE IMAGERY. TC 07S IS EXPERIENCING UNFAVORABLE VERTICAL
WIND SHEAR, 25 TO 30 KNOTS. HOWEVER, THIS IS OFFSET BY THE FACT THAT
THE SHEAR AND STORM MOTION ARE IN-PHASE. TC 07S CONTINUES TO HAVE
STRONG EQUATORWARD OUTFLOW AND AN IMPROVING POLEWARD OUTFLOW
CHANNEL. SEA SURFACE TEMPERATURES REMAIN FAVORABLE FOR DEVELOPMENT,
BETWEEN 29 AND 31 DEGREES CELSIUS. TC 07S IS TRACKING WEST-
SOUTHWESTWARD WHILE UNDER THE INFLUENCE OF A SUBTROPICAL RIDGE (STR)
WHICH IS LOCATED TO THE SOUTHEAST. THE STR WILL BE THE PRIMARY
STEERING FEATURE TROUGH TAU 96. FAVORABLE OUTFLOW AND SEA SURFACE
TEMPERATURES WILL ALLOW FOR STEADY, TO NEAR RAPID, INTENSIFICATION
IN THE SHORT TERM. BEYOND TAU 24, TC 07S WILL BEGIN TO WEAKEN AS IT
TRACKS OVER COOLER SEA SURFACE TEMPERATURES AND EXPERIENCES
INCREASING VERTICAL WIND SHEAR. DYNAMIC MODEL GUIDANCE IS IN GOOD
AGREEMENT THROUGH TAU 48 WITH A SPREAD OF 116 NM. BY TAU 120, THE
SPREAD INCREASES TO 250 NM WITH THE GFS ENSEMBLE THE OUTLIER TO THE
SOUTHEAST. OVERALL, THERE IS HIGH CONFIDENCE IN THE JTWC FORECAST
TRACK WHICH IS PLACED NEAR THE MULTI-MODEL CONSENSUS. MAXIMUM
SIGNIFICANT WAVE HEIGHT AT 121800Z IS 26 FEET. NEXT WARNINGS AT
130300Z, 130900Z, 131500Z AND 132100Z.//
NNNN
WARNING 6. TRACKING APPRX 200KM NORTH OF THE ROWLEY SHOALS. FORECAST TO REACH CAT 2 US WITHIN 6/12H.
01/12 1831UTC. CLEAR-CUT MICROWAVE EYE BOTH IN THE LOWER AND HIGHER LEVELS
TRACK AND INTENSITY GUIDANCE. HWRF DEPICTS POSSIBLE RAPID INTENSIFICATION NEXT 18H.