CLICK TO ANIMATE.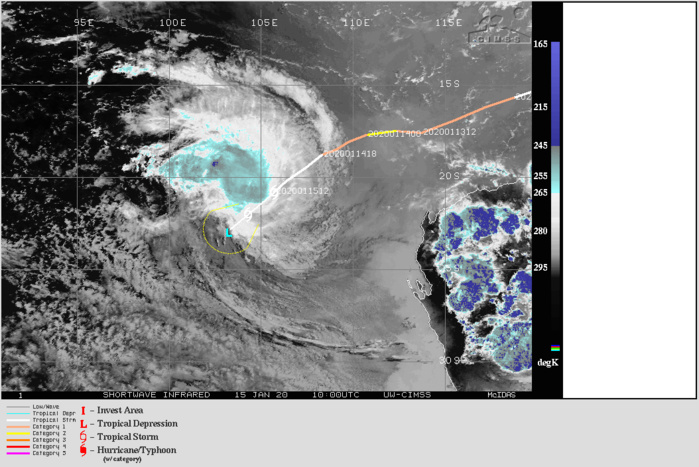 TC 07S (CLAUDIA) SOUTH INDIAN/WESTERN AUSTRALIA
As of 12:00 UTC Jan 15, 2020:
Location: 20.8°S 105.7°E
Maximum Winds: 40 kt ( 75km/h)
Gusts: 50 kt ( 95km/h)
Minimum Central Pressure: 999 mb
WEAKENING
REMARKS:
151500Z POSITION NEAR 21.1S 105.4E.
15JAN20. TROPICAL CYCLONE 07S (CLAUDIA), LOCATED APPROXIMATELY 477
NM WEST OF LEARMONTH, AUSTRALIA, HAS TRACKED SOUTHWESTWARD AT 09
KNOTS OVER THE PAST SIX HOURS. ANIMATED ENHANCED INFRARED SATELLITE
IMAGERY SHOWS THE SYSTEM HAS RESUMED ITS WEAKENING PHASE AFTER BEING
IN EQUILIBRIUM FOR APPROXIMATELY 18HRS. THE CENTRAL CONVECTION HAS
BEGUN TO UNRAVEL AND ELONGATE AS CONVECTIVE TOPS WARMED. THE INITIAL
POSITION IS PLACED WITH HIGH CONFIDENCE BASED ON RAGGED BUT DEFINED
LOW LEVEL CIRCULATION FEATURES IN THE 151032Z AMSU AND 150939Z SSMIS
MICROWAVE IMAGES. THE INITIAL INTENSITY IS BASED ON OBJECTIVE AND
AGENCY OBJECTIVE DVORAK ESTIMATES RANGING FROM T2.0/30KTS TO
T3.0/45KTS AND REFLECTS THE DEGRADATION. ANALYSES INDICATE RELATIVE
VERTICAL WIND SHEAR AT 10-15KTS WITH A SUSTAINED NORTHWESTWARD
OUTFLOW. HOWEVER, ALONG-TRACK SSTS ARE DOWN TO 25C AND DROPPING. THE
CYCLONE WILL CONTINUE TO TRACK ALONG THE NORTHWEST PERIPHERY OF THE
SUBTROPICAL RIDGE ANCHORED OVER WESTERN AUSTRALIA. THE COOLING SSTS
AND DIMINISHING OUTFLOW AS TC CLAUDIA CONTINUES TO TRACK POLEWARD,
WILL GRADUALLY ERODE THE SYSTEM, LEADING TO DISSIPATION BY TAU 24.
THE NUMERICAL MODELS ARE IN TIGHT AGREEMENT, LENDING HIGH CONFIDENCE
TO THE JTWC TRACK FORECAST. MAXIMUM SIGNIFICANT WAVE HEIGHT AT
151200Z IS 16 FEET. NEXT WARNINGS AT 152100Z, 160300Z AND 160900Z.//
NNNN
TC 07S TRACKING OVER COOLER SEA SURFACE TEMPS
TRACK AND INTENSITY GUIDANCE.