CLICK TO ANIMATE. WARNING 7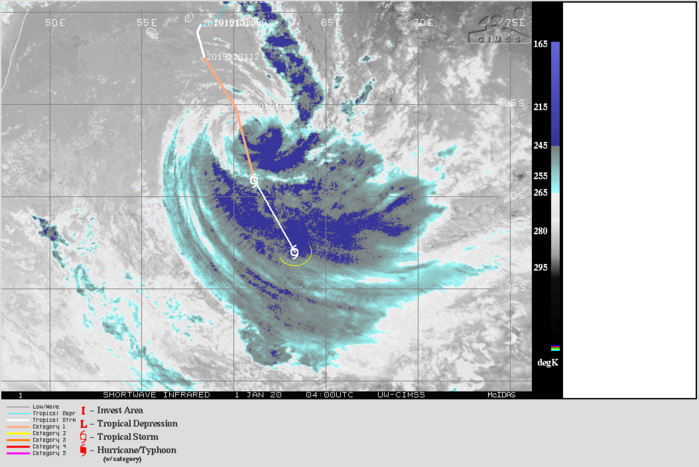 TC 05S(CALVINIA) SOUTH INDIAN
Location: 29.1°S 61.1°E
Maximum Winds: 55 kt ( 100km/h)
REMARKS:
011500Z POSITION NEAR 30.1S 61.7E.
01JAN20. TROPICAL CYCLONE 05S (CALVINIA), LOCATED APPROXIMATELY 578
NM SOUTH-SOUTHEAST OF PORT LOUIS, MAURITIUS, HAS TRACKED SOUTH-
SOUTHEASTWARD AT 23 KNOTS OVER THE PAST SIX HOURS. ANIMATED
MULTISPECTRAL SATELLITE IMAGERY SHOWS THE SYSTEM CONTINUED TO
RAPIDLY DETERIORATE AS THE WEAKENING CENTRAL CONVECTION IS SHEARED
SOUTHEASTWARD, EXPOSING A RAGGED LOW LEVEL CIRCULATION (LLC). THE
INITIAL POSITION IS PLACED WITH HIGH CONFIDENCE BASED ON THE EXPOSED
LLC. THE INITIAL INTENSITY IS BASED ON AN OVERALL ASSESSMENT OF
OBJECTIVE AND AGENCY DVORAK ESTIMATES RANGING FROM 33KTS TO 60KTS
AND REFLECTS THE WEAKENING. ANALYSES INDICATE THE SYSTEM HAS DRIFTED
INTO AN AREA OF HIGH (>30KTS) VERTICAL WIND SHEAR AND COOL (<25C)
SSTS. COOL DRY AIR HAS ALSO BEGUN TO WRAP INTO THE LLC FROM THE
SOUTHWEST. CONCURRENTLY, TC 05S HAS BEGUN EXTRA-TROPICAL TRANSITION
AS IT HAS ENTERED THE BAROCLINIC ZONE. BY TAU 12, IT WILL TRANSFORM
INTO A 50-KT STORM-FORCE COLD CORE LOW WITH AN EXPANDING WIND FIELD.
NUMERICAL MODELS ARE IN TIGHT AGREEMENT, LENDING HIGH CONFIDENCE TO
THE JTWC TRACK FORECAST. THIS IS THE FINAL WARNING ON THIS SYSTEM BY
THE JOINT TYPHOON WRNCEN PEARL HARBOR HI. THE SYSTEM WILL BE CLOSELY
MONITORED FOR SIGNS OF REGENERATION. MAXIMUM SIGNIFICANT WAVE HEIGHT
AT 011200Z IS 22 FEET.//
NNNN
JMV FILE
0519122612 123S 534E 15
0519122618 117S 536E 20
0519122700 113S 543E 20
0519122706 117S 550E 25
0519122712 121S 557E 25
0519122718 125S 562E 25
0519122800 132S 576E 25
0519122806 134S 590E 25
0519122812 145S 604E 25
0519122818 159S 605E 25
0519122900 172S 607E 30
0519122906 181S 602E 35
0519122912 194S 598E 35
0519122918 203S 592E 35
0519123000 206S 588E 40
0519123006 205S 583E 45
0519123012 207S 582E 50
0519123018 209S 582E 55
0519123100 211S 580E 60
0519123106 218S 582E 70
0519123112 226S 587E 70
0519123118 238S 593E 70
0520010100 253S 600E 70
0520010106 269S 605E 60
0520010112 291S 611E 55
NNNN
CLICK TO ANIMATE
TC 05S: TRACK AND INTENSITY GUIDANCE
METEOSAT 1245UTC