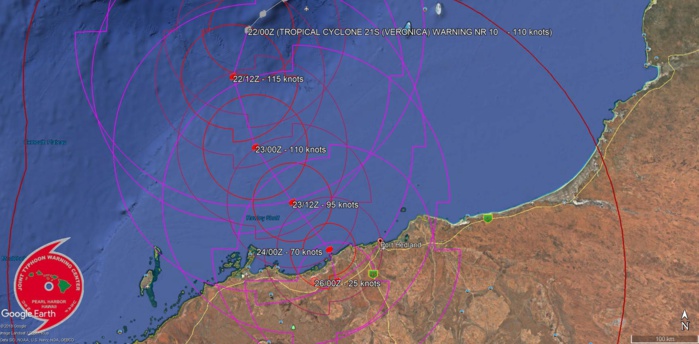 WARNING 10/JTWC
https://www.facebook.com/groups/1817419381676514/
Location: 17.6°S 116.8°E
Maximum Winds: 110 kt ( 205km/h)
Gusts: 125 kt (250km/h)
Minimum Central Pressure: 947 mb
CATEGORY 3 US
REMARKS:
220300Z POSITION NEAR 17.8S 116.7E.
TROPICAL CYCLONE 21S (VERONICA), LOCATED APPROXIMATELY 192 NM
NORTH-NORTHWEST OF PORT HEDLAND, AUSTRALIA, HAS TRACKED SOUTHWESTWARD
AT 03 KNOTS OVER THE PAST SIX HOURS. THE CURRENT POSITION IS BASED ON
A CLEAR EYE EVIDENT IN 212245Z SSMIS MICROWAVE SATELLITE IMAGERY AND
A 220000Z PGTW SATELLITE EYE FIX. THE INTENSITY OF 110 KNOTS IS
CONSISTENT WITH A CONSENSUS OF SUBJECTIVE DVORAK AND AUTOMATED
OBJECTIVE SATELLITE INTENSITY ESTIMATES FROM MULTIPLE REPORTING
AGENCIES. TC 21S HAS MAINTAINED INTENSITY OVER THE PAST SIX HOURS,
AIDED BY FAVORABLE UPPER-LEVEL OUTFLOW, LOW VERTICAL WIND SHEAR AND
PASSAGE OVER WARM WATER. THE SYSTEM IS TURNING POLEWARD ALONG THE
PERIPHERY OF A DEEP-LAYERED STEERING RIDGE SITUATED OVER CENTRAL
AUSTRALIA. TC 21S IS EXPECTED TO CONTINUE ALONG THE RIDGE PERIPHERY
TOWARD A POTENTIAL LANDFALL TO THE WEST OF PORT HEDLAND AROUND TAU
48. FAVORABLE UPPER-LEVEL FLOW AND WARM WATER WILL SUPPORT STORM
INTENSITY, PERHAPS INDUCING SOME INTENSIFICATION IN THE NEAR-TERM.
HOWEVER, BY TAU 48, INCREASING VERTICAL WIND SHEAR AND CONVERGENT
FLOW ALOFT ARE EXPECTED TO DRIVE A RAPID WEAKENING TREND. NUMERICAL
MODEL GUIDANCE IS IN GOOD AGREEMENT THROUGH TAU 48, BUT DIVERGES
THEREAFTER. THE TRACK BEYOND TAU 48 IS DEPENDENT ON THE TIMING AND
LOCATION OF THE ANTICIPATED WEAKENING TREND. THE CURRENT JTWC TRACK
FORECAST ANTICIPATES LANDFALL AND SLOW MOTION WITHIN A COMPETING
STEERING ENVIRONMENT AFTER TAU 48, IN LINE WITH PREVIOUS JTWC
FORECASTS AND THE MAJORITY OF THE MODEL GUIDANCE. GIVEN THE
ANTICIPATED EVOLUTION OF THE STEERING PATTERN AND NOTED MODEL
UNCERTAINTY, CONFIDENCE IN THE JTWC TRACK FORECAST THROUGH TAU 48 IS
HIGH, AND LOW THEREAFTER. MAXIMUM SIGNIFICANT WAVE HEIGHT AT 220000Z
IS 43 FEET. NEXT WARNINGS AT 220900Z, 221500Z, 222100Z AND 230300Z.
REFER TO TROPICAL CYCLONE 22S (TWENTYTWO) WARNINGS (WTXS31 PGTW) FOR
SIX-HOURLY UPDATES.//
NNNN