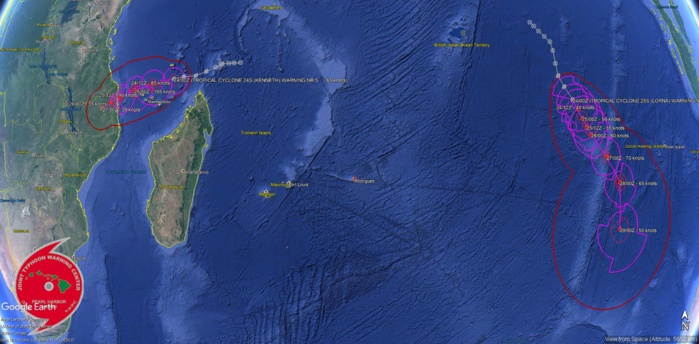 KENNETH(24S) and LORNA(25S)
https://www.meteo974.re/M974World_r7.html
https://www.meteo974.re/
Location: 10.7°S 46.6°E
Maximum Winds: 65 kt ( 120km/h)
Gusts: 80 kt ( 150km/h)
Minimum Central Pressure: mb
REMARKS:
240300Z POSITION NEAR 10.8S 46.1E.
TROPICAL CYCLONE (TC) 24S (KENNETH), LOCATED APPROXIMATELY 197 NM
EAST-NORTHEAST OF COMOROS ISLAND, HAS TRACKED WESTWARD AT 10 KNOTS
OVER THE PAST SIX HOURS. ANIMATED ENHANCED INFRARED SATELLITE IMAGERY
SHOWS THE SYSTEM HAS MOSTLY MAINTAINED OVERALL CONVECTIVE SIGNATURE
WITH A SLIGHTLY DEEPER CENTRAL CONVECTION. THE INITIAL POSITION IS
BASED ON THE MICROWAVE EYE FEATURE IN THE 232158Z ATMS PASS WITH HIGH
CONFIDENCE. THE INITIAL INTENSITY OF 65 KNOTS IS BASED ON THE DVORAK
ESTIMATES OF T4.0/65KTS FROM PGTW AND KNES. UPPER LEVEL ANALYSIS
INDICATES THE CYCLONE IS IN AN AREA OF LIGHT TO MODERATE (10-15 KNOT)
EASTERLY VERTICAL WIND SHEAR (VWS) MITIGATED BY THE STORM MOTION IN
PHASE WITH UPPER LEVEL WIND FLOW AND OFFSET BY EXCELLENT RADIAL
OUTFLOW. ADDITIONALLY, ALONG-TRACK SEA SURFACE TEMPERATURES ARE
CONDUCIVE AT 30C. TC 24S IS TRACKING ALONG THE NORTHERN PERIPHERY OF
A SUBTROPICAL RIDGE TO THE SOUTH AND WILL CONTINUE ON A
WEST-SOUTHWESTWARD TRACK FOR THE DURATION OF THE FORECAST, MAKING
LANDFALL OVER NORTHERN MOZAMBIQUE NEAR TAU 42. THE HIGHLY FAVORABLE
ENVIRONMENT WILL PROMOTE RAPID INTENSIFICATION OVER THE NEXT 24 HOURS
PEAKING AT 105 KNOTS BY TAU 24. AFTERWARD, INCREASING VWS AND LAND
INTERACTION, ESPECIALLY AFTER LANDFALL, WILL CAUSE RAPID WEAKENING
AND EVENTUAL DISSIPATION OVER LAND BY TAU 72. NUMERICAL MODEL
GUIDANCE ARE IN GOOD AGREEMENT WITH MINIMAL SPREADING UP TO 48,
AFTERWARD, MODELS DIVERGE SIGNIFICANTLY AS THEY LOSE THE WEAK VORTEX.
IN VIEW OF THIS, THERE IS HIGH CONFIDENCE IN THE JTWC TRACK FORECAST
UP TO TAU 48 ONLY. MAXIMUM SIGNIFICANT WAVE HEIGHT AT 240000Z IS 17
FEET. NEXT WARNINGS AT 240900Z, 241500Z, 242100Z AND 250300Z. REFER
TO TROPICAL CYCLONE 25S (LORNA) WARNINGS (WTXS32 PGTW) FOR SIX-HOURLY
UPDATES.//
NNNN
-----------------------------------------------------------------------------------------------
Location: 10.5°S 83.7°E
Maximum Winds: 40 kt ( 75km/h)
Gusts: 50 kt ( 95km/h)
Minimum Central Pressure: mb
REMARKS:
240300Z POSITION NEAR 10.7S 83.9E.
TROPICAL CYCLONE (TC) 25S (LORNA), LOCATED APPROXIMATELY 695 NM EAST-
SOUTHEAST OF DIEGO GARCIA, HAS TRACKED SOUTHEASTWARD AT 14 KNOTS OVER
THE PAST SIX HOURS. ANIMATED ENHANCED INFRARED SATELLITE IMAGERY
SHOWS THE SYSTEM HAS MAINTAINED OVERALL CONVECTIVE SIGNATURE WITH
FRAGMENTED, ALBEIT FORMATIVE, BANDS WRAPPED INTO A LOW LEVEL
CIRCULATION (LLC) THAT REMAINS OBSCURED. THE INITIAL POSITION IS
BASED WITH FAIR CONFIDENCE ON A RAGGED LLC IN THE 232154Z SSMIS 37GHZ
COLORIZED IMAGE. UPPER LEVEL ANALYSIS INDICATES THE CYCLONE IS IN AN
AREA OF MODERATE (15-20 KNOT) VERTICAL WIND SHEAR (VWS) OFFSET BY
EXCELLENT POLEWARD OUTFLOW. ADDITIONALLY, ALONG-TRACK SEA SURFACE
TEMPERATURES (SSTS) ARE CONDUCIVE AT 31C. TC 25S WILL CONTINUE
TRACKING ALONG THE SOUTHWESTERN PERIPHERY OF A NEAR EQUATORIAL RIDGE
TO THE NORTHEAST UNTIL AROUND TAU 96. AFTERWARD, A SUBTROPICAL RIDGE
TO THE SOUTHEAST WILL ASSUME STEERING AND DRIVE THE TC SOUTHWARD. THE
FAVORABLE ENVIRONMENT WILL PROMOTE GRADUAL INTENSIFICATION TO A PEAK
OF 70 KNOTS BY TAU 72. AFTERWARD, INCREASING VWS AND COOLING SSTS
WILL TRIGGER A WEAKENING PHASE AND BY TAU 120, TC 25S WILL BE REDUCED
TO 50 KNOTS. NUMERICAL MODELS ARE IN GOOD AGREEMENT UP TO TAU 48
BEFORE SPREADING TO OVER 300NM BY TAU 120, LENDING HIGH CONFIDENCE
IN THE NEAR- TO MID-TERM AND LOW CONFIDENCE IN THE EXTENDED PORTION
OF THE JTWC TRACK FORECAST. MAXIMUM SIGNIFICANT WAVE HEIGHT AT
240000Z IS 14 FEET. NEXT WARNINGS AT 240900Z, 241500Z, 242100Z AND
250300Z. REFER TO TROPICAL CYCLONE 24S (KENNETH) WARNINGS (WTXS31
PGTW) FOR SIX-HOURLY UPDATES.//
NNNN