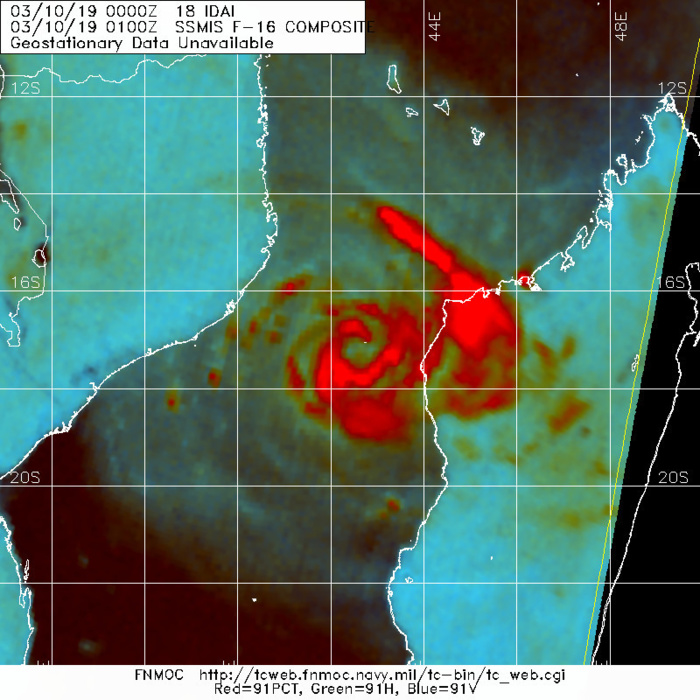 01UTC: the satelllite signature is improving.
https://www.meteo974.re/M974World_r7.html
https://www.facebook.com/groups/1817419381676514/
Location: 17.2°S 42.4°E
Maximum Winds: 40 kt ( 75km/h)
Gusts: 50 kt (95km/h)
Minimum Central Pressure: 993mb
INTENSIFYING.
REMARKS:
100300Z POSITION NEAR 17.2S 42.5E.
TROPICAL CYCLONE 18S (IDAI), LOCATED APPROXIMATELY 325 NM NORTH-
NORTHEAST OF EUROPA ISLAND, HAS TRACKED SOUTHEASTWARD AT 05 KNOTS
OVER THE PAST SIX HOURS. ANIMATED ENHANCED INFRARED (EIR) SATELLITE
IMAGERY DEPICTS A CONSOLIDATING SYSTEM WITH FORMATIVE DEEP
CONVECTIVE BANDING WRAPPING INTO A DEFINED LOW-LEVEL CIRCULATION
CENTER (LLCC). A 092244Z AMSU 183GHZ MICROWAVE IMAGE SHOWS
CONVECTIVE BANDING WRAPPING TIGHTLY INTO A WELL-DEFINED LLCC, WHICH
SUPPORTS THE INITIAL POSITION WITH FAIR CONFIDENCE. THE INITIAL
INTENSITY IS ASSESSED AT 40 KNOTS BASED ON DVORAK CURRENT INTENSITY
ESTIMATES OF T2.5-3.0 (35-45 KNOTS) FROM KNES, PGTW, AND FMEE AS
WELL AS A 100115Z AUTOMATED DVORAK TECHNIQUE ESTIMATE OF 43 KNOTS.
UPPER-LEVEL ANALYSIS INDICATES A FAVORABLE ENVIRONMENT WITH GOOD
EQUATORWARD AND POLEWARD OUTFLOW, ENHANCED BY A JET TO THE SOUTHEAST
OVER SOUTHERN MADAGASCAR, AS WELL AS LOW VERTICAL WIND SHEAR AND
WARM SST (28-30 CELSIUS). TC 18S IS CURRENTLY TRACKING SOUTHEASTWARD
UNDER THE STEERING INFLUENCE OF THE NEAR-EQUATORIAL RIDGE TO THE
NORTH BUT IS BEGINNING ITS RECURVE AND WILL COMPLETE ITS TURN TO
SOUTHWESTWARD BY TAU 24 AS A SUBTROPICAL RIDGE (STR) BUILDS IN FROM
THE SOUTHWEST. AFTER TAU 24, THE STR WILL BECOME THE PRIMARY
STEERING INFLUENCE AND TC 18S WILL ACCELERATE SOUTHWESTWARD TOWARD
MOZAMBIQUE, MAKING LANDFALL AFTER TAU 96. THE JTWC FORECAST TRACK
HAS BEEN ADJUSTED FURTHER SOUTH AFTER TAU 24 AS THE MULTI-MODEL
CONSENSUS CONTINUES TO SHOW A MORE GRADUAL RECURVE BEFORE HEADING
BACK WESTWARD. NUMERICAL MODEL GUIDANCE IS IN FAIR AGREEMENT ABOUT
THE RECURVE, WITH PRIMARILY NORTH-SOUTH SPREAD BEFORE TAU 72. AFTER
TAU 72, SIGNIFICANT DIFFERENCES IN PREDICTED TRACK SPEED ARISE AS TC
18S APPROACHES MOZAMBIQUE AND MAKES LANDFALL. OVERALL, THERE IS LOW
CONFIDENCE (HIGH UNCERTAINTY) IN THE JTWC FORECAST TRACK. TC 18S IS
FORECAST TO INTENSIFY STEADILY DUE TO FAVORABLE CONDITIONS AND WILL
REACH A PEAK INTENSITY OF 110 KNOTS BY TAU 96. AFTER LANDFALL, THE
SYSTEM WILL WEAKEN RAPIDLY. MAXIMUM SIGNIFICANT WAVE HEIGHT AT
100000Z IS 18 FEET. NEXT WARNINGS AT 100900Z, 101500Z, 102100Z AND
110300Z.//
NNNN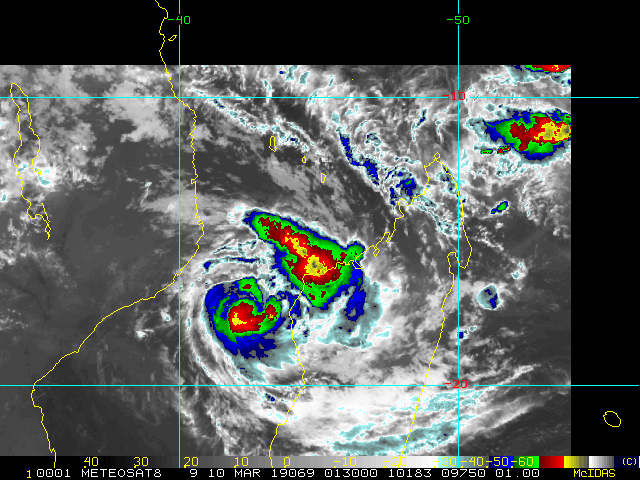 0130UTC