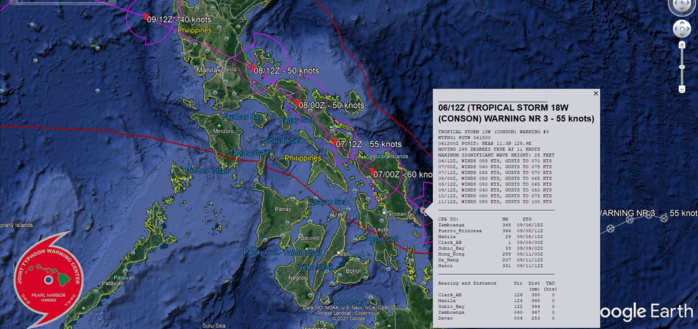 TS 18W(CONSON). WARNING 3 ISSUED AT 06/15UTC.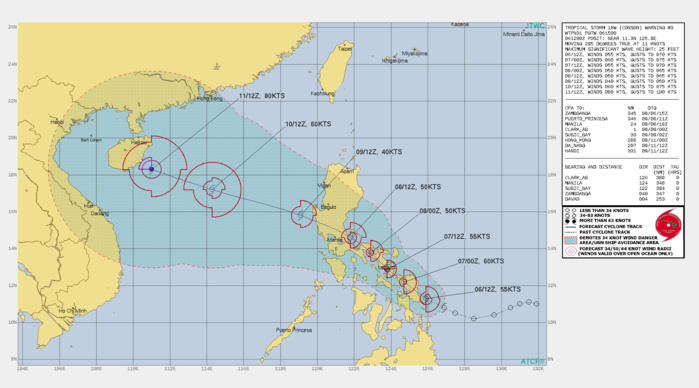 TS 19W(CONSON). WARNING 3 ISSUED AT 06/15UTC.SIGNIFICANT FORECAST CHANGES: THERE ARE NO SIGNIFICANT CHANGES TO THE FORECAST FROM THE PREVIOUS WARNING. FORECAST DISCUSSION: TS 18W IS FORECAST TO CONTINUE NORTHWESTWARD ON ITS CURRENT TRACK, TRACKING OVER SAMAR AND THE SOUTHEAST PORTION LUZON, EVENTUALLY CROSSING 45 KM NORTH OF MANILA SOMETIME AFTER 48H. THE SYSTEM THEN WILL REEMERGE OVER WATER, HEADING WEST-NORTHWESTWARD TOWARDS HAINAN FOR THE REMAINDER OF THE FORECAST. DESPITE THE CURRENT FAVORABLE ENVIRONMENT, TS 18W IS ONLY EXPECTED TO REACH AN INTENSITY OF 60 KNOTS BY 12H DUE TO LAND INTERACTION. THE SYSTEM WILL CONTINUE TO WEAKEN OVER THE PHILIPPINES UNTIL CROSSING INTO THE SOUTH CHINA SEA AROUND 72H AT 40 KNOTS. AT THIS POINT, WARM SEA SURFACE TEMPERATURES AND LOW VERTICAL WIND SHEAR WILL ALLOW TS 18W TO REACH AN INTENSITY OF 80 KNOTS/CAT 1 BY 120H. OF NOTE, TD 19W IS CURRENTLY 1350 KM EAST-NORTHEASTWARD OF TS 18W. THIS DISTANCE IS ON THE HIGHER THRESHOLD OF POSSIBLE BINARY INTERACTION BETWEEN THE SYSTEMS AND THE CURRENT FORECAST DOES NOT PREDICT ANY INTERACTION, AS THE CURRENT FORECAST TRACKS MAINTAIN ABOUT 1350 KM SEPARATION.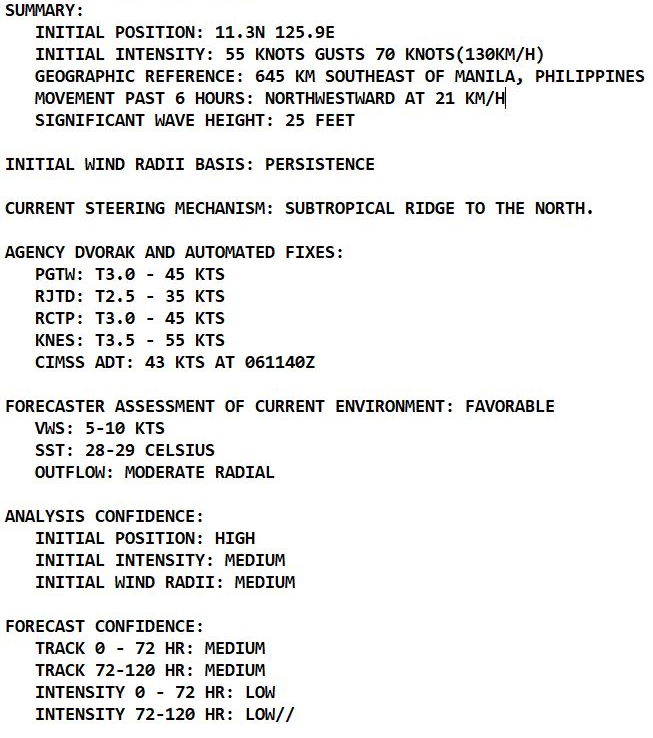 CLICK ON THE IMAGERY TO ANIMATE IT IF NEEDED.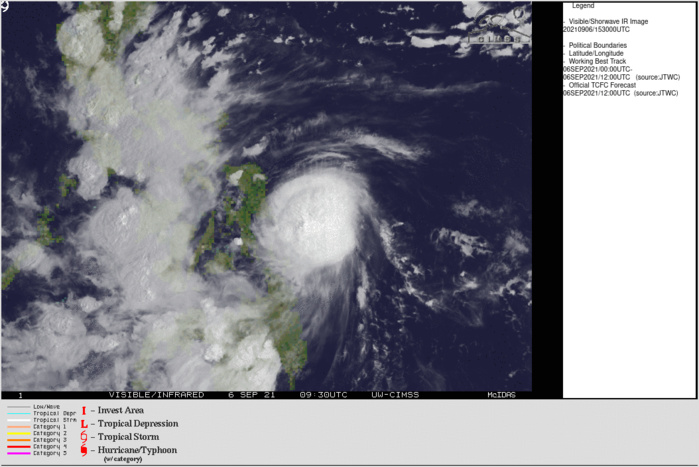 TS 18W(CONSON). SATELLITE ANALYSIS, INITIAL POSITION AND INTENSITY DISCUSSION: ANIMATED ENHANCED INFRARED (EIR) SATELLITE IMAGERY DEPICTS THE DEEP CONVECTION OVER THE SOUTHEAST QUADRANT OF THE CIRCULATION EXPANDING TO THE ENTIRE EASTERN SEMICIRCLE AS THE SYSTEM MAKES LANDFALL OVER SAMAR. THE INITIAL POSITION IS BASED ON THE PGTW POSITION FIX AND AN EXTRAPOLATION FROM A 060855Z 37GHZ GMI IMAGE SHOWING A MICROWAVE EYE. THE INITIAL INTENSITY OF 55 KNOTS IS BASED ON MULTI-AGENCY DVORAK INTENSITY ESTIMATES.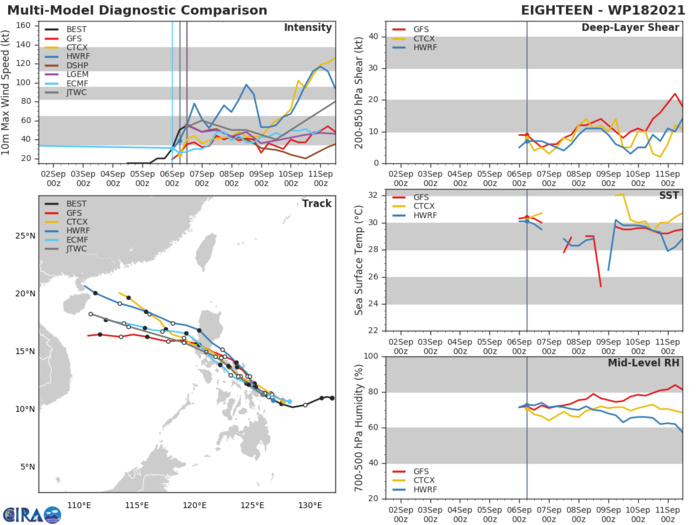 TS 18W(CONSON).MODEL DISCUSSION: NUMERICAL MODELS ARE IN GOOD AGREEMENT IN REGARDS TO THE TRACK FORECAST, WITH ALL MODELS SHOWING A NORTHWESTWARD TRACK UP TO 72H, AND THEN A WEST-NORTHWESTWARD TRACK AFTERWARDS. INTENSITY GUIDANCE IS IN AGREEMENT AS FAR AS THE INTENSITY TREND, WITH ALL MODELS PREDICTING CONTINUED INTENSIFICATION, FOLLOWED BY A WEAKENING OR STAGNANT PERIOD DUE TO LAND INTERACTION BEFORE RESUMING STEADY INTENSIFICATION AROUND 72H. THE FORECAST INTENSITY IS THEREFORE PLACED CLOSE TO THE MULTI-MODEL CONSENSUS.