2021 JULY 18 0730UTC #WESTERNNORTHPACIFIC
TS #09W #INFA
WARNING 9/JTWC
As of 06:00 UTC July 18, 2021:
Location: 22.9°N 132.3°E
Maximum Winds: 35 kt ( 65km/h)
Gusts: 45 kt ( 85km/h)
Minimum Central Pressure: 993 mb
LOCATED AT 18/06UTC APPROXIMATELY 605 KM SOUTHEAST OF KADENA AB, HAS TRACKED NORTH-NORTHWESTWARD AT 09
KM/H OVER THE PAST SIX HOURS. MAXIMUM SIGNIFICANT WAVE HEIGHT AT 180600UTC IS 21 FEET.
Satellite bulletins are to be found in the comments of this post on
JTWC BIS
----------------------------------------
INVEST #99W
UPDATE
As of 06:00 UTC July 18, 2021:
Location: 20.2°N 115.0°E
Maximum Winds: 25 kt
Gusts: 35 kt ( 65km/h)
Minimum Central Pressure: 1000 mb
LOCATED AT 18/06UTC APPROXIMATELY 255KM SOUTH-SOUTHEAST OF HONG KONG.
CURRENT POTENTIAL FOR THE NEXT 24HOURS: HIGH
Satellite bulletins are to be found in the comments of this post on
JTWC BIS
Cheers,
Patrick Hoareau
JTWC PH
ILES SOEURS
Joint Typhoon Warning Center
TS 09W(IN-FA). WARNING 9 ISSUED AT 18/09UTC.THERE ARE NO SIGNIFICANT CHANGES TO THE FORECAST FROM THE PREVIOUS WARNING. FORECAST DISCUSSION: TS 09W IS TRACKING NORTH-NORTHWESTWARD ALONG THE PERIPHERY OF THE SUBTROPICAL RIDGE(STR) BUT IS EXPECTED TO GRADUALLY TURN WESTWARD AS THE DEEP UPPER LOW IN THE WEST SEA FILLS AND SHIFTS WEST ALLOWING THE STR TO BUILD OVER THE EAST CHINA SEA BY 24H. DESPITE A SLIGHT IMPROVEMENT IN ORGANIZATION, TS 09W CONTINUES STRUGGLING TO CONSOLIDATE DUE PRIMARILY TO THE MODERATE VERTICAL WIND SHEAR AND DRY AIR ENTRAINMENT, THEREFORE, TS 09W SHOULD SLOWLY INTENSIFY 24H. AFTER 24H, ENVIRONMENTAL CONDITIONS SHOULD GRADUALLY IMPROVE ALLOWING THE SYSTEM TO VENT AND SUSTAIN MORE CENTRALIZED DEEP CONVECTION, WHICH WILL MOISTEN THE MID-LEVELS. THIS SHOULD LEAD TO A FASTER RATE OF INTENSIFICATION WITH A PEAK OF 85 KNOTS/CATEGORY 2 ANTICIPATED BY 96H. AFTER 96H, INTERACTION WITH TAIWAN WILL WEAKEN THE SYSTEM.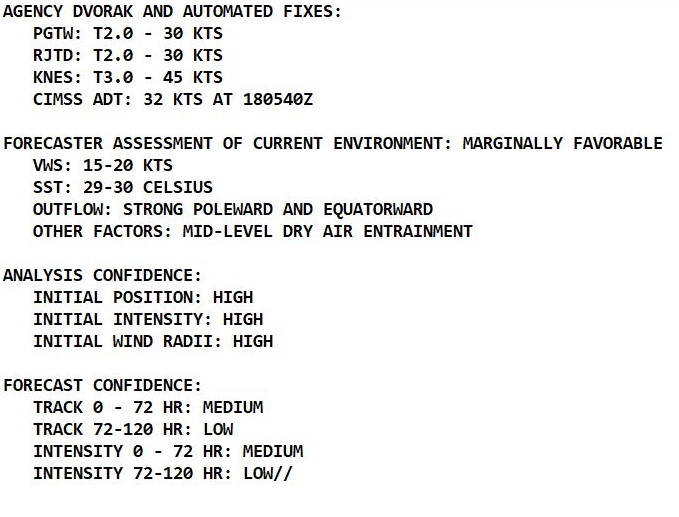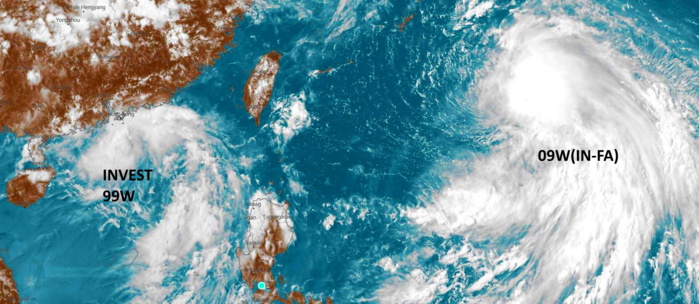 18/0715UTC. TS 09W: SATELLITE ANALYSIS, INITIAL POSITION AND INTENSITY DISCUSSION: ANIMATED MULTISPECTRAL SATELLITE IMAGERY DEPICTS AN EXPOSED, WELL-DEFINED LOW-LEVEL CIRCULATION CENTER (LLCC) POSITIONED ALONG THE WESTERN EDGE OF A SYMMETRIC AREA OF DEEP CONVECTION. AN 180651UTC SSMI 85GHZ COMPOSITE MICROWAVE IMAGE ALSO REVEALS SHALLOW BANDING WRAPPING INTO A DEFINED LLCC WITH CURVED DEEP CONVECTIVE BANDING OVER THE EASTERN QUADRANT, WHICH SUPPORTS THE INITIAL POSITION WITH HIGH CONFIDENCE. THE INITIAL INTENSITY OF 35 KNOTS IS HEDGED SLIGHTLY ABOVE THE PGTW, RJTD DVORAK ESTIMATES BASED ON ASCAT DATA SHOWING A SWATH OF 30-40 KNOT SOUTHERLY WINDS OVER THE EASTERN PERIPHERY. ENVIRONMENTAL ANALYSIS INDICATES MARGINALLY FAVORABLE CONDITIONS WITH GRADUALLY IMPROVING POLEWARD OUTFLOW OVER THE WESTERN SEMICIRCLE AS THE UPPER LOW TO THE NORTH-NORTHWEST WEAKENS AND SHIFTS POLEWARD INTO THE WEST SEA. ALTHOUGH MID-LEVEL DRY AIR ENTRAINMENT AND MODERATE VERTICAL WIND SHEAR (VWS) CONTINUE TO HINDER CONVECTIVE DEVELOPMENT OVER THE LLCC, EQUATORWARD OUTFLOW REMAINS ROBUST WITH WARM SST VALUES.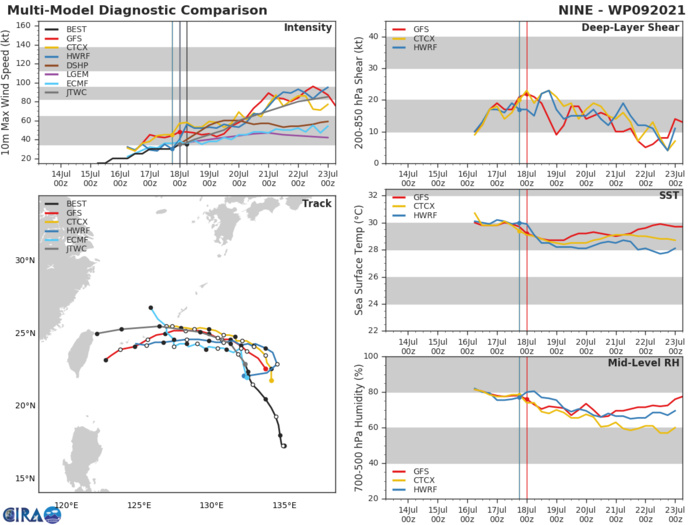 TS 09W(IN-FA).MODEL DISCUSSION: DUE TO THIS EVOLVING SYNOPTIC PATTERN, THERE IS INCREASING UNCERTAINTY IN THE TRACK FORECAST AFTER 24H. NUMERICAL MODEL GUIDANCE IS IN FAIR AGREEMENT THROUGH 72H WITH A 210KM SPREAD IN SOLUTIONS AT 72H. AFTER 72H, MODEL GUIDANCE DIVERGES WITH A LARGE SPREAD AND LOW CONFIDENCE DUE TO POTENTIAL DIRECT CYCLONE INTERACTION WITH INVEST 99W, WHICH IS EXPECTED TO GRADUALLY STRENGTHEN OVER THE NEXT FEW DAYS. THERE IS LOW CONFIDENCE IN THE JTWC INTENSITY FORECAST IN THE EXTENDED PERIOD WITH A LARGE SPREAD IN INTENSITY GUIDANCE ASSOCIATED WITH THE COMPLEX, EVOLVING ENVIRONMENT.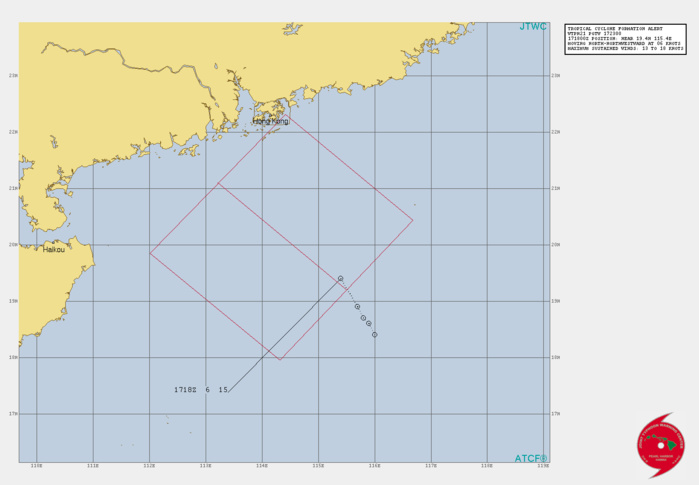 INVEST 99W. TROPICAL CYCLONE FORMATION ALERT ISSUED AT 17/23UTC, 18/06UTC UPDATE. ANIMATED MULTISPECTRAL SATELLITE IMAGERY DEPICTS STRONG MIDLEVEL TURNING WITH FORMATIVE BANDING ASSOCIATED WITH FLARING CONVECTION WRAPPING INTO A LOW LEVEL CIRCULATION CENTER (LLCC). A PARTIAL 172344UTC SSMIS 91GHZ MICROWAVE IMAGE SHOWS LOW LEVEL BANDING WRAPPING INTO THE LLCC WITH DEEP CONVECTION OVER THE NORTHERN SEMI-CIRCLE. ENVIRONMENTAL ANALYSIS INDICATES FAVORABLE CONDITIONS FOR DEVELOPMENT WITH WESTWARD OUTFLOW ALOFT, LOW (10-15 KTS) VERTICAL WIND SHEAR, AND WARM (31-32C) SEA SURFACE TEMPERATURES.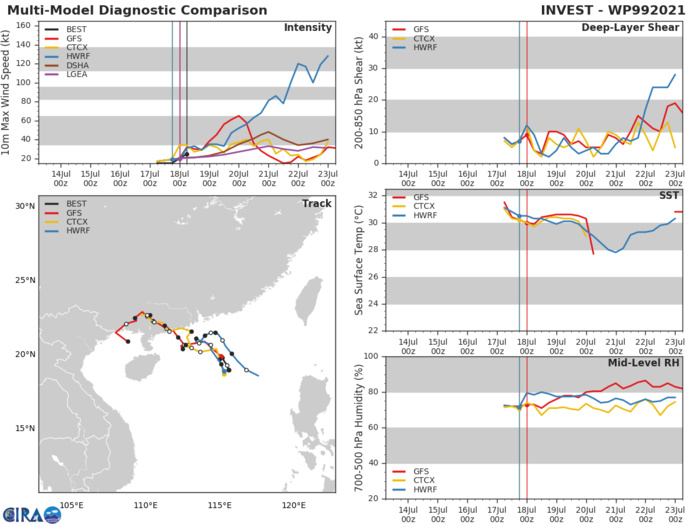 INVEST 99W.NUMERICAL MODEL GUIDANCE SHOWS INVEST 99W TRACKING NORTHWESTWARD AS IT CONSOLIDATES AND INTENSIFIES OVER THE NEXT 24 HOURS.

EASTERN NORTH PACIFIC. HU 06E(FELICIA). WARNING 16 ISSUED AT 18/04UTC. THIS SYSTEM REMAINS A POWERFUL CATEGORY 4 HURRICANE TRACKING OVER OPEN SEAS. IT RECENTLY PEAKED AT 125KNOTS .

0621071300 109N1052W 25
0621071306 115N1064W 25
0621071312 121N1078W 25
0621071318 128N1091W 30
0621071400 135N1106W 30
0621071406 139N1122W 35
0621071412 142N1135W 45
0621071418 146N1148W 55
0621071500 150N1162W 60
0621071506 151N1171W 65
0621071512 152N1181W 80
0621071518 152N1190W 85
0621071600 153N1198W 95
0621071606 152N1205W 100
0621071612 151N1212W 110
0621071618 149N1220W 115
0621071700 147N1228W 115
0621071706 146N1235W 120
0621071712 145N1242W 125
0621071718 147N1249W 125
0621071800 151N1257W 120

TS 07E(GUILLERMO). WARNING 3 ISSUED AT 18/04UTC. INTENSITY IS FORECAST TO PEAK AT 50KNOTS BY 24H.
0721071612 135N1028W 25
0721071618 143N1042W 25
0721071700 150N1056W 30
0721071706 157N1070W 30
0721071712 164N1083W 30
0721071718 169N1095W 35
0721071800 173N1106W 35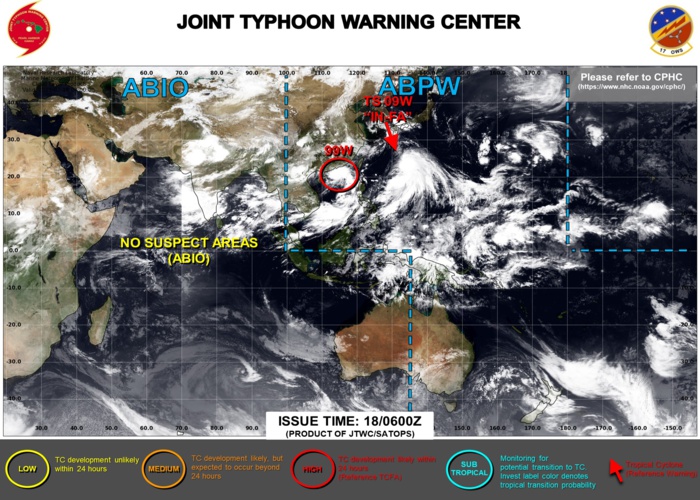 JTWC HAS BEEN ISSUING 6HOURLY WARNINGS AND 3HOURLY SATELLITE BULLETINS ON 09W(IN-FA). 3HOURLY SATELLITE BULLETINS ARE ISSUED ON INVEST 99W.