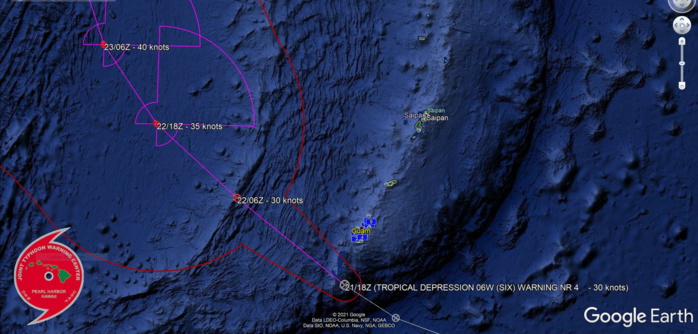 TD 06W IS CURRENTLY TRACKING TO THE SOUTH OF GUAM.
2021 JUNE 21 2025UTC #WESTERNNORTHPACIFIC
TD #06W
WARNING 4/UPDATE
As of 18:00 UTC June 21, 2021:
Location: 12.6°N 144.5°E
Maximum Winds: 30 kt ( 55km/h)
Gusts: 40 kt ( 75km/h)
Minimum Central Pressure: 1006 mb
INTENSIFYING
LOCATED AT 21/18UTC APPROXIMATELY 85 KM SOUTH-SOUTHWEST OF HAGATNA, GUAM, HAS TRACKED NORTHWESTWARD AT
17 KM/H OVER THE PAST SIX HOURS.
Satellite bulletins are to be found in the comments of this post on
JTWC BIS
Cheers,
Patrick Hoareau
JTWC PH
ILES SOEURS
Joint Typhoon Warning Center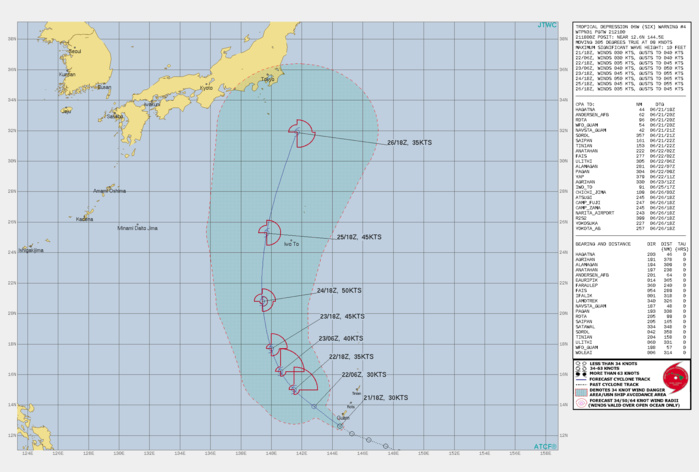 WARNING 4 ISSUED AT 21/21UTC. THE INITIAL POSITION AND INTENSITY ARE BOTH LARGELY BASED ON RADAR IMAGERY, WHICH HAS SHOWN A WELL-DEFINED VORTEX CONTAINING WIDESPREAD 35-40 KT DOPPLER VELOCITIES AT 4000-7000 FT, TRANSLATING ROUGHLY TO 30 KT SURFACE WINDS. A 211549Z AMSR2 PASS ALSO SUPPORTED MAXIMUM SURFACE WINDS OF 25-30 KT. OVERALL ORGANIZATION OF THE VORTEX HAS CHANGED LITTLE DURING THE PAST 6 HOURS.FORECAST DISCUSSION: TROPICAL DEPRESSION (TD) 06W WILL CONTINUE TRACKING NORTHWESTWARD AROUND THE SOUTHWESTERN PERIPHERY OF A DEEP-LAYER SUBTROPICAL RIDGE TO THE NORTHEAST, EVENTUALLY TURNING NORTHWARD BY 72 HOURS. THE SPEED WITH WHICH TD 06W ROUNDS THIS RIDGE WILL DEPEND ON HOW FAR NORTHEAST THE CYCLONE TRACKS DURING THE NEXT 48-72 HOURS, AS A MORE RIGHTWARD TRACK WOULD PLACE THE CYCLONE CLOSER TO THE STRONG BELT OF DEEP-LAYER SOUTHERLY FLOW, LEADING TO FASTER FORWARD MOTION. NUMERICAL MODEL GUIDANCE IS THUS SPREAD BETWEEN SLOWER, LEFTWARD TRACKS AND FASTER, RIGHTWARD TRACKS. THE JTWC TRACK FORECAST LEANS SLIGHTLY TOWARD THE RIGHT-HAND SIDE OF THE GUIDANCE ENVELOPE DURING THE FIRST 72 HOURS, IN PART DUE TO A SLIGHT JOG NORTH OF GUIDANCE DURING THE PAST 12 HOURS. THE JTWC TRACK FORECAST IS ALSO A BIT SLOWER DURING THE 72-120 HOUR PERIOD COMPARED TO THE PREVIOUS FORECAST, FOLLOWING THE RECENT GUIDANCE TREND. THE LARGE-SCALE ENVIRONMENT IS EXPECTED TO REMAIN ONLY MARGINALLY FAVORABLE FOR INTENSIFICATION, AS CONTINUED ENTANGLEMENT WITH THE NEARBY UPPER-LEVEL TROUGH WILL RESULT IN MODERATE SHEAR FOR THE NEXT 12-24 HOURS AND A SOMEWHAT DRY SURROUNDING AIR MASS. SHEAR IS EXPECTED TO LESSEN DURING THE 24-48 HOUR PERIOD AS THE UPPER-LEVEL TROUGH WEAKENS, AND MODEST INTENSIFICATION TO A PEAK OF 50 KT IS FORECAST BY 72 HOURS. SHEAR IS THEN EXPECTED TO INCREASE AGAIN, AS WHILE THE CYCLONE WILL BE PASSING BENEATH AN UPPER-LEVEL RIDGE AXIS, STRONG LOW-MID LEVEL SOUTHERLY FLOW BETWEEN THE SUBTROPICAL RIDGE AND MEI-YU FRONTAL BOUNDARY WILL RESULT IN MODERATE NORTHERLY SHEAR. TD 06W IS THUS EXPECTED TO WEAKEN GRADUALLY AFTER 72 HOURS, THEN MORE STEADILY TO 35 KT BY 120 HOURS AS THE CYCLONE CROSSES INTO COOLER SEA SURFACE TEMPERATURES OF 24-25C. GIVEN THE SMALL SIZE OF THE CYCLONE THAT IS FORECAST TO PERSIST, POTENTIAL INTERACTION WITH THE MEI-YU BOUNDARY INDUCES LOWER CONFIDENCE IN THE TRACK FORECAST AFTER 72 HOURS.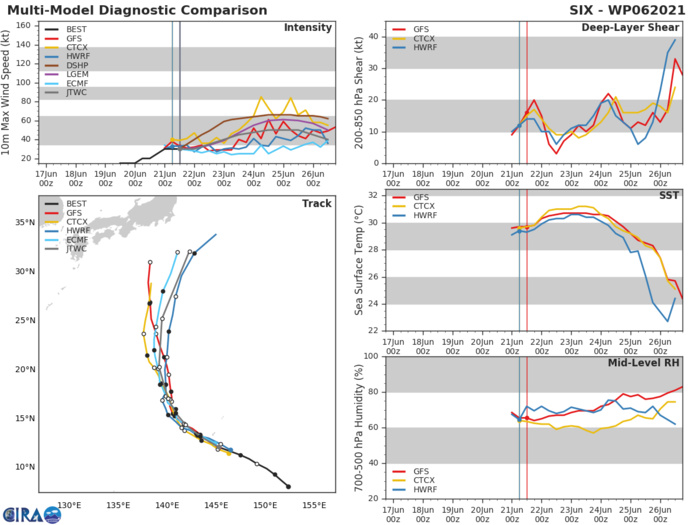 MODEL DISCUSSION: THE JTWC TRACK FORECAST GENERALLY LIES SLIGHTLY TO THE RIGHT AND SLOWER THAN THE MULTI-MODEL CONSENSUS, IN PART DUE TO THE LEFTWARD OUTLIERS AFUM AND UKMET ENSEMBLE WHICH DO NOT PROPERLY RESOLVE THE SMALL TROPICAL CYCLONE VORTEX, AS WELL AS THE SPEEDY OUTLIER NAVGEM. THE JTWC INTENSITY FORECAST IS SLIGHTLY BELOW THE MULTI-MODEL CONSENSUS AFTER 48 HOURS.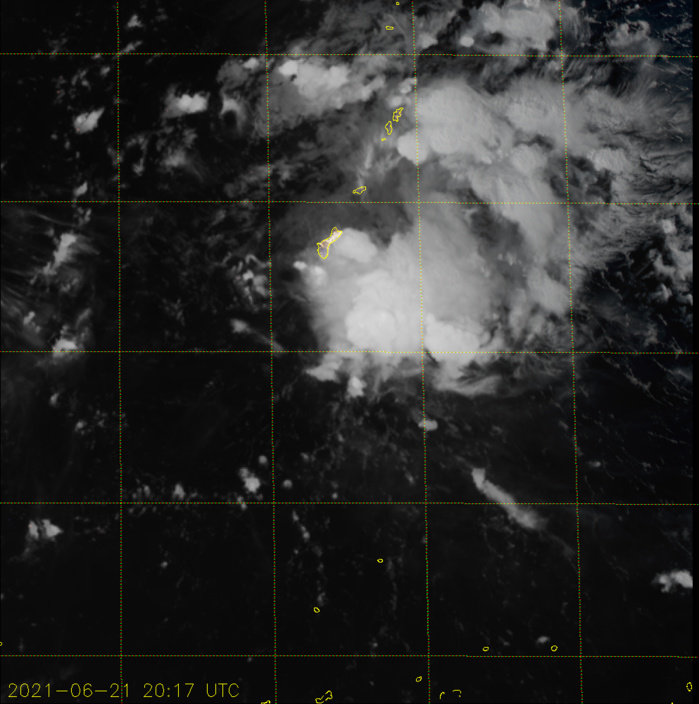 21/2017UTC.ANIMATED ENHANCED INFRARED (EIR) SATELLITE IMAGERY AND DOPPLER RADAR IMAGERY FROM GUAM DEPICT A SHEARED CYCLONE, WITH A COMPACT LOW-LEVEL CENTER (LLC) LOCATED NEAR THE SOUTHWESTERN EDGE OF A MASS OF RAGGED CONVECTION. A TUTT CELL TO THE WEST CAN BE SEEN PUSHING CIRRUS FRAGMENTS TOWARD THE LLC FROM THE SOUTHWEST, DENOTING MODERATE SOUTHWESTERLY SHEAR. DRY MID-LEVEL AIR ASSOCIATED WITH THE TUTT CELL IS CURRENTLY PREVENTING UPSHEAR PROPAGATION OF CONVECTION, EVIDENCED BY THE IMMEDIATE EVAPORATION OF NASCENT THUNDERSTORMS IN THE WESTERN SEMICIRCLE DURING THE PAST 6 HOURS.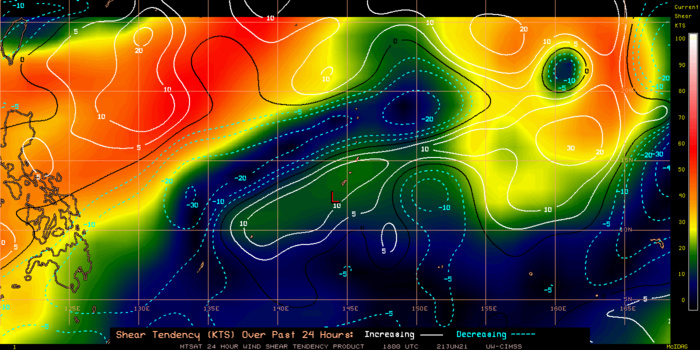 21/18UTC.24H SHEAR TENDENCY.UW-CIMSS Experimental Vertical Shear and TC Intensity Trend Estimates: CIMSS Vertical Shear Magnitude : 9.1 m/s (17.6 kts)Direction : 241.9deg Outlook for TC Intensification Based on Current Env. Shear Values and MPI Differential: FAVOURABLE OVER 24H.