WESTERN NORTH PACIFIC/SOUTH CHINA SEA: TS 24W(KOMPASU). WARNING 9 ISSUED AT 12/09UTC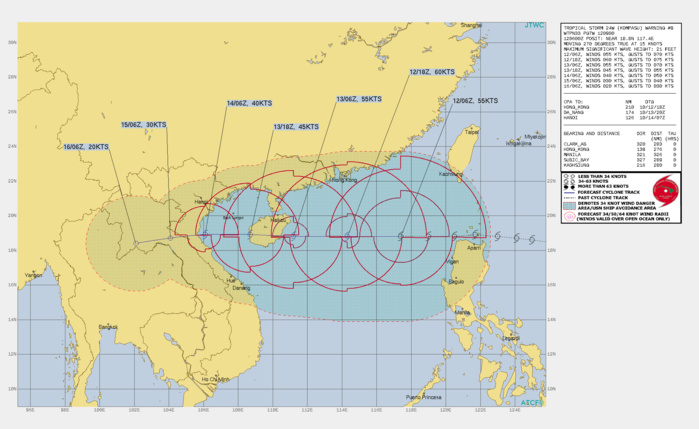 FORECAST REASONING. SIGNIFICANT FORECAST CHANGES: THERE ARE NO SIGNIFICANT CHANGES TO THE FORECAST FROM THE PREVIOUS WARNING. FORECAST DISCUSSION: TROPICAL STORM (TS) 24W IS FORECAST TO TRACK WESTWARD THROUGH THE FORECAST PERIOD UNDER THE STEERING INFLUENCE OF THE SUBTROPICAL RIDGE(STR). TS 24W WILL STRENGTHEN TO A PEAK OF 60 KNOTS BY 12H THEN GRADUALLY WEAKEN AS VWS INCREASES. AS THE SYSTEM TRACKS OVER HAINAN AFTER 24, IT WILL WEAKEN SIGNIFICANTLY WITH MORE RAPID WEAKENING EXPECTED AS THE SYSTEM MAKES LANDFALL OVER VIETNAM AFTER 48H. DISSIPAT
2421100718 156N1379E 15
2421100800 161N1368E 20
2421100806 167N1358E 20
2421100812 171N1348E 20
2421100818 172N1335E 30
2421100900 163N1315E 30
2421100906 157N1303E 25
2421100912 151N1295E 25
2421100918 154N1288E 25
2421101000 167N1284E 25
2421101006 175N1279E 35
2421101012 184N1266E 45
2421101018 186N1250E 45
2421101100 187N1241E 45
2421101106 188N1230E 50
2421101112 189N1217E 55
2421101118 188N1205E 55
2421101200 188N1190E 55
2421101206 188N1174E 55
NNNN
Cheers,
Patrick Hoareau
JTWC PH
ILES SOEURS
Joint Typhoon Warning Center
JTWC BIS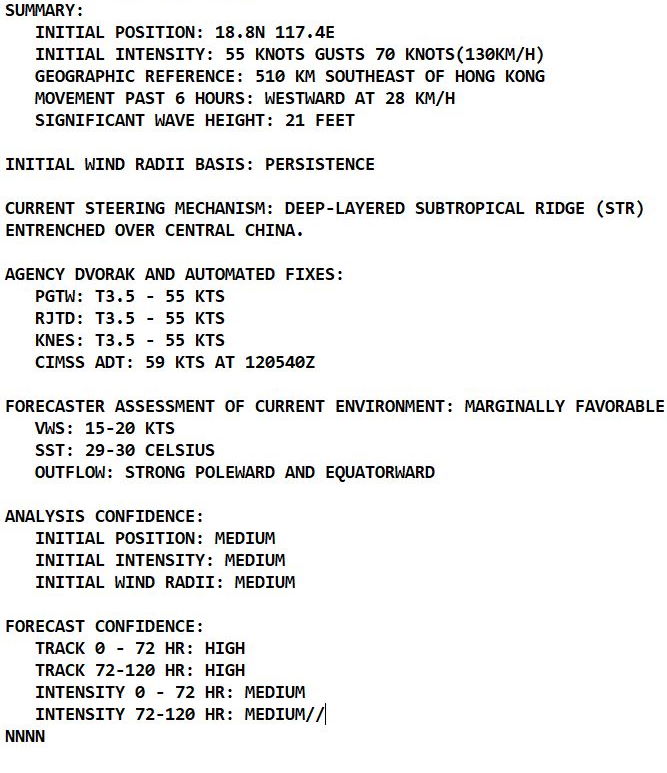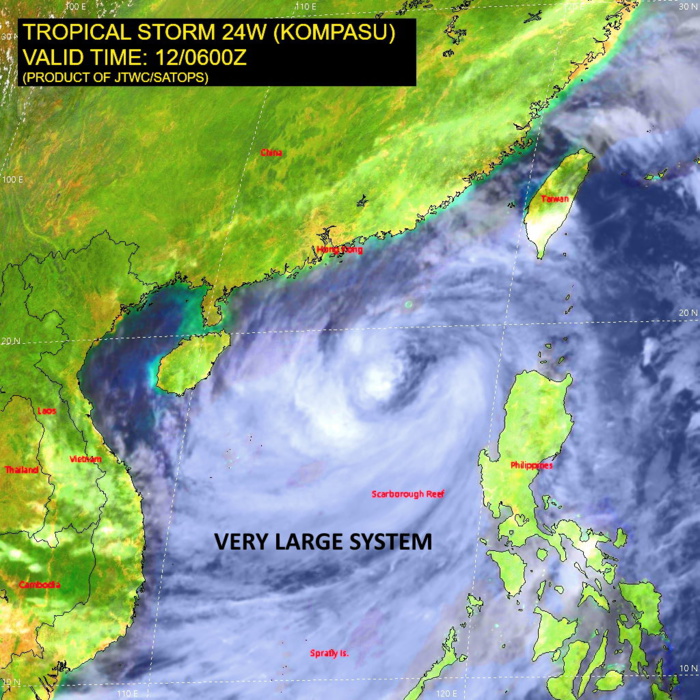 SATELLITE ANALYSIS, INITIAL POSITION AND INTENSITY DISCUSSION: ANIMATED MULTISPECTRAL SATELLITE IMAGERY DEPICTS A VERY LARGE (GREATER THAN 10 DEGREE DIAMETER) SYSTEM WITH EXTENSIVE DEEP CONVECTIVE BANDING WRAPPING INTO A LARGE RAGGED CENTER (APPROXIMATELY 200KM DIAMETER). DUE TO THE VERY LARGE NATURE OF THIS SYSTEM, GALE-FORCE WINDS EXTEND OUT ALONG THE PERIPHERY NEAR TAIWAN AND SOUTHWEST OF LUZON. A 120600Z AMSR2 89GHZ MICROWAVE IMAGE INDICATES FRAGMENTED CONVECTIVE BANDS WRAPPING AROUND THE WESTERN SEMICIRCLE OF THE LARGE LOW-LEVEL CIRCULATION CENTER, WHICH SUPPORTS THE INITIAL POSITION WITH MEDIUM CONFIDENCE. THE INITIAL INTENSITY OF 55 KNOTS IS ASSESSED WITH MEDIUM CONFIDENCE BASED ON THE AGENCY DVORAK ESTIMATES. UPPER-LEVEL ANALYSIS INDICATES A MARGINALLY FAVORABLE ENVIRONMENT WITH LOW TO MODERATE VERTICAL WIND SHEAR (VWS) OFFSET BY STRONG EQUATORWARD OUTFLOW.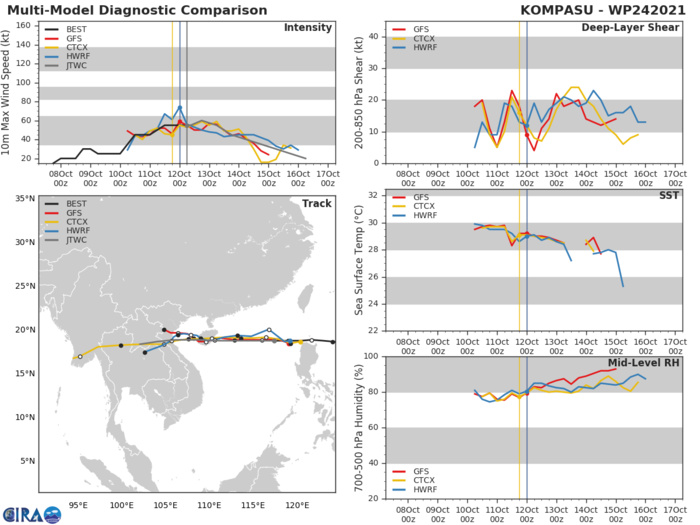 MODEL DISCUSSION: NUMERICAL MODEL GUIDANCE REMAINS IN TIGHT AGREEMENT THROUGH 36H WITH A 90KM SPREAD IN SOLUTIONS AT 36H. THE MODELS DIVERGE AFTER 36H BUT REMAIN IN GOOD AGREEMENT LENDING HIGH CONFIDENCE TO THE JTWC FORECAST TRACK.