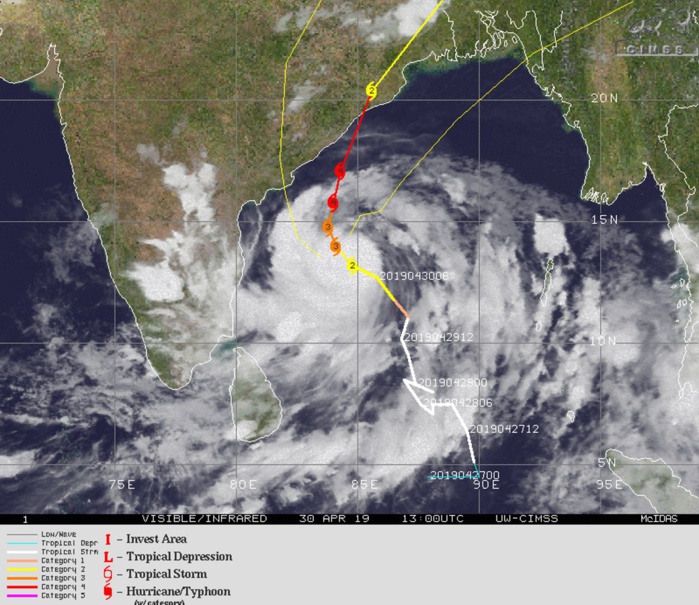 FORECAST TO REACH CAT 4 US WITHIN 36H
https://www.meteo974.re/
https://www.meteo974.re/
SHORT VIDEO WITH ZOOM ON THE FORECAST TRACK AND SATELLITE ANIMATION JUST BELOW
Location: 13.2°N 84.8°E
Maximum Winds: 95 kt ( 180km/h)
Gusts: 115 kt ( 215km/h)
Minimum Central Pressure: 964 mb
REMARKS:
301500Z POSITION NEAR 13.4N 84.6E.
TROPICAL CYCLONE (TC) 01B (FANI), LOCATED APPROXIMATELY 600 NM SOUTH-
SOUTHWEST OF KOLKATA, INDIA, HAS TRACKED WEST-NORTHWESTWARD AT 11
KNOTS OVER THE PAST SIX HOURS. ANIMATED ENHANCED INFRARED SATELLITE
IMAGERY INDICATES THAT TC 01B HAS CONTINUED TO STRENGTHEN WITH
IMPROVED CORE CONVECTION SURROUNDING A WEAK, FORMATIVE EYE. A
301200Z SSMIS 91GHZ IMAGE DEPICTS TIGHTLY-CURVED SPIRAL BANDING
WRAPPING INTO THE EYEWALL, AND ALSO SHOWS A SMALL MICROWAVE EYE
FEATURE, WHICH SUPPORTS THE INITIAL POSITION WITH HIGH CONFIDENCE.
THE INITIAL INTENSITY IS ASSESSED AT 95 KNOTS BASED ON AN AVERAGE OF
DVORAK INTENSITY ESTIMATES RANGING FROM T5.0 TO T5.5 (90 TO 102
KNOTS). A 301055Z SATCON ESTIMATE OF 100 KNOTS ALSO SUPPORTS THE
INITIAL INTENSITY ESTIMATE. ENVIRONMENTAL ANALYSIS INDICATES A
FAVORABLE ENVIRONMENT WITH LOW (15 KNOTS) VWS, HIGH SSTS (30-31
CELSIUS), HIGH OCEAN HEAT CONTENT VALUES, AND ROBUST POLEWARD AND
EQUATORWARD OUTFLOW. TC FANI IS FORECAST TO TURN NORTHWARD TO NORTH-
NORTHEASTWARD AFTER TAU 24 AS AN EXTENSION OF THE SUBTROPICAL RIDGE
(STR) OVER BANGLADESH ERODES DUE TO AN APPROACHING SHORTWAVE TROUGH.
THE SYSTEM IS EXPECTED TO INTENSIFY TO A PEAK OF 115 KNOTS BY TAU 36
UNDER FAVORABLE ENVIRONMENTAL CONDITIONS. NEAR TAU 72, TC 01B WILL
WEAKEN AS IT MAKES LANDFALL AND INTERACTS WITH THE MIDLATITUDE
WESTERLIES. AFTER TAU 72, TC 01B WILL RECURVE POLEWARD OF THE STR
AND WILL WEAKEN RAPIDLY OVER LAND WITH DISSIPATION EXPECTED BY TAU
120. WITH THE EXCEPTION OF NAVGEM, NUMERICAL MODEL GUIDANCE IS IN
TIGHT AGREEMENT, THEREFORE, THERE IS HIGH CONFIDENCE IN THE JTWC
FORECAST TRACK. MAXIMUM SIGNIFICANT WAVE HEIGHT AT 301200Z IS 29
FEET. NEXT WARNINGS AT 302100Z, 010300Z, 010900Z AND 011500Z.//
NNNN