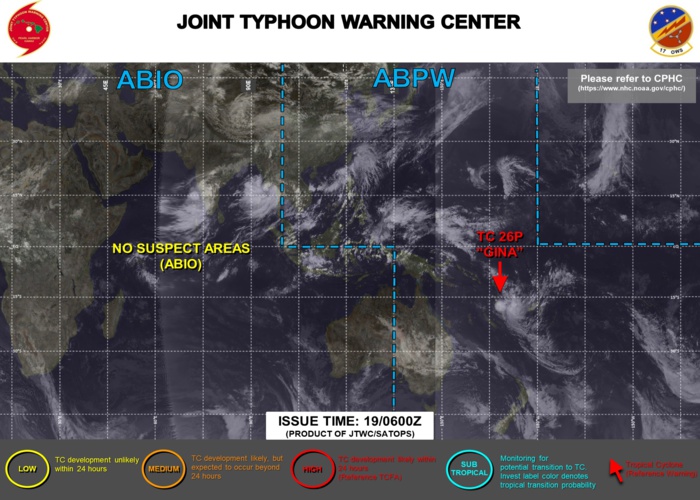 JTWC IS ISSUING 6HOURLY WARNINGS AND 3HOURLY SATELLITE BULLETINS ON TC 26P.
SOUTH PACIFIC OCEAN: TC 26P(GINA). WARNING 4 ISSUED AT 19/09UTC. CLICK ON THE IMAGERIES BELOW TO GET THEM ENLARGED.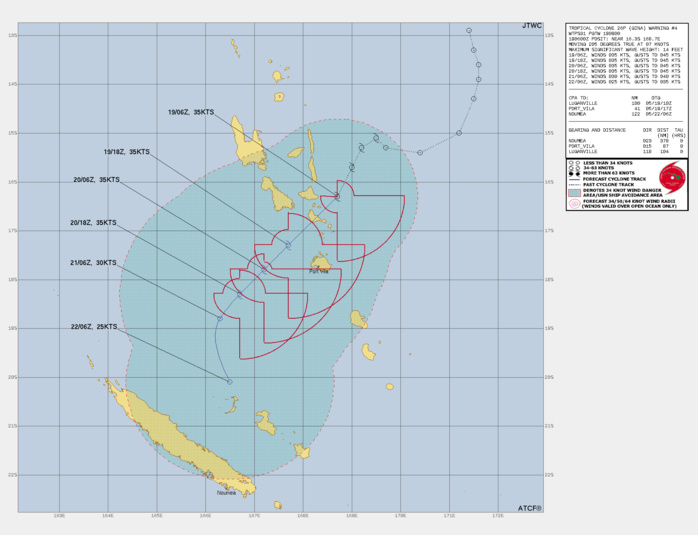 FORECAST REASONING. SIGNIFICANT FORECAST CHANGES: THERE ARE NO SIGNIFICANT CHANGES TO THE FORECAST FROM THE PREVIOUS WARNING, ALTHOUGH FORECAST LENGTH HAS BEEN SHORTENED TO 72 HOURS. FORECAST DISCUSSION: DESPITE THE WELL DEFINED SURFACE CIRCULATION, GINA IS STRUGGLING TO OVERCOME THE EFFECTS OF THE MODERATE VERTICAL WIND SHEAR (VWS), AND PASSAGE OVER THE ISLANDS OF VANUATU MAY FURTHER INHIBIT CONVECTIVE ORGANIZATION. MODEL GUIDANCE IS IN GENERALLY GOOD AGREEMENT ON THE SOUTHWESTERLY MOTION, HOWEVER, GFS IS ANALYZING THE INITIAL POSITION TO THE SOUTHEAST, AND CONSEQUENTLY OVER ESTIMATING THE STRENGTH OF THE WIND FIELD WHICH CARRIES OVER INTO A MUCH DEEPER SYSTEM THAN OTHER MODELS SUCH AS ECMWF. INTENSITIES WERE HELD TO 35 KNOTS THROUGH 36H, AS MODERATE VWS PERSISTS. AFTER THAT TIME VWS INCREASES TO 30 KNOTS AND THE MID-LEVEL ENVIRONMENT BECOMES SIGNIFICANTLY DRIER. DISSIPATION AS A TROPICAL CYCLONE IS FORECAST BY 48H. ONE EXTRA POSITION WAS ADDED TO REFLECT THE EXPECTED DEFLECTION OF THE REMNANT TRACK AS IT CURVES TO THE SOUTH AND SOUTHEAST WITH THE LOW LEVEL FLOW. DISSIPATION BEFORE 48H IS A POSSIBILITY IF 20 KNOT VWS PERSISTS.
SH, 26, 2022051812,151S, 1695E, 35
SH, 26, 2022051818,153S, 1692E, 35
SH, 26, 2022051900,157S, 1690E, 35
SH, 26, 2022051906,163S, 1687E, 35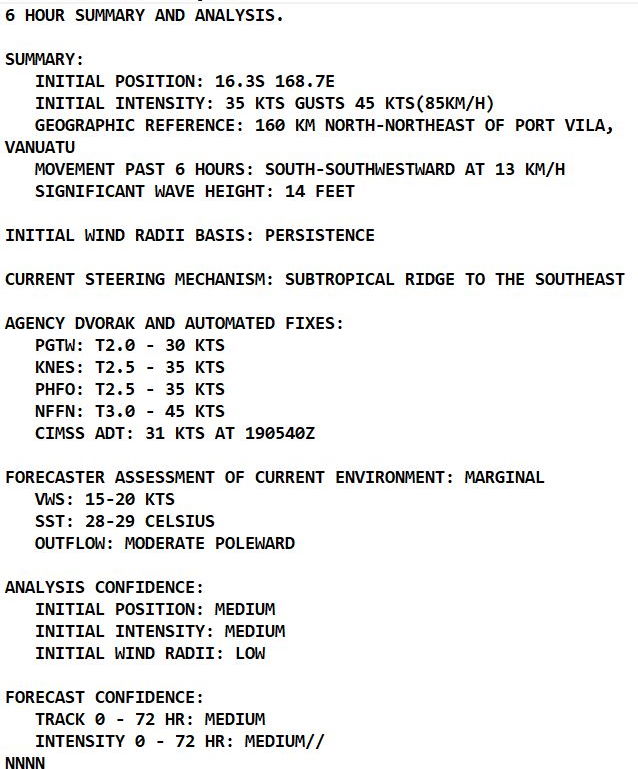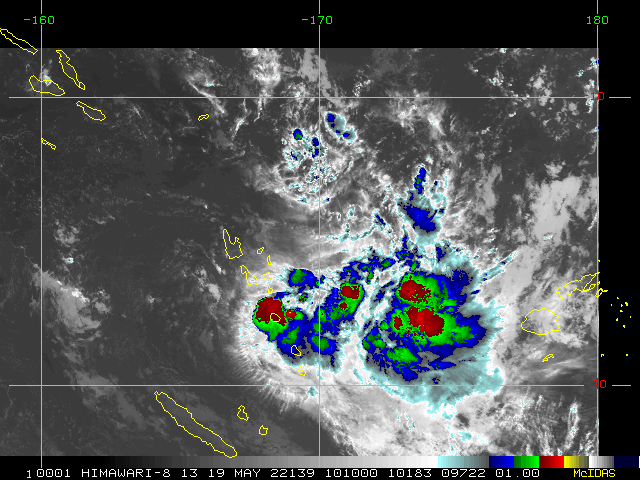 SATELLITE ANALYSIS, INITIAL POSITION AND INTENSITY DISCUSSION: ANIMATED MULTISPECTRAL SATELLITE IMAGERY (MSI) DEPICTS A FULLY EXPOSED LOW LEVEL CIRCULATION WITH DEEP CONVECTION PRIMARILY SHEARED WELL TO THE SOUTHEAST AS A HIGH-AMPLITUDE MID-LEVEL TROUGH APPROACHES FROM THE WEST, HOWEVER, A FRESH POCKET OF CONVECTION IS BUILDING TOWARDS THE SOUTHWESTERN QUADRANT OF THE CORE. DESPITE A LACK OF RECENT MICROWAVE IMAGERY, THE INITIAL POSITION WAS PLACED WITH HIGH CONFIDENCE BASED ON THE APPEARANCE IN MSI. THE INITIAL INTENSITY WAS HELD AT 35 KNOTS BASED ON AVAILABLE DVORAK ESTIMATES AND ADT, ALTHOUGH TROPICAL STORM FORCE WINDS ARE LIKELY ISOLATED TO THE SOUTHEAST QUADRANT UNDER THE DEEP CONVECTION UNLESS THE NEW CENTRAL CONVECTION PERSISTS. BOTH DESCENDING ASCAT PASSES MISSED THE CIRCULATION AND NO OTHER RECENT SCATTEROMETRY OR NEARBY SURFACE OBSERVATIONS ARE AVAILABLE TO CONFIRM THE WINDS OR STRUCTURE.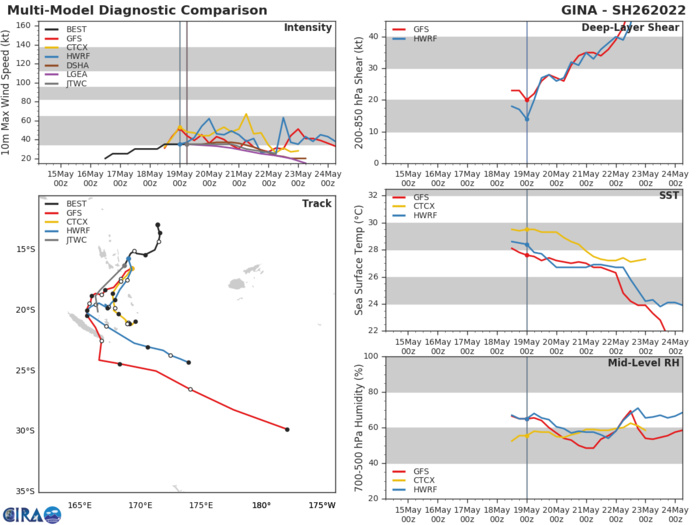 MODEL DISCUSSION: DUE TO THE CONCERNS ABOUT THE GFS ANALYSIS, THE FORECAST FAVORS THE ECMWF SOLUTION, AND IS PLACED CLOSE TO THE PRIOR FORECAST TRACK. THE PEAK INTENSITY WAS LIKEWISE CURTAILED GIVEN LOWER CONFIDENCE IN THE DEEPENING OBSERVED IN THE GFS AND HWRF MODELS.
ECMWF ENSEMBLE AT 18/00UTC UP TO +240H.
ECMWF ENSEMBLE AT 18/00UTC UP TO +240H.