TC 20S AND OVERLAND TC 19P. ANIMATION. 09UTC.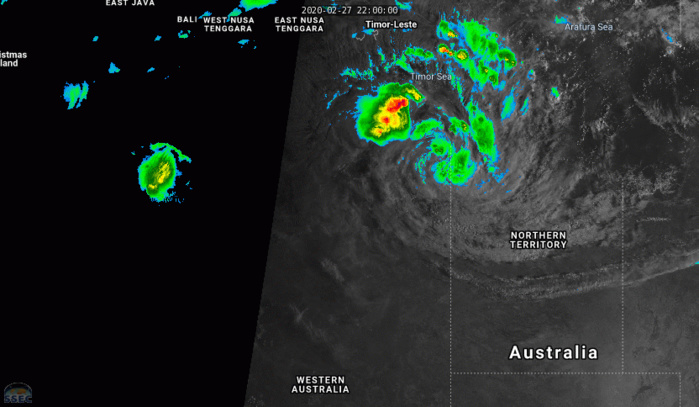 Location: 16.5°S 112.9°E
Maximum Winds: 45 kt ( 85km/h)
Gusts: 55 kt ( 100km/h)
Minimum Central Pressure: 996 mb
TPXS10 PGTW 280926
A. TROPICAL CYCLONE 20S (FERDINAND)
B. 28/0900Z
C. 16.37S
D. 112.61E
E. FIVE/HMWRI8
F. T2.5/3.0/W0.5/24HRS STT: S0.0/03HRS
G. IR/EIR/VIS/MSI
H. REMARKS: 40A/PBO SBC/ANMTN. CNVCTN WRAPS .45 ON LOG10 SPIRAL
YIELDING A DT OF 2.5. MET/PT AGREE. DBO DT.
I. ADDITIONAL POSITIONS: NONE
MARTIN
REMARKS:
280900Z POSITION NEAR 16.4S 112.7E.
28FEB20. TROPICAL CYCLONE (TC) 20S (FERDINAND), LOCATED APPROXIMATELY
355 NM NORTH OF LEARMONTH, AUSTRALIA, HAS TRACKED WESTWARD AT 04
KNOTS OVER THE PAST SIX HOURS. ANIMATED MULTISPECTRAL SATELLITE
IMAGERY (MSI) DEPICTS A PARTIALLY-EXPOSED LOW-LEVEL CIRCULATION WITH
PERSISTENT DEEP CONVECTION. MSI CONTINUES TO DEPICT EXTENSIVE
STRATOCUMULUS (DRIER MORE STABLE AIR) ADVECTING INTO THE WESTERN
SEMICIRCLE OF THE SYSTEM. TC 20S CONTINUES TO STUBBORNLY FIGHT THE
ENVIRONMENT AND HAS MAINTAINED A COMPACT, SHRINKING CORE OF DEEP
CONVECTION AS WELL AS A WEAK MICROWAVE EYE FEATURE IN A 280551Z
AMSR2 36GHZ MICROWAVE IMAGE, WHICH SUPPORTS THE INITIAL POSITION
WITH GOOD CONFIDENCE. UPPER-LEVEL ANALYSIS INDICATES A MARGINALLY
FAVORABLE ENVIRONMENT WITH LOW (15 KNOTS) NORTHEASTERLY VERTICAL
WIND SHEAR (VWS) OFFSET BY ROBUST POLEWARD OUTFLOW. THE INITIAL
INTENSITY IS ASSESSED AT 45 KNOTS BASED ON DVORAK CURRENT INTENSITY
ESTIMATES OF 3.0 (45 KNOTS) FROM PGTW/KNES, A 280540Z ADT ESTIMATE
OF 3.1 AND A 280147Z SATCON ESTIMATE OF 48 KNOTS. TC 20S IS FORECAST
TO TRACK SLOWLY WEST-NORTHWESTWARD TO NORTHWESTWARD THROUGH TAU 48
UNDER THE STEERING INFLUENCE OF THE LOW-LEVEL SUBTROPICAL RIDGE
(STR) POSITIONED TO THE SOUTH. THE SYSTEM IS FORECAST TO WEAKEN
STEADILY DUE TO DRY AIR ENTRAINMENT AND PERSISTENT VWS. TC 20S IS
FORECAST TO DISSIPATE BY TAU 48 BUT COULD DISSIPATE EARLIER WITHIN
THE MARGINAL ENVIRONMENT. GLOBAL MODEL GUIDANCE REMAINS IN FAIR
AGREEMENT, THEREFORE, THERE IS MODERATE CONFIDENCE IN THE JTWC
FORECAST TRACK. MAXIMUM SIGNIFICANT WAVE HEIGHT AT 280600Z IS 11
FEET. NEXT WARNINGS AT 281500Z, 282100Z, 290300Z AND 290900Z.//
NNNN
Location: 15.5°S 127.0°E
Maximum Winds: 35 kt
Minimum Central Pressure: 999 mb
TPXS11 PGTW 280921
A. REMNANTS OF TROPICAL CYCLONE 19P (ESTHER)
B. 28/0850Z
C. 15.44S
D. 126.74E
E. FIVE/HMWRI8
F. N/A
G. IR/EIR/VIS/MSI
H. REMARKS: 40A/PBO SBC/ANMTN. DVORAK VALUES UNAVAILABLE DUE TO
LLCC OVER LAND.
I. ADDITIONAL POSITIONS: NONE
MARTIN
ABIO10 PGTW 280330
2. SOUTH INDIAN OCEAN AREA (135E WEST TO COAST OF AFRICA):
B. TROPICAL DISTURBANCE SUMMARY:
(1) THE AREA OF CONVECTION (REMNANTS TC 19P) PREVIOUSLY
LOCATED NEAR 15.2S 128.9E, IS NOW LOCATED NEAR 15.3S 128.3E,
APPROXIMATELY 226 NM SOUTHWEST OF DARWIN, AUSTRALIA. ANIMATED
MULTISPECTRAL SATELLITE IMAGERY AND A 272015Z 91GHZ SSMIS MICROWAVE
IMAGE DEPICT TIGHTLY CURVED CONVECTIVE BANDING WRAPPING INTO AN
OBSCURED LOW LEVEL CIRCULATION CENTER (LLCC). THE REMNANTS OF TC 19P
ARE EXPERIENCING FAVORABLE UPPER LEVEL CONDITIONS WITH NEAR RADIAL
OUTFLOW AND LOW (10-15 KT) VERTICAL WIND SHEAR. GLOBAL MODELS AGREE
THAT THE REMNANTS OF TC 19 WILL CONTINUE TO TRACK WESTWARD TOWARD
THE NORTHWESTERN AUSTRALIAN COAST PRIOR TO TURNING SOUTHWARD.
HOWEVER, THE REMNANTS OF TC 19P ARE NO LONGER EXPECTED TO MOVE OVER
THE JOSEPH BONAPARTE GULF. THUS, THE REMNANTS OF TC 19P WILL
CONTINUE TO DISSIPATE OVER AUSTRALIA DUE TO LACK OF MOISTURE AND
FRICTIONAL EFFECTS. MAXIMUM SUSTAINED SURFACED WINDS ARE ESTIMATED
AT 30-35 KNOTS. MINIMUM SEA LEVEL PRESSURE IS ESTIMATED TO BE NEAR
996 MB. IN VIEW OF THE UNFAVORABLE FORECAST FOR THIS SYSTEM, THE
POTENTIAL FOR DEVELOPMENT OF A SIGNIFICANT TROPICAL CYCLONE WITHIN
THE NEXT 24 HOURS IS DOWNGRADED TO MEDIUM. SEE REF B (WTXS21 PGTW
280300) FOR FURTHER DETAILS.
TC 20S: WARNING 19. WEAKENING .
OVERLAND TC 19P: POSITION AT 28/06UTC
TC 20S: TRACK AND INTENSITY GUIDANCE
OVERLAND TC 19P: TRACK AND INTENSITY GUIDANCE
28/0530UTC
TC 20S.28/0837UTC
TC 20S. 28/0035UTC
TC 19P: 28/0851UTC