TC 16S: ANIMATION. CLICK IF NECESSARY.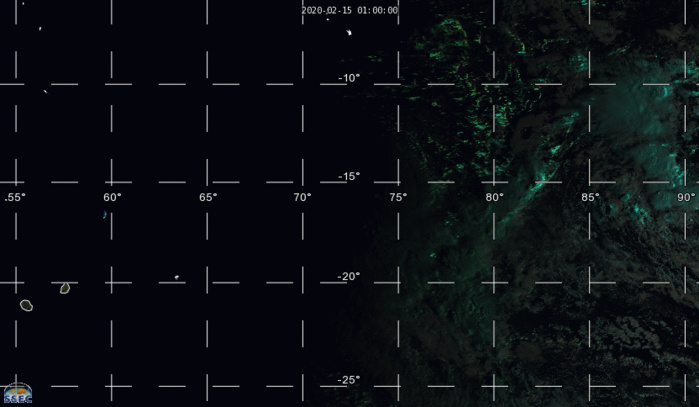 CIRA/US
TC 16S SOUTH INDIAN

Location: 16.3°S 74.5°E
Maximum Winds: 35 kt ( 65km/h)
Gusts: 45 kt ( 85km/h)
Minimum Central Pressure: 1001 mb
TPXS11 PGTW 150319
A. TROPICAL CYCLONE 16S (SIXTEEN)
B. 15/0245Z
C. 16.42S
D. 74.36E
E. FIVE/MET8
F. T2.5/2.5/D1.5/24HRS STT: S0.0/03HRS
G. IR/EIR/VIS/MSI
H. REMARKS: 40A/PBO SBC/ANMTN. CNVCTN WRAPS .45 ON LOG10 SPIRAL
YIELDING A DT OF 2.5. MET AND PT AGREE. DBO DT.
I. ADDITIONAL POSITIONS: NONE
ELIAS
REMARKS:
150300Z POSITION NEAR 16.6S 74.4E.
15FEB20. TROPICAL CYCLONE (TC) 16S (SIXTEEN), LOCATED APPROXIMATELY
564 NM SOUTH-SOUTHEAST OF DIEGO GARCIA, HAS TRACKED SOUTH-
SOUTHWESTWARD AT 08 KNOTS OVER THE PAST SIX HOURS. ANIMATED ENHANCED
INFRARED (EIR) SATELLITE IMAGERY DEPICTS A CONSOLIDATING SYSTEM WITH
DEEPENING CONVECTIVE STRUCTURE. THE INITIAL POSITION IS PLACED WITH
FAIR CONFIDENCE BASED ON A 142308Z SSMIS 37GHZ COLOR COMPOSITE IMAGE
THAT DEPICTS CONVECTIVE BANDING WRAPPING INTO A LOW LEVEL
CIRCULATION CENTER (LLCC). THE INITIAL INTENSITY OF 35 KNOTS IS ALSO
PLACED WITH FAIR CONFIDENCE BASED ON MULTI-AGENCY DVORAK INTENSITY
ESTIMATES OF T2.5 (35 KNOTS, PGTW) AND T2.0 (30 KNOTS, KNES) AND IS
REFLECTIVE OF THE IMPROVING CONVECTIVE STRUCTURE IN THE PAST 6 HOUR
EIR LOOP. TC 16S IS TRACKING ALONG THE WESTERN PERIPHERY OF A NEAR
EQUATORIAL RIDGE (NER) THROUGH AN AREA FAVORABLE FOR FURTHER
INTENSIFICATION WITH LOW (5-10 KNOTS) VERTICAL WIND SHEAR (VWS),
WARM (28-29 CELSIUS) SEA SURFACE TEMPERATURES (SST) AND ROBUST
POLEWARD OUTFLOW ENHANCED BY UPPER LEVEL RIDGING ALOFT. TC 16S WILL
CONTINUE TO TRACK GENERALLY SOUTHWARD ALONG THIS NEAR EQUATORIAL
RIDGE AND REACH A PEAK INTENSITY OF 60 KNOTS BY TAU 36 AS THE
CYCLONE REACHES A COL BETWEEN THE NER AND A BUILDING SUBTROPICAL
RIDGE (STR) TO THE SOUTHWEST. AFTERWARD, THE SYSTEM WILL BEGIN A
VERY SLOW SOUTH-SOUTHWESTWARD TRACK AS THE STR ASSUMES STEERING.
CONCURRENTLY, INCREASING VWS (25-30 KTS) AND COOLER (27-28 CELSIUS)
SST WILL LEAD TO GRADUAL WEAKENING AS THE SYSTEM TRACKS MORE
POLEWARD. BY TAU 120, TC 16S WILL BE REDUCED TO 35KTS. NUMERICAL
MODELS ARE IN GOOD AGREEMENT THROUGH TAU 36, BUT SOLUTIONS DIVERGE
SIGNIFICANTLY AFTERWARD DUE TO THE BIFURCATION SCENARIO. IN VIEW OF
THIS AND THE FORMATIVE NATURE OF THE SYSTEM, THERE IS LOW CONFIDENCE
TO THE JTWC FORECAST TRACK THAT IS LAID WEST OF THE MULTI-MODEL
CONSENSUS WHICH IS NON-REPRESENTATIVE GIVEN THE BIFURCATION. MAXIMUM
SIGNIFICANT WAVE HEIGHT AT 150000Z IS 11 FEET. NEXT WARNINGS AT
151500Z AND 160300Z. REFER TO TROPICAL CYCLONE 13S (FRANCISCO)
WARNINGS (WTXS31 PGTW) FOR THE FINAL WARNING ON THAT SYSTEM.
2. THIS CANCELS AND SUPERSEDES REF A (WTXS21 PGTW 140900).//
NNNN

16S: WARNING 1 : PEAK INTENSITY OF 60KNOTS FORECAST IN 36H.
TRACK AND INTENSITY GUIDANCE
02/15 0020UTC
02/15 03UTC