ANIMATION: 21UTC. TC 14S INTENSIFYING AND BEARING DOWN ON KARRATHA/WESTERN AUSTRALIA. CLICK TO ANIMATE IF NECESSARY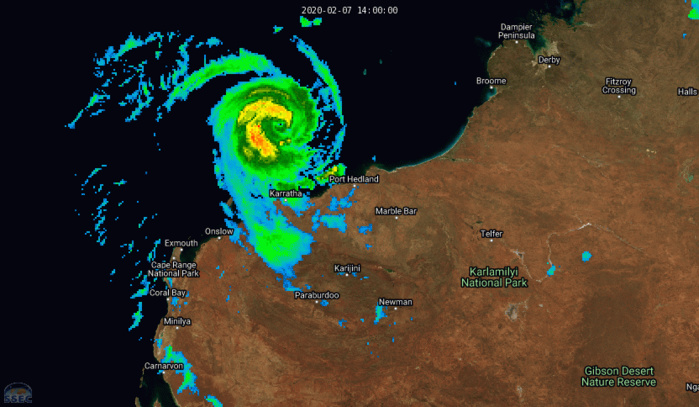 Location: 19.1°S 116.6°E
Maximum Winds: 85 kt ( 160km/h)
Gusts: 105 kt ( 195km/h)
Minimum Central Pressure: 969 mb
CATEGORY US: 2
TPXS11 PGTW 072104
A. TROPICAL CYCLONE 14S (DAMIEN)
B. 07/2030Z
C. 19.40S
D. 116.49E
E. THREE/HMWRI8
F. T5.0/5.0/D1.5/24HRS STT: S0.0/03HRS
G. IR/EIR
H. REMARKS: 09A/PBO RAGGED EYE/ANMTN. MG EYE SURROUNDED BY LG
YIELDS AN E# AND DT (NO EYE ADJUSTMENT) OF 5.0. MET/PT AGREE.
DBO DT.
I. ADDITIONAL POSITIONS:
07/1709Z 19.02S 116.63E MMHS
07/1804Z 19.10S 116.62E AMS2
MARTIN
REMARKS:
072100Z POSITION NEAR 19.4S 116.6E.
07FEB20. TROPICAL CYCLONE (TC) 14S (DAMIEN), LOCATED APPROXIMATELY
134 NM WEST-NORTHWEST OF PORT HEDLAND, AUSTRALIA, HAS TRACKED
SOUTH-SOUTHWESTWARD AT 06 KNOTS (KTS) OVER THE PAST SIX HOURS.
ANIMATED ENHANCED INFRARED (EIR) SATELLITE IMAGERY DEPICTS TIGHTLY
WRAPPING CONVECTION WITH AN APPROXIMATELY 12 NM WIDE EYE. A
071804Z AMSR2 89 GHZ MICROWAVE IMAGE SHOWS A MICROWAVE EYE WITH
CONVECTION SURROUNDING THE SYSTEM. THERE IS HIGH CONFIDENCE
IN THE INITIAL POSITION WHICH WAS POSITIONED USING AUSTRALIAN
RADAR IMAGERY, EIR IMAGERY, AND THE AFOREMENTIONED MICROWAVE
IMAGE. HEDGED BETWEEN MULTI-AGENCY DVORAK CURRENT INTENSITY
ESTIMATES OF T4.5-5.0 (77-90 KTS) BY PGTW/KNES/APRF AND SUPPORTED
BY AN ADVANCED DVORAK TECHNIQUE (ADT) INTENSITY ESTIMATE OF 82
KTS, THE INITIAL INTENSITY IS SET AT 85 KTS WITH GOOD CONFIDENCE.
WARM (29-30 CELSIUS) SEA SURFACE TEMPERATURES, LOW (10-15 KTS)
VERTICAL WIND SHEAR, AND AN EXCELLENT POLEWARD OUTFLOW CHANNEL
CONTRIBUTE TO AN OVERALL FAVORABLE ENVIRONMENT FOR CONTINUED
DEVELOPMENT. THROUGHOUT THE FORECAST PERIOD, TC 14S WILL TRACK
POLEWARD ALONG THE WESTERN PERIPHERY OF A SUBTROPICAL RIDGE. THE
SYSTEM IS EXPECTED TO INTENSIFY TO 90 KTS BY TAU 12. AFTER THAT,
THERE MAY BE A BRIEF PERIOD OF ADDITIONAL INTENSIFICATION PRIOR TO
TC 14S MAKING LANDFALL WEST OF PORT HEDLAND, AUSTRALIA. HOWEVER,
DUE TO THE TEMPORAL RESTRICTIONS OF THE FORECAST, THIS PERIOD OF
POTENTIAL FURTHER INTENSIFICATION IS NOT PORTRAYED WITHIN THE
FORECAST. AFTER LANDFALL, TERRAIN INTERACTION WILL CAUSE TC 14S TO
WEAKEN QUICKLY AS IT TRACKS POLEWARD THROUGH THE REMAINDER OF THE
FORECAST. NUMERICAL MODEL GUIDANCE IS IN GOOD AGREEMENT WITH A
CROSS-TRACK SPREAD OF 100 NM AT TAU 72, LENDING HIGH CONFIDENCE TO
THE JTWC TRACK FORECAST WHICH IS PLACED NEAR THE MULTI-MODEL
CONSENSUS. MAXIMUM SIGNIFICANT WAVE HEIGHT AT 071800Z IS 24 FEET.
NEXT WARNINGS AT 080300Z, 080900Z, 081500Z AND 082100Z.//
NNNN
TC 14S: WARNING 8: INTENSITY FORECAST TO REACH 90KTS WITHIN 12H. AFTER THAT, THERE MAY BE A BRIEF PERIOD OF ADDITIONAL INTENSIFICATION PRIOR TO TC 14S MAKING LANDFALL WEST OF PORT HEDLAND, AUSTRALIA. HOWEVER, DUE TO THE TEMPORAL RESTRICTIONS OF THE FORECAST, THIS PERIOD OF POTENTIAL FURTHER INTENSIFICATION IS NOT PORTRAYED WITHIN THE FORECAST.
WARNING 8: FORECAST LANDFALL AREA
TC 14S: TRACK AND INTENSITY GUIDANCE. LGEM AND HWRF DEPICT RAPID INTENSIFICATION JUST BEFORE LANDFALL.
02/07 12UTC INTENSITY GUIDANCE
02/07 2130UTC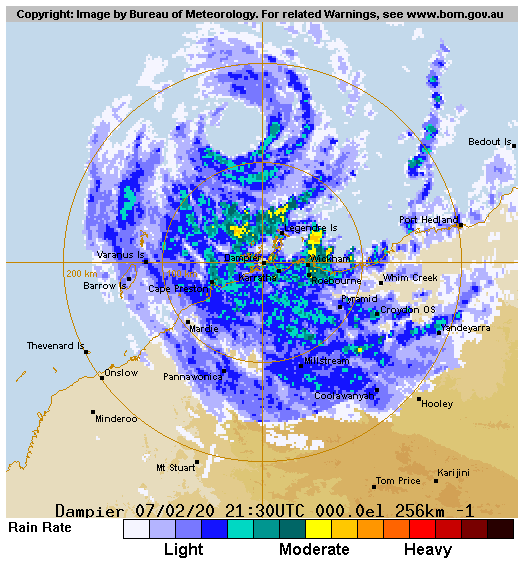 BOM/AUSTRALIA