JTWC IS ISSUING 12HOURLY WARNINGS ON TC 08S(BATSIRAI) AND 6HOURLY WARNINGS ON TC 09P. 3HOURLY SATELLITE BULLETINS ARE ISSUED ON 08S, 09P AND INVEST 90S.
FORECAST REASONING. SIGNIFICANT FORECAST CHANGES: THERE ARE NO SIGNIFICANT CHANGES TO THE FORECAST FROM THE PREVIOUS WARNING. FORECAST DISCUSSION: TC BATSIRAI WILL CONTINUE ON ITS CURRENT TRACK UNDER THE STEERING INFLUENCE OF THE SUBTROPICAL RIDGE (STR), MAKING LANDFALL OVER CENTRAL MADAGASCAR AROUND 48H, CROSS THE ISLAND, AND EXIT INTO THE MOZAMBIQUE CHANNEL JUST AFTER 72H. AFTERWARD, IT WILL ROUND THE WESTERN EDGE OF THE STR AND TRACK SOUTHWARD. THE MARGINALLY UNFAVORABLE ENVIRONMENT WILL SLOWLY ERODE THE SYSTEM DOWN TO 85KTS BY 48H. AFTERWARD, LAND INTERACTION WILL RAPIDLY ERODE IT DOWN TO 45KTS AS IT EXITS INTO THE MOZAMBIQUE CHANNEL. THE WARM SST IN THE CHANNEL WILL FUEL A MODEST INTENSIFICATION TO 55KTS BY 96H; AFTERWARD, INCREASING VWS WILL WEAKEN IT TO 50KTS BY 120H.
0822012318 83S 883E 20
0822012400 88S 890E 20
0822012406 93S 896E 20
0822012412 98S 898E 20
0822012418 103S 901E 25
0822012500 110S 904E 25
0822012506 115S 907E 20
0822012512 122S 909E 20
0822012518 132S 906E 20
0822012600 142S 896E 25
0822012606 144S 881E 30
0822012612 150S 866E 30
0822012618 157S 852E 30
0822012700 164S 837E 35
0822012706 169S 819E 45
0822012712 180S 796E 90
0822012718 185S 777E 65
0822012800 184S 761E 50
0822012806 183S 747E 45
0822012812 183S 734E 45
0822012818 183S 724E 50
0822012900 182S 716E 55
0822012906 181S 707E 65
0822012912 180S 699E 70
0822012918 178S 691E 80
0822013000 175S 681E 95
0822013006 171S 671E 100
0822013012 167S 661E 100
0822013018 165S 652E 100
0822013100 163S 646E 95
0822013106 159S 638E 85
0822013112 159S 632E 80
0822013118 160S 629E 75
0822020100 164S 623E 80
0822020106 168S 610E 85
0822020112 172S 601E 90
0822020118 175S 591E 95
0822020200 181S 583E 120
0822020206 185S 576E 125
0822020212 188S 568E 125
0822020218 189S 562E 120
0822020300 190S 557E 115
0822020306 191S 553E 115
0822020312 192S 549E 115
CLICK ON THE IMAGERY BELOW TO ENLARGE IT.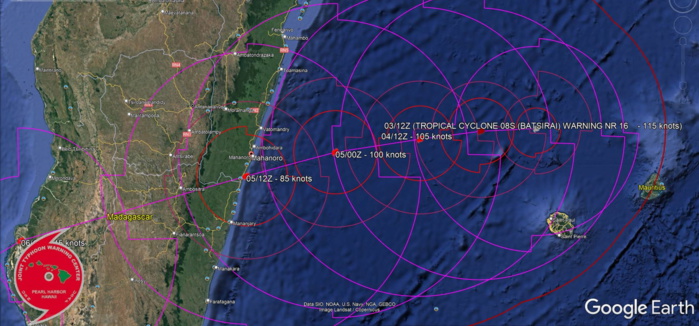 latestSI.png
(166.83 KB)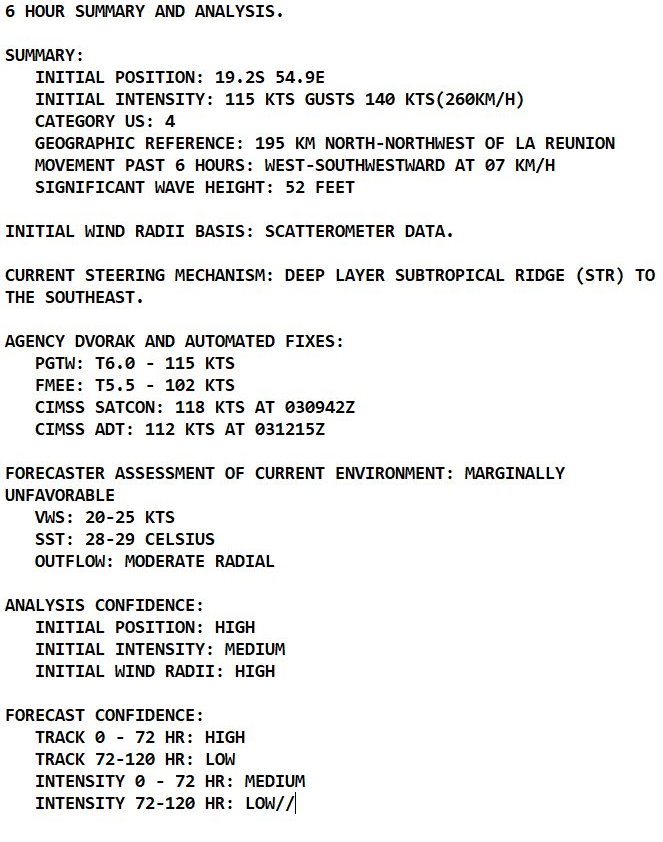 CIMSS ANALYSIS: NEUTRAL OVER 24H.
CLICK ON THE IMAGERY BELOW TO ANIMATE AND ENLARGE IT.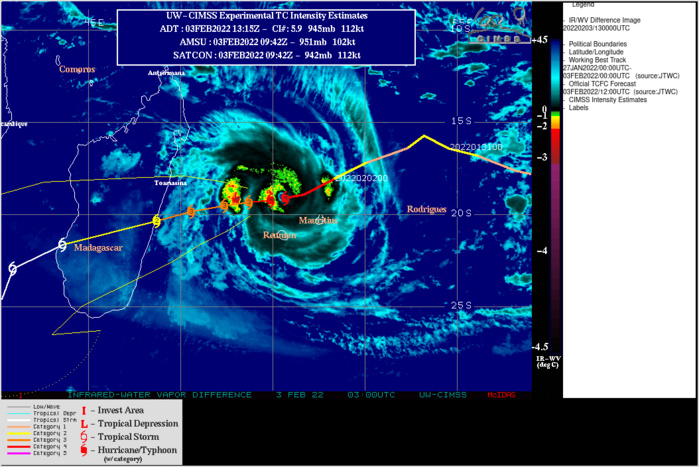 SATELLITE ANALYSIS, INITIAL POSITION AND INTENSITY DISCUSSION: ANIMATED MULTISPECTRAL SATELLITE IMAGERY (MSI) DEPICTS AN INTENSE, HIGHLY SYMMETRICAL SYSTEM WITH DEEP CENTRAL CONVECTION AND A 19-KM SHARPLY OUTLINED PINHOLE EYE THAT HAS JUST COMPLETED EYEWALL REPLACEMENT.THE INITIAL POSITION IS PLACED WITH HIGH CONFIDENCE ON THE EYE,ADJUSTED FOR A SLIGHT TILT AND LINED UP WITH A WELL-DEFINED MICROWAVE EYE FEATURE IN THE 031033Z AMSR2 89GHZ IMAGE. THE INITIAL INTENSITY OF 115KTS/CAT 4 US IS BASED ON AN OVERALL ASSESSMENT OF AGENCY AND AUTOMATED DVORAK ESTIMATES AND CONSISTENT WITH THE SUSTAINED 6-HR CONVECTIVE STRUCTURE. ANALYSIS INDICATES THE CYCLONE HAS DRIFTED INTO A MARGINALLY UNFAVORABLE ENVIRONMENT WITH WARM (28-29C) SST AND MODERATE RADIAL OUTFLOW OFFSET BY MODERATE TO STRONG (20-25KT) VWS. TC 08S IS TRACKING ALONG THE NORTHWEST PERIPHERY OF THE DEEP-LAYER STR TO THE SOUTHEAST.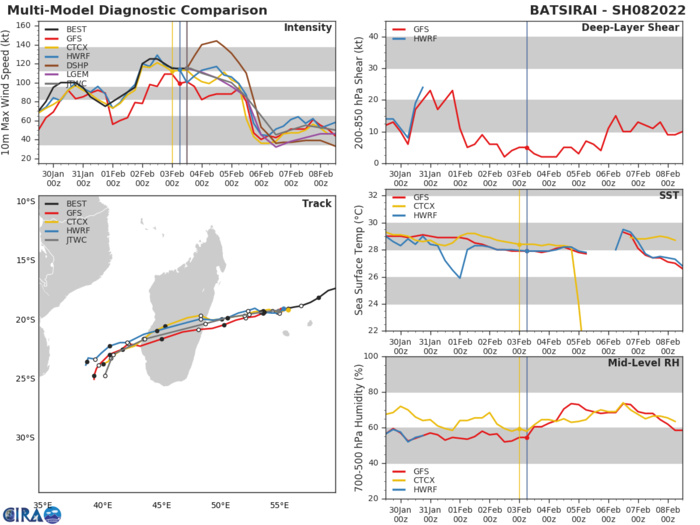 MODEL DISCUSSION: NUMERICAL MODELS ARE IN TIGHT AGREEMENT, GRADUALLY AND EVENLY SPREADING OUT TO 350KM BY 120H, LENDING HIGH CONFIDENCE TO THE JTWC TRACK FORECAST UP TO 72H AND LOW CONFIDENCE AFTERWARD.
HWRF AT 03/06UTC: 117KNOTS AT +30H.