CLICK TO ANIMATE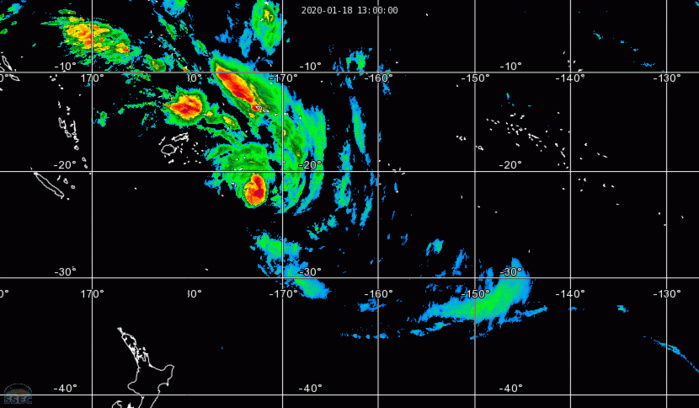 TC 08P(TINO) SOUTH PACIFIC
Location: 23.0°S 171.5°W
Maximum Winds: 60 kt (110km/h)
Gusts: 75 kt ( 140km/h)
Minimum Central Pressure: 968 mb
182100Z POSITION NEAR 24.0S 170.6W.
18JAN20. TROPICAL CYCLONE (TC) 08P (TINO), LOCATED APPROXIMATELY 251
NM SOUTH-SOUTHWEST OF NIUE, HAS TRACKED SOUTHEASTWARD AT 22 KNOTS
(KTS) OVER THE PAST SIX HOURS. ANIMATED MULTISPECTRAL SATELLITE
IMAGERY REVEALS AN ASYMMETRIC CENTRAL DENSE OVERCAST WITH EASTERLY
VERTICAL WIND SHEAR (VWS). A PARTIAL EYEWALL FEATURE IN A 181737Z
SSMIS 37 GHZ MICROWAVE IMAGE PROVIDES HIGH CONFIDENCE IN THE INITIAL
POSITION. THE INITIAL INTENSITY OF 60 KTS FALLS BETWEEN MULTI-AGENCY
DVORAK ESTIMATES OF T3.5-4.0 (55-65 KTS). TC 08P IS EXPERIENCING GOOD
POLEWARD OUTFLOW DUE TO ITS PROXIMITY TO A POLAR FRONT JET (PFJ).
ALTHOUGH THE INITIAL POSITION IS IN AN AREA OF FAVORABLE (10-20 KT)
VWS, VWS VALUES INCREASE SIGNIFICANTLY AS IT GETS CLOSER TO THE PFJ.
COMBINED WITH MARGINAL (26-27 CELSIUS) SEA SURFACE TEMPERATURE (SST),
THE ENVIRONMENT IS SLIGHTLY UNFAVORABLE. TC 08P IS TRACKING ALONG THE
SOUTHWEST PERIPHERY OF A SUBTROPICAL RIDGE (STR). HIGH VWS AND COOL
SST WILL MAKE THE ENVIRONMENT INCREASINGLY HOSTILE AS TC 08P CONTINUES
TO TRACK ALONG THE PERIPHERY OF THE STR. BY TAU 12, THE SYSTEM WILL
BEGIN INTRUDING ON THE MIDLATITUDE BAROCLINIC ZONE AND START
EXTRATROPICAL TRANSITION. BY TAU 36, THE SYSTEM WILL HAVE FULLY
TRANSITIONED INTO A DEEP, COLD-CORE EXTRATROPICAL CYCLONE. NUMERICAL
MODEL GUIDANCE IS IN STRONG AGREEMENT, LENDING HIGH CONFIDENCE TO THE
JTWC TRACK FORECAST. MAXIMUM SIGNIFICANT WAVE HEIGHT AT 181800Z IS 26
FEET. NEXT WARNINGS AT 190300Z, 190900Z, 191500Z AND 192100Z.//
NNNN
WARNING 9: FORECAST TO BE FULLY EXTRATROPICAL IN 36H
01/18 1738UTC: MICROWAVE DEPICTS STILL GOOD ORGANIZATION AT THE MID-LEVELS
TRACK AND INTENSITY GUIDANCE