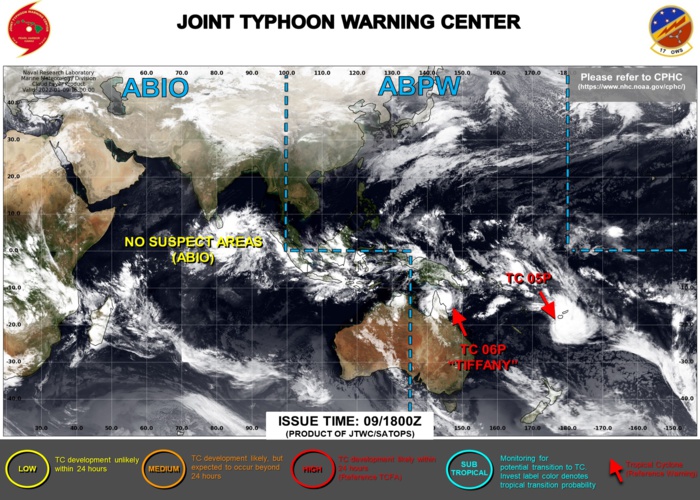 JTWC IS ISSUING 6HOURLY WARNINGS AND 3HOURLY SATELLITE BULLETINS ON TC 05P(CODY) AND TC 06P(TIFFANY).
SOUTHERN HEMISPHERE/SOUTH PACIFIC: TC 05P(CODY). WARNING 6 ISSUED AT 10/03UTC.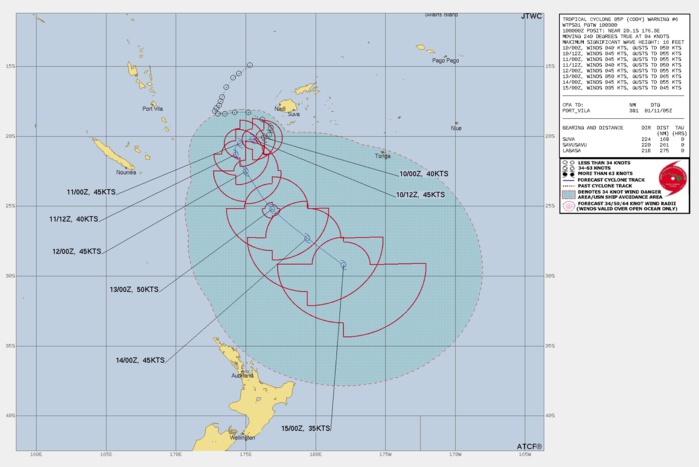 FORECAST REASONING. SIGNIFICANT FORECAST CHANGES: THERE ARE NO SIGNIFICANT CHANGES TO THE FORECAST FROM THE PREVIOUS WARNING. FORECAST DISCUSSION: TC 05P HAS SLOWED AND TURNED WEST-SOUTHWESTWARD UNDER THE DOMINANT STEERING INFLUENCE OF THE STR TO THE SOUTH. A SERIES OF SHORTWAVE TROUGHS WILL WEAKEN THE STR INDUCING A SLOW POLEWARD TRACK. NEAR 48H, AN APPROACHING MAJOR SHORTWAVE TROUGH WILL FURTHER WEAKEN THE STR, WHICH WILL LEAD TO A FASTER SOUTHEASTWARD TRACK ALONG THE SOUTHWESTERN PERIPHERY OF A STEERING RIDGE TO THE EAST. THE SYSTEM IS EXPECTED TO REMAIN WITHIN A COMPLEX UPPER-LEVEL ENVIRONMENT UNDER A BROAD UPPER-LEVEL TROUGH, HOWEVER, SLIGHT INTENSIFICATION IS ANTICIPATED DUE TO ROBUST POLEWARD OUTFLOW WITH A PEAK INTENSITY OF 45-50 KNOTS. AFTER 72H, TC 05P WILL GRADUALLY WEAKEN AS IT BECOMES FURTHER EMBEDDED WITHIN THE UPPER-LEVEL TROUGH AND ENCOUNTERS STRONG VERTICAL WIND SHEAR (30-45 KNOTS) AND COOLER SST VALUES (24-25C). AFTER 72H, TC 05P IS FORECASTED TO GRADUALLY TRANSITION INTO A SUBTROPICAL CYCLONE.
0522010606 155S1745E 25
0522010612 158S1741E 20
0522010618 165S1736E 20
0522010700 172S1733E 20
0522010706 175S1732E 20
0522010712 178S1731E 20
0522010718 180S1729E 20
0522010800 182S1728E 25
0522010806 184S1730E 25
0522010812 184S1735E 30
0522010818 183S1742E 30
0522010900 183S1752E 30
0522010906 188S1762E 30
0522010912 194S1768E 35
0522010918 199S1767E 40
0522011000 201S1763E 40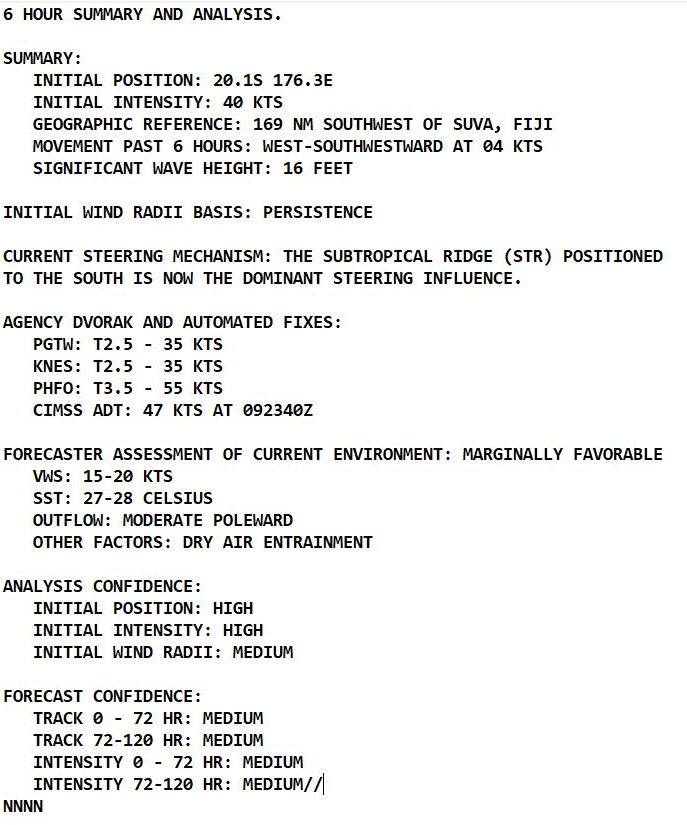 CLICK ON THE IMAGERY BELOW TO ANIMATE AND ENLARGE IT.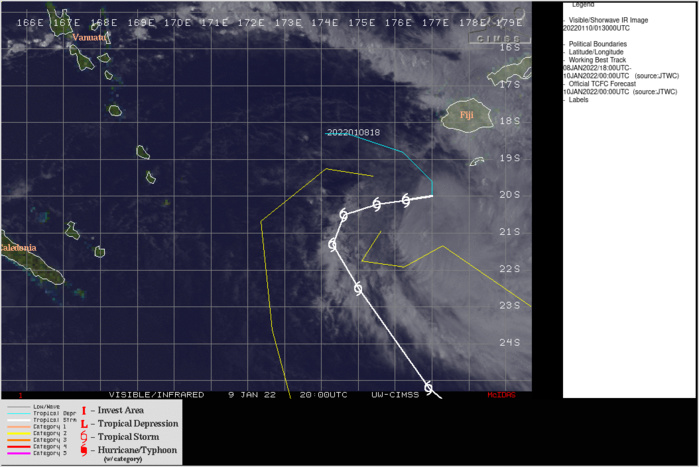 SATELLITE ANALYSIS, INITIAL POSITION AND INTENSITY DISCUSSION: ANIMATED MULTISPECTRAL SATELLITE IMAGERY (MSI) DEPICTS A FULLY-EXPOSED, WELL-DEFINED LOW-LEVEL CIRCULATION CENTER, WHICH SUPPORTS THE INITIAL POSITION WITH HIGH CONFIDENCE, WITH DEEP CONVECTION SHEARED ABOUT 55KM SOUTH. A 100131Z AMSR2 89GHZ MICROWAVE IMAGE INDICATES EXTENSIVE DEEP CONVECTIVE BANDING OVER THE EASTERN AND SOUTHERN SEMICIRCLES WRAPPING BROADLY AROUND THE CENTER. ANIMATED WATER VAPOR IMAGERY AND UW-CIMSS FEATURE TRACK WINDS CONTINUE TO SHOW AN UPPER-LEVEL TROUGH AND POSSIBLE CLOSED LOW OVER THE SYSTEM, WHICH IS HINDERING DEVELOPMENT OF CORE CONVECTION. THE INITIAL INTENSITY OF 40 KTS IS ASSESSED WITH HIGH CONFIDENCE AND IS HEDGED SLIGHTLY HIGHER THAN THE PGTW AND KNES DVORAK ESTIMATES BASED ON THE CIMSS ADT ESTIMATE.
MODEL DISCUSSION: THE NUMERICAL MODELS AND ENSEMBLE GUIDANCE (EPS AND GEFS) SUPPORT THE JTWC FORECAST TRACK WITH MEDIUM CONFIDENCE WITH SOME UNCERTAINTY IN THE EXACT TRACK DUE TO THE COMPLEX, RAPIDLY-EVOLVING SYNOPTIC PATTERN. THERE IS ALSO UNCERTAINTY IN THE JTWC INTENSITY FORECAST DUE TO THE PRESENCE OF THE UPPER-LEVEL TROUGH OVER THE SYSTEM AND THE POTENTIAL FOR DRY AIR ENTRAINMENT, WHICH IS EXPECTED TO LIMIT DEVELOPMENT. THE BULK OF THE RELIABLE INTENSITY GUIDANCE SUPPORTS THE JTWC FORECAST WITH MEDIUM CONFIDENCE. AFTER 72H, THE JTWC INTENSITY FORECAST IS SLIGHTLY BELOW THE JTWC INTENSITY CONSENSUS DUE TO INCREASING VERTICAL WIND SHEAR AND COOL SST VALUES (23-24C).
SOUTHERN HEMISPHERE/CORAL TO SEA TO GULF OF CARPENTARIA: TC 06P(TIFFANY) WARNING 4 ISSUED AT 10/03UTC.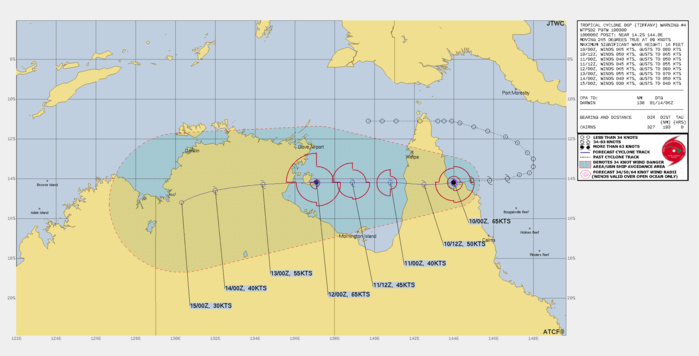 FORECAST REASONING. SIGNIFICANT FORECAST CHANGES: THERE ARE NO SIGNIFICANT CHANGES TO THE FORECAST FROM THE PREVIOUS WARNING. FORECAST DISCUSSION: TC 06P IS FORECASTED TO TRACK WESTWARD THROUGH THE FORECAST PERIOD UNDER THE STEERING INFLUENCE OF A DEEP-LAYERED STR ENTRENCHED TO THE SOUTH. THE STR IS NOT EXPECTED TO WEAKEN SIGNIFICANTLY THROUGH THE FORECAST PERIOD. THE SYSTEM WILL WEAKEN SIGNIFICANTLY AS IT TRACKS ACROSS THE CAPE YORK PENINSULA THEN REINTENSIFY QUICKLY PERHAPS RAPIDLY AS IT TRACKS OVER THE GULF OF CARPENTARIA. THE PEAK INTENSITY WILL LIKELY OCCUR NEAR 48H, OVER WATER, WITH POTENTIAL FOR A 65-75 KNOT PEAK DUE TO VERY WARM SST (30- 32C) AND HIGH OCEAN HEAT CONTENT VALUES. BY 60H, THE SYSTEM WILL TRACK INLAND AND WEAKEN TO 55-60 KNOTS. THEN IT WILL WEAKEN RAPIDLY AS IT TRACKS WESTWARD AND DISSIPATE BY 120H.
0622010500 111S1397E 15
0622010506 111S1404E 15
0622010512 111S1411E 15
0622010518 111S1423E 15
0622010600 111S1432E 15
0622010606 111S1435E 15
0622010612 111S1439E 15
0622010618 112S1443E 15
0622010700 114S1450E 15
0622010706 116S1457E 15
0622010712 119S1466E 15
0622010718 122S1472E 15
0622010800 127S1477E 15
0622010806 130S1480E 15
0622010812 134S1480E 25
0622010818 137S1478E 30
0622010900 138S1473E 30
0622010906 140S1467E 40
0622010912 141S1458E 55
0622010918 141S1449E 60
0622011000 142S1440E 65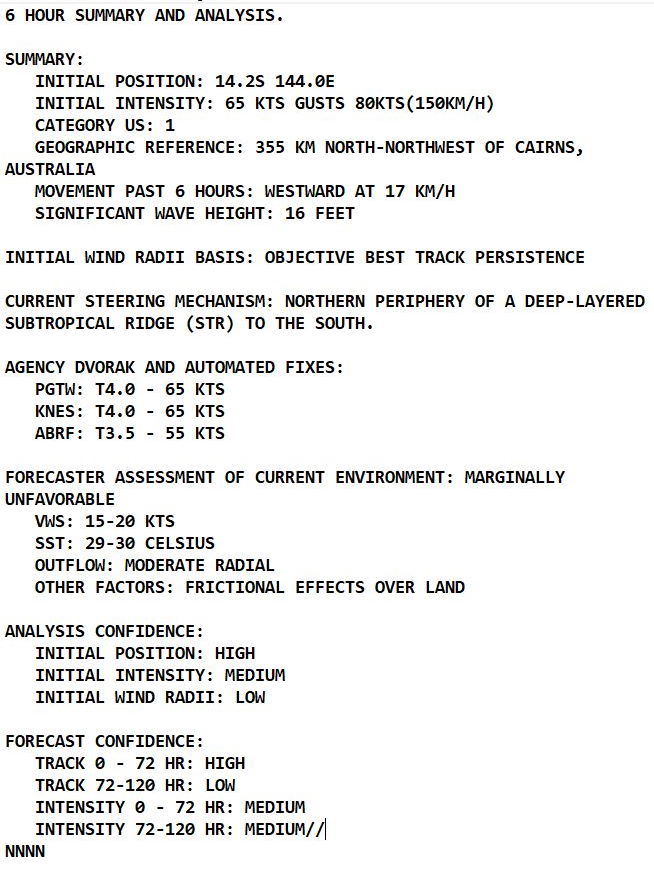 CLICK ON THE IMAGERY BELOW TO ANIMATE AND ENLARGE IT.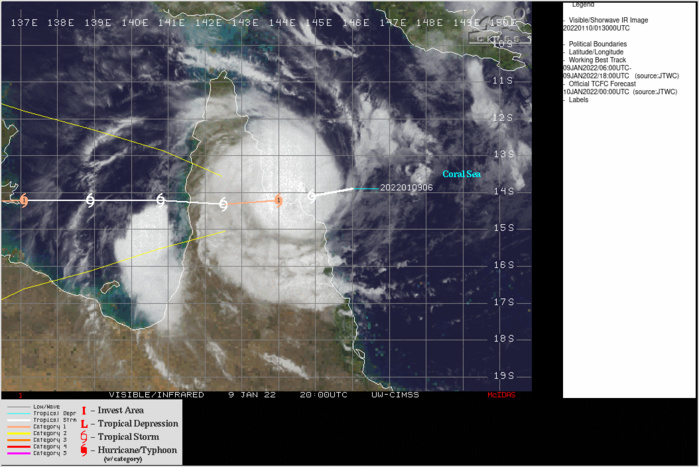 SATELLITE ANALYSIS, INITIAL POSITION AND INTENSITY DISCUSSION: TC 06P TRACKED INTO THE PRINCESS CHARLOTTE BAY WHILE CONSOLIDATING, AND BRIEFLY FLIRTED WITH AN EYE, WHICH LED TO A JUMP IN DVORAK ESTIMATES TO T4.0 (65 KNOTS). A PARTIAL 092011Z SMAP IMAGE ALSO INDICATED PEAK WINDS OF 65 KNOTS, THEREFORE THE INITIAL INTENSITY IS ASSESSED AT TYPHOON STRENGTH. OVER THE PAST FEW HOURS, THE SYSTEM MADE LANDFALL (ABOUT 100130Z) AND HAS SUBSEQUENTLY WEAKENED. THERE ARE NO AVAILABLE SURFACE OBSERVATIONS IN THIS AREA. ADDITIONALLY, THE SYSTEM IS ALSO TOO FAR FROM THE WEIPA AND CAIRNS RADARS THEREFORE THE CENTER AND DEVELOPING EYE IS NOT CLEARLY EVIDENT AS OF THIS TIME. UPPER-LEVEL CONDITIONS ARE FAVORABLE WITH RADIAL OUTFLOW OFFSET SOMEWHAT BY LOW TO MODERATE EASTERLY VERTICAL WIND SHEAR. HOWEVER, OVERALL CONDITIONS ARE MARGINALLY FAVORABLE DUE TO INTERACTION WITH LAND.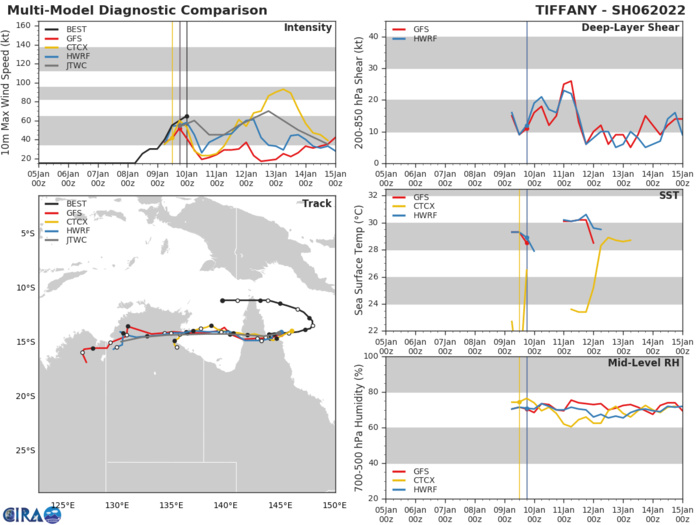 MODEL DISCUSSION: DYNAMIC AND ENSEMBLE MODEL GUIDANCE (EPS AND GEFS) ARE IN GOOD AGREEMENT THROUGH 72H LENDING HIGH CONFIDENCE TO THE JTWC FORECAST TRACK. HOWEVER, THERE IS INCREASING UNCERTAINTY IN THE TRACK AFTER 72H AS THE SYSTEM RAPIDLY WEAKENS OVER LAND, THEREFORE, LOW CONFIDENCE. OVERALL CONFIDENCE IN THE JTWC INTENSITY FORECAST IS MEDIUM WITH UNCERTAINTY IN THE PEAK INTENSITY AT 48H.
PARTIAL 092011Z SMAP IMAGE READ PEAK WINDS OF 65.5 KNOTS.
09/18UTC. ECWMF AT +240H.