TC 02S(BELNA): CLICK TO ANIMATE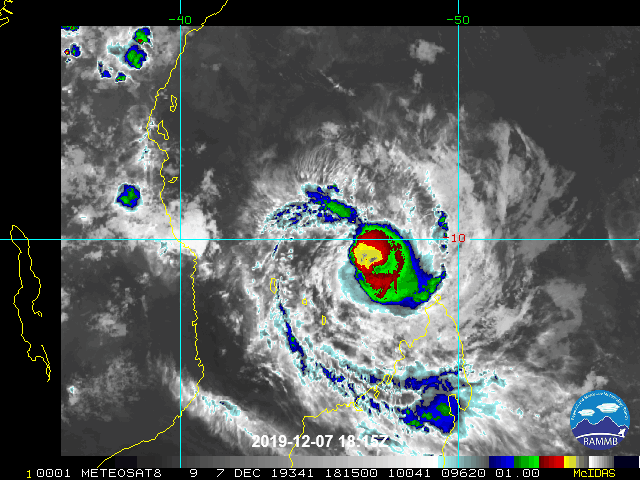 TC 02S BELNA SOUTH INDIAN MOZ CHANNEL
Location: 10.9°S 47.2°E
Maximum Winds: 100 kt ( 185km/h)
Gusts: 125 kt ( 230km/h)
Minimum Central Pressure: 960 mb
CATEGORY US: 3
REMARKS:
072100Z POSITION NEAR 11.2S 47.1E.
07DEC19. TROPICAL CYCLONE (TC) 02S (BELNA), LOCATED APPROXIMATELY
788 NM NORTH-NORTHEAST OF EUROPA ISLAND, HAS TRACKED SOUTH-
SOUTHWESTWARD AT 06 KNOTS (KTS) OVER THE PAST SIX HOURS. A PINHOLE
EYE IN ANIMATED ENHANCED INFRARED (EIR) SATELLITE IMAGERY AND A
071802Z METOP-B ASCAT BULLSEYE PASS PLACE HIGH CONFIDENCE IN THE
INITIAL POSITION. THE INITIAL INTENSITY IS SET AT 100 KTS, HEDGED
BETWEEN THE PGTW DVORAK CURRENT INTENSITY ESTIMATE OF T5.5 (102
KTS), A 071500Z ADVANCED DVORAK TECHNIQUE ESTIMATE OF T5.0 (90 KTS),
AND A 071617Z SATCON ESTIMATE OF 98 KTS WITH GOOD CONFIDENCE. THE
ENVIRONMENT REMAINS OVERALL FAVORABLE FOR FURTHER INTENSIFICATION
WITH GOOD POLEWARD AND EQUATORWARD OUTFLOW, LOW (5-10 KTS) VERTICAL
WIND SHEAR (VWS), AND WARM (28-29 CELSIUS) SEA SURFACE TEMPERATURES
(SST). THE ENVIRONMENT REMAINS FAVORABLE FOR FURTHER
INTENSIFICATION. TC 02S IS TRACKING AROUND THE WESTERN PERIPHERY OF
A SUBTROPICAL RIDGE (STR) TO THE EAST. THE SYSTEM WILL MAINTAIN A
SOUTH-SOUTHWESTWARD TRACK UNTIL LANDFALL, INTENSIFYING THROUGH TAU
24 AND THEN BEGINNING TO WEAKEN AS THE SYSTEM BEGINS TO ROUND THE
STR AND OUTFLOW BECOMES LESS ENHANCED. PRIOR TO TAU 48, TC 02S WILL
MAKE LANDFALL IN NORTHERN MADAGASCAR AND BEGIN WEAKENING, SLOWLY AT
FIRST AND THEN MORE QUICKLY DUE TO LAND INTERACTION. DISSIPATION
OVER LAND IS EXPECTED TO OCCUR BY TAU 96. THE JTWC FORECAST TRACK IS
PLACED TO THE WEST OF THE MULTI-MODEL CONSENSUS TO OFFSET SOME
EASTERLY OUTLIERS (GALWEM, UKMET, AND NAVGEM). THE ECMWF SOLUTION
DEPICTS THE SYSTEM REMAINING OVER WATER THROUGH TAU 120. IF TC 02S
FOLLOWS A TRACK SIMILAR TO ECMWF, THE STORM COULD INTENSIFY FURTHER
OR WEAKEN MORE SLOWLY. THERE IS LOW CONFIDENCE IN THE JTWC TRACK
FORECAST DUE TO THE SPREAD IN THE MODEL GUIDANCE AND PROXIMITY TO
LAND. MAXIMUM SIGNIFICANT WAVE HEIGHT AT 071800Z IS 33 FEET. NEXT
WARNINGS AT 080900Z AND 082100Z. REFER TO TROPICAL CYCLONE 03S
(AMBALI) WARNINGS (WTXS32 PGTW) FOR UPDATES.//
NNNN
TC 03S AMBALI
SOUTH INDIAN
Location: 13.7°S 63.0°E
Maximum Winds: 40 kt ( 75km/h)
Gusts: 50 kt ( 95km/h)
Minimum Central Pressure: 1003 mb
92B INVEST NORTH INDIAN ARABIAN SEA
Location: 7.7°N 64.7°E
Maximum Winds: 25 kt
Minimum Central Pressure: 1004 mb
WTIO21 PGTW 072100
MSGID/GENADMIN/JOINT TYPHOON WRNCEN PEARL HARBOR HI//
SUBJ/TROPICAL CYCLONE FORMATION ALERT (INVEST 92B)//
RMKS/
1. FORMATION OF A SIGNIFICANT TROPICAL CYCLONE IS POSSIBLE WITHIN
140 NM EITHER SIDE OF A LINE FROM 7.7N 64.9E TO 10.6N 59.6E
WITHIN THE NEXT 12 TO 24 HOURS. AVAILABLE DATA DOES NOT JUSTIFY
ISSUANCE OF NUMBERED TROPICAL CYCLONE WARNINGS AT THIS TIME.
WINDS IN THE AREA ARE ESTIMATED TO BE 20 TO 25 KNOTS. METSAT
IMAGERY AT 071800Z INDICATES THAT A CIRCULATION CENTER IS LOCATED
NEAR 7.7N 64.7E. THE SYSTEM IS MOVING NORTHWARD AT 07 KNOTS.
2. REMARKS: THE AREA OF CONVECTION (INVEST 92B) PREVIOUSLY LOCATED
NEAR 7.3N 64.0E IS NOW LOCATED NEAR 7.7N 64.7E, APPROXIMATELY 684 NM
SOUTHEAST OF SOCOTRA. ANIMATED MULTISPECTRAL SATELLITE IMAGERY AND A
071730Z METOP-B ASCAT PASS DEPICT BUILDING DEEP CONVECTION SLIGHTLY
OFFSET TO THE NORTHEAST WITH FORMATIVE BANDING WRAPPING IN FROM THE
NORTH OVER A SLIGHTLY ELONGATED LOW LEVEL CIRCULATION CENTER. UPPER
LEVEL ANALYSIS SHOWS FAVORABLE CONDITIONS FOR DEVELOPMENT WITH GOOD
EQUATORWARD OUTFLOW AND LOW (<15 KTS) VERTICAL WIND SHEAR. SEA
SURFACE TEMPERATURES ARE FAVORABLE AT 29-30 DEGREES CELSIUS. GLOBAL
MODELS ARE IN SLIGHT DISAGREEMENT WITH GFS AND NAVGEM SHOWING SLIGHT
INTENSIFICATION AND A NORTHWESTWARD TRACK WHILE UKMET, JGSM, AND
ECMWF SHOW MINIMAL CIRCULATION AND INTENSIFICATION OF 92B. MAXIMUM
SUSTAINED SURFACE WINDS ARE ESTIMATED AT 20 TO 25 KNOTS. MINIMUM SEA
LEVEL PRESSURE IS ESTIMATED TO BE NEAR 1004 MB. THE POTENTIAL FOR
THE DEVELOPMENT OF A SIGNIFICANT TROPICAL CYCLONE WITHIN THE NEXT 24
HOURS IS HIGH.
3. THIS ALERT WILL BE REISSUED, UPGRADED TO WARNING OR CANCELLED BY
082100Z.//
NNNN
94P INVEST SOUTH PACIFIC CORAL SEA
Location: 9.0°S 162.5°E
Maximum Winds: 15 kt
Minimum Central Pressure: 1007 mb
TC 02S(BELNA): CURRENT INTENSITY: 100KTS, CAT 3. INTENSIFYING
INVEST 92B: TROPICAL CYCLONE FORMATION ALERT(TCFA)
TC 02S( BELNA): TRACK AND INTENSITY GUIDANCE
TC 03S( AMBALI): TRACK AND INTENSITY GUIDANCE
INVEST 92B: TRACK AND INTENSITY GUIDANCE