TC 02S(BELNA): CLICK TO ANIMATE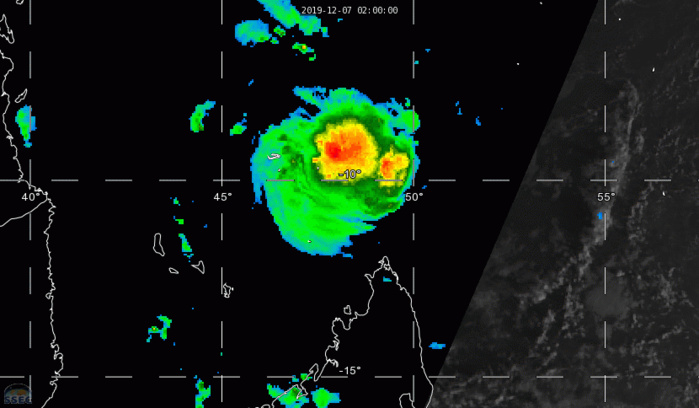 TC 02S BELNA SOUTH INDIAN MOZ CHANNEL
Location: 9.6°S 47.4°E
Maximum Winds: 85 kt ( 160km/h)
Gusts: 105 kt ( 195km/h)
Minimum Central Pressure: 974 mb
CATEGORY US: 2
REMARKS:
070900Z POSITION NEAR 9.9S 47.3E.
07DEC19. TROPICAL CYCLONE (TC) 02S (BELNA), LOCATED APPROXIMATELY
862 NM NORTH-NORTHEAST OF EUROPA ISLAND, HAS TRACKED SOUTHWESTWARD
AT 06 KNOTS (KTS) OVER THE PAST SIX HOURS. A 5-10 NM EYE IN ANIMATED
MULTISPECTRAL SATELLITE IMAGERY PROVIDES HIGH CONFIDENCE IN THE
INITIAL POSITION. THE INITIAL INTENSITY OF 85 KTS IS HEDGED BETWEEN
THE PGTW DVORAK CURRENT INTENSITY ESTIMATE OF T5.0 (90 KTS) AND A
070548Z CIMSS SATCON ESTIMATE OF 75 KTS. WITH LOW (5-10 KT) VERTICAL
WIND SHEAR (VWS), GOOD EQUATORWARD AND POLEWARD OUTFLOW, AND WARM
(28-29 CELSIUS) SEA SURFACE TEMPERATURE, THE ENVIRONMENT IS VERY
FAVORABLE FOR INTENSIFICATION. TC 02S IS TRACKING ALONG THE WESTERN
PERIPHERY OF A SUBTROPICAL RIDGE (STR). THE VERY FAVORABLE
ENVIRONMENT SHOULD ALLOW RAPID INTENSIFICATION TO 115 KTS BY TAU 36.
AFTERWARD, TC 02S WILL BEGIN ROUNDING THE STR AXIS AND EXPERIENCE
LESS FAVORABLE OUTFLOW. THAT, COUPLED WITH LAND INTERACTION WITH
MADAGASCAR, SHOULD CAUSE THE INTENSITY TO BEGIN FALLING, SLOWLY AT
FIRST THEN MORE RAPIDLY AFTER MAKING LANDFALL. AFTER TAU 96, THE
SYSTEM IS EXPECTED TO CROSS OVER MADAGASCAR AND EMERGE BACK OVER THE
INDIAN OCEAN AS A 30 KT SYSTEM. THE JTWC TRACK FORECAST IS HEDGED
WEST OF THE CONSENSUS TO ACCOUNT FOR AN EASTERN OUTLIER (NAVGEM).
NOTABLY, THE FORECAST TRACK FALLS EAST OF THE ECMWF SOLUTION WHICH
KEEPS THE SYSTEM OVER WATER UNTIL ABOUT TAU 120. IF TC 02S FOLLOWS A
TRACK SIMILAR TO THAT SOLUTION, THE STORM COULD INTENSIFY FURTHER OR
WEAKEN MORE SLOWLY. BASED ON SIGNIFICANT SPREAD IN THE MODEL
GUIDANCE AND THE CLOSE PROXIMITY TO LAND, THERE IS LOW CONFIDENCE IN
THE JTWC TRACK FORECAST. MAXIMUM SIGNIFICANT WAVE HEIGHT AT 070600Z
IS 26 FEET. NEXT WARNINGS AT 072100Z AND 080900Z. REFER TO TROPICAL
CYCLONE 03S (AMBALI) WARNINGS (WTXS32 PGTW) FOR UPDATES.//
NNNN
TC 03S AMBALI
SOUTH INDIAN
Location: 12.4°S 63.1°E
Maximum Winds: 60 kt ( 110km/h)
Gusts: 75 kt ( 140km/h)
Minimum Central Pressure: 992 mb
92B INVEST NORTH INDIAN ARABIAN SEA
Location: 6.5°N 65.2°E
Maximum Winds: 25 kt
Minimum Central Pressure: 1009 mb
ABIO10 PGTW 070730
1. NORTH INDIAN OCEAN AREA (MALAY PENINSULA WEST TO COAST OF
AFRICA):
B. TROPICAL DISTURBANCE SUMMARY:
(1) THE AREA OF CONVECTION (INVEST 92B) PREVIOUSLY LOCATED
NEAR 5.6N 66.4E IS NOW LOCATED NEAR 6.5N 65.2E, APPROXIMATELY 755 NM
EAST-SOUTHEAST OF SOCOTRA. ANIMATED MULTISPECTRAL SATELLITE IMAGERY
AND A 070522Z 89GHZ METOP-B SATELLITE IMAGE DEPICT FORMATIVE BANDING
WRAPPING AROUND A CONSOLIDATING LOW LEVEL CIRCULATION CENTER. UPPER
LEVEL ANALYSIS SHOWS FAVORABLE CONDITIONS FOR DEVELOPMENT WITH
DIFFLUENCE ALOFT AND LOW (<15 KTS) VERTICAL WIND SHEAR. SEA SURFACE
TEMPERATURES ARE FAVORABLE AT 29-30 DEGREES CELSIUS. GLOBAL MODELS
ARE IN FAIR AGREEMENT SHOWING MINIMAL INTENSIFICATION OF 92B AS IT
TRACKS TO THE NORTHWEST. MAXIMUM SUSTAINED SURFACE WINDS ARE
ESTIMATED AT 20 TO 25 KNOTS. MINIMUM SEA LEVEL PRESSURE IS ESTIMATED
TO BE NEAR 1004 MB. THE POTENTIAL FOR THE DEVELOPMENT OF A
SIGNIFICANT TROPICAL CYCLONE WITHIN THE NEXT 24 HOURS IS UPGRADED TO
MEDIUM.
93P INVEST SOUTH PACIFIC CORAL SEA
Location: 8.8°S 160.7°E
Maximum Winds: 15 kt
Minimum Central Pressure: 1006 mb
TC 02S(BELNA): CURRENT INTENSITY: 85KTS, CAT 2. INTENSIFYING
TC 02S( BELNA): TRACK AND INTENSITY GUIDANCE
TC 03S( AMBALI): TRACK AND INTENSITY GUIDANCE
07/00UTC