SOUTHERN HEMISPHERE/SOUTH PACIFIC: TC 02P(MAL). ESTIMATED CURRENT INTENSITY IS 75 KNOTS: + 20 KNOTS OVER 24H.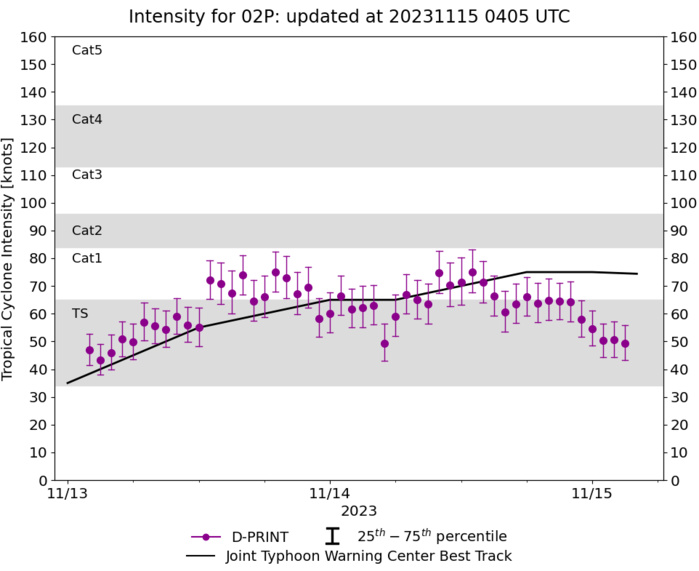 0223111012 65S1623E 15
0223111018 66S1629E 15
0223111100 68S1634E 15
0223111106 70S1651E 20
0223111112 70S1661E 25
0223111118 70S1670E 25
0223111200 70S1678E 25
0223111206 75S1689E 25
0223111212 81S1696E 30
0223111218 87S1702E 30
0223111300 96S1708E 35
0223111306 110S1720E 45
0223111312 125S1732E 55
0223111318 136S1739E 60
0223111400 146S1745E 65
0223111406 161S1751E 65
0223111412 172S1756E 70
0223111418 187S1766E 75
0223111500 203S1780E 75
WARNING 9 ISSUED AT 15/03UTC.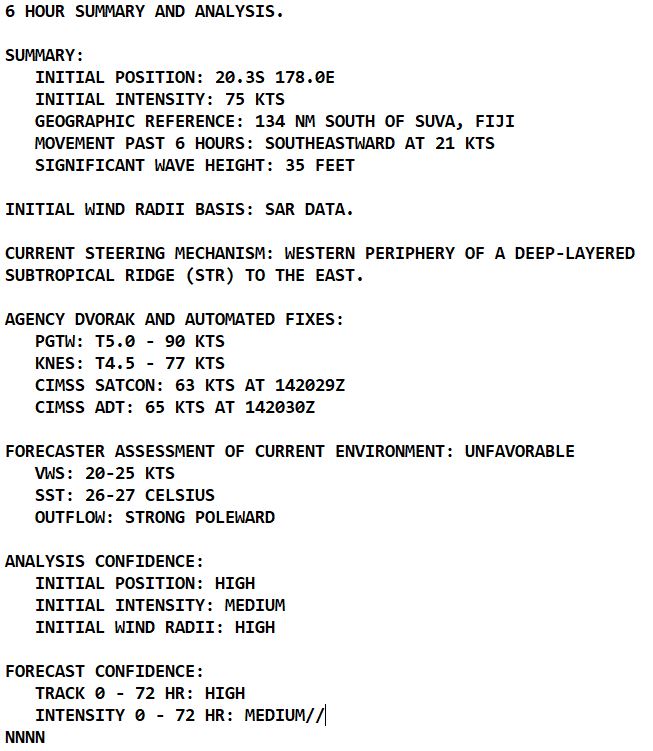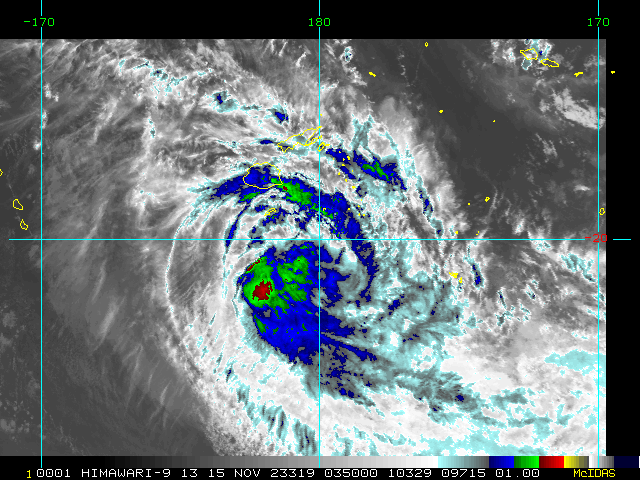 SATELLITE ANALYSIS, INITIAL POSITION AND INTENSITY DISCUSSION: ANIMATED MULTISPECTRAL SATELLITE IMAGERY (MSI) SHOWS A DEEP MEDIUM-SIZED SYSTEM THAT HAS BEGUN TO UNRAVEL WITH ASSOCIATED CONVECTION BECOMING FRAGMENTED BUT HAS MAINTAINED AN INTENSE CORE. THE SOUTHERN FORWARD FLANK OF THE CYCLONE HAS BECOME ELONGATED WITH EXPOSURE TO THE STRONG WESTERLIES. THE CENTRAL DENSE OVERCAST HAS MAINTAINED A RAGGED REMNANT EYE. THE INITIAL POSITION IS PLACED WITH HIGH CONFIDENCE BASED ON THE REMNANT EYE IN THE MSI LOOP THAT LINED UP WELL WITH A CIRCULATION FEATURE IN A COMPOSITE RADAR LOOP FROM FIJI. THE INITIAL INTENSITY IS ASSESSED WITH MEDIUM CONFIDENCE BASED ON OVERALL ASSESSMENT OF AGENCY AND AUTOMATED DVORAK ESTIMATES.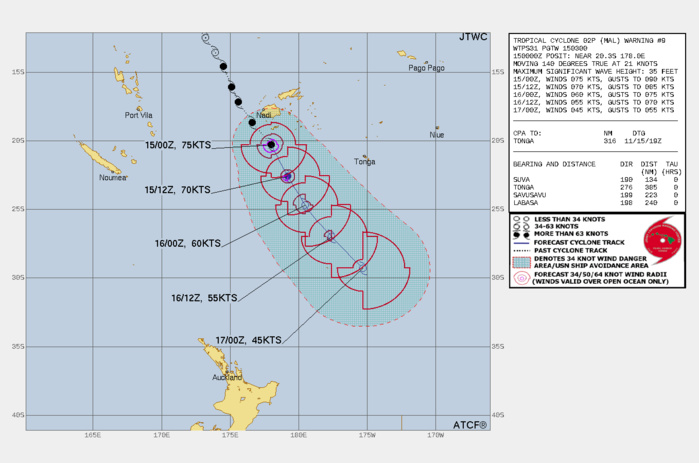 FORECAST REASONING. SIGNIFICANT FORECAST CHANGES: THERE ARE NO SIGNIFICANT CHANGES TO THE FORECAST FROM THE PREVIOUS WARNING. FORECAST DISCUSSION: TC MAL WILL CONTINUE TO TRACK SOUTHEASTWARD ALONG THE WESTERN SIDE OF THE STEERING STR FOR THE DURATION OF THE FORECAST. THE ENVIRONMENT WILL BECOME HIGHLY UNFAVORABLE DUE TO SHARPLY INCREASING VERTICAL WIND SHEAR AND COOLING SEA SURFACE TEMPERATURES, LEADING TO A RAPID DETERIORATION. CONCURRENTLY BY TAU 36, TC 02P WILL COMMENCE SUBTROPICAL TRANSITION AS IT ENCOUNTERS THE STRONG WESTERLIES, AND BY TAU 48 WILL BECOME A 40-KT SUBTROPICAL SYSTEM WITH AN EXPANDING WIND FIELD.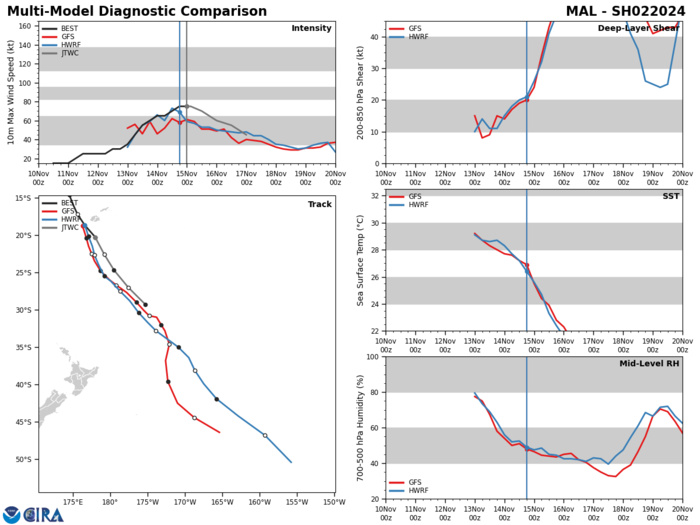 MODEL DISCUSSION: NUMERICAL MODELS REMAIN IN TIGHT AGREEMENT WITH A GRADUAL AND EVEN SPREAD TO JUST 85NM BY TAU 48, LENDING HIGH CONFIDENCE TO THE JTWC TRACK FORECAST. THERE IS ONLY MEDIUM CONFIDENCE IN THE INTENSITY FORECAST DUE TO UNCERTAINTIES IN THE WIND FIELD TYPICAL WITH SUBTROPICAL TRANSITION.

2024sh02_ctcxdiag_202311150000.png
(217.62 KB)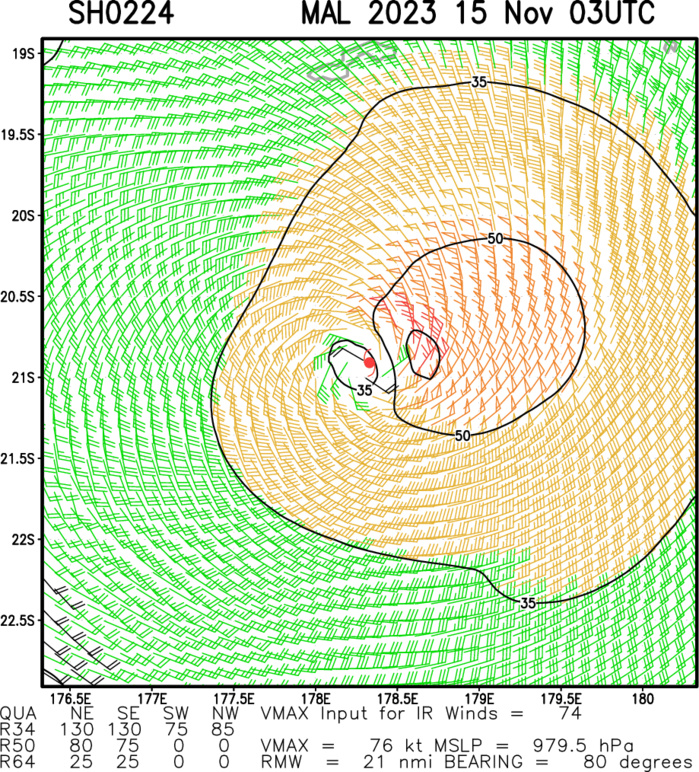 2024sh02_mpsatwnd_202311150300_swnd.gif
(149.54 KB)
RCM3 - HV | 2023-11-14 17:48UTC: 1 MAXIMUM WINDS: 81 KNOTS