TC 25P . CLICK TO ANIMATE IF NECESSARY.SUPER CYCLONE 25P(HAROLD) TRACKING OVER PENTCOST ISLAND/VANUATU.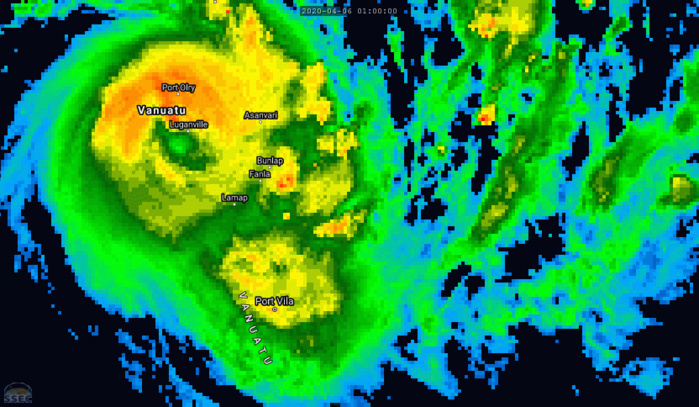 CIRA
TC
#
25P
#
HAROLD
SOUTH PACIFIC
As of 12:00 UTC Apr 06, 2020:
Location: 16.0°S 168.8°E
Maximum Winds: 145 kt ( 270km/h)
Gusts : 175 kt ( 325km/h)
Minimum Central Pressure: 912 mb
CATEGORY US: 5
NEAR PEAK INTENSITY
REMARKS:
061500Z POSITION NEAR 16.2S 169.4E.
06APR20. TROPICAL CYCLONE 25P (HAROLD), LOCATED APPROXIMATELY 106
NM NORTH-NORTHEAST OF PORT VILA, VANUATU, HAS TRACKED EASTWARD AT
10 KNOTS OVER THE PAST SIX HOURS. ANIMATED ENHANCED INFRARED
SATELLITE IMAGERY (EIR) SHOWS TC 25P HAS MAINTAINED A WELL DEFINED
10NM EYE WITH ASYMMETRIC DEEP CONVECTION THAT HAS SHIFTED TO THE
WEST. THE INITIAL POSITION IS PLACED WITH HIGH CONFIDENCE BASED ON
THE EYE FEATURE IN EIR. THE INITIAL INTENSITY IS BASED ON THE DVORAK
ESTIMATE OF T7.0 (140 KNOTS) FROM PGTW AND A 061210Z ADVANCED DVORAK
TECHNIQUE ESTIMATE OF 152 KNOTS. ENVIRONMENTAL ANALYSIS INDICATES A
VERY FAVORABLE ENVIRONMENT WITH LOW (05-10 KNOT) VERTICAL WIND SHEAR
(VWS), STRONG POLEWARD OUTFLOW, AND VERY WARM (29-30 DEGREES
CELSIUS) SEA SURFACE TEMPERATURES (SST). TC 25P WILL CONTINUE TO
TRACK ALONG THE SOUTWEST PERIPHERY OF THE SUBTROPICAL RIDGE TO THE
NORTHEAST. THE STRONG POLEWARD OUTFLOW AND WARM SST, WILL GRADUALLY
BE TEMPERED BY INCREASING VWS AFTER TAU 48 WHICH WILL WEAKEN THE
CYCLONE DOWN TO 70 KNOTS BY TAU 96. BY TAU 72, TC HAROLD WILL BEGIN
EXTRATROPICAL TRANSITION AS TRACK SPEED RAPIDLY INCERASES, BECOMING
FULLY EXTRATROPICAL BY TAU 96. INTENSITY GUIDANCE IS IN FAIR
AGREEMENT OVER THE NEXT 48 HOURS, BECOMING MORE CONCLUSIVE AS VWS
BECOMES MORE PREDOMINATE. NUMERICAL TRACK GUIDANCE MODELS ARE IN
TIGHT AGREEMENT, LENDING HIGH CONFIDENCE IN THE JTWC TRACK FORECAST.
MAXIMUM SIGNIFICANT WAVE HEIGHT AT 061200Z IS 50 FEET. NEXT WARNINGS
AT 062100Z, 070300Z, 070900Z AND 071500Z.//
NNNN
TC 25P. WARNING 16. CAT 5 US, THE FIRST( FOR THE SOUTHERN HEMISPHERE) SINCE TC 15S(MARCUS) IN MARCH 2018.
TC 25P: TRACK AND INTENSITY GUIDANCE.
TC 25P: AT 06/08UTC: IMPRESSIVE SATELLITE SIGNATURE.
AVNO(GFS) AT 173KNOTS AT 06UTC!
AVNO(GFS) AT 157KNOTS AT 12UTC!