TC 24S(IRONDRO) IS INTENSIFYING SOUTH SOUTH-WEST OF DIÉGO GARCIA. INVEST 90P(HAROLD) IS INTENSIFYING TO THE WEST OF SOLOMON ISLANDS.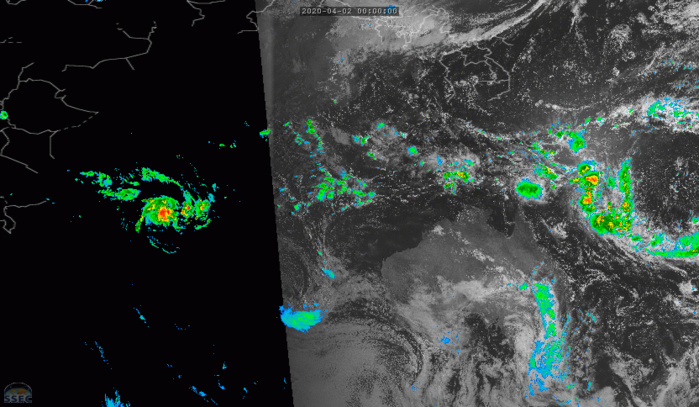 CIRA
As of 06:00 UTC Apr 02, 2020:
Location: 13.1°S 69.5°E
Maximum Winds: 35 kt ( 65km/h)
Gusts: 45 kt ( 85km/h)
Minimum Central Pressure: 998 mb
REMARKS:
020900Z POSITION NEAR 13.5S 69.9E.
02APR20. TROPICAL CYCLONE (TC) 24S (IRONDRO), LOCATED APPROXIMATELY
401 NM SOUTH-SOUTHWEST OF DIEGO GARCIA, HAS TRACKED SOUTHEASTWARD
AT 04 KNOTS OVER THE PAST SIX HOURS. ANIMATED ENHANCED INFRARED
SATELLITE IMAGERY DEPICTS A CONSOLIDATING SYSTEM WITH IMPROVED DEEP
CONVECTIVE BANDING WRAPPING INTO THE CENTER. A 020506Z MHS 89GHZ
MICROWAVE IMAGE SHOWS DEEP CONVECTIVE BANDING WRAPPING TIGHTLY INTO
A DEFINED LOW-LEVEL CIRCULATION CENTER. A 020507Z ASCAT-B BULLSEYE
IMAGE INDICATES EXPANSIVE GALE-FORCE WINDS OVER THE WESTERN AND
NORTHERN SEMICIRCLES WITH A PATCH OF 40-45 KNOT WINDS OVER THE NORTH
QUADRANT. THE INITIAL POSITION AND INITIAL 34-KNOT WIND RADII ARE
BASED PRIMARILY ON THE ASCAT IMAGERY WITH GOOD CONFIDENCE. ALTHOUGH
ASCAT INDICATED SOME HIGHER WINDS TO THE NORTH, THE INITIAL
INTENSITY OF 35 KNOTS IS BASED ON THE OVERALL ASSESSMENT OF THE WIND
FIELD AND CONVECTIVE STRUCTURE WITH DVORAK INTENSITY ESTIMATES OF
T2.0-T2.5 (30-35 KNOTS). TC 24S WILL TRACK SOUTHEASTWARD ALONG THE
SOUTHWEST FLANK OF A SUBTROPICAL RIDGE POSITIONED TO THE EAST
THROUGH TAU 48. AFTER TAU 48, THE SYSTEM WILL TURN EAST-
SOUTHEASTWARD AS IT TRACKS WITHIN THE MIDLATITUDE WESTERLIES.
NUMERICAL MODEL GUIDANCE IS IN GOOD AGREEMENT LENDING HIGH
CONFIDENCE TO THE JTWC FORECAST TRACK. TC 24S SHOULD CONTINUE TO
INTENSIFY AT A CLIMATOLOGICAL RATE THROUGH TAU 48 DUE TO ROBUST
POLEWARD OUTFLOW, ASSOCIATED WITH STRONG WESTERLY FLOW TO THE SOUTH,
LOW VERTICAL WIND SHEAR (VWS) AND WARM SST VALUES (29-30C). THE
SYSTEM IS EXPECTED TO PEAK AT 75 KNOTS AT TAU 48. AFTER TAU 60, TC
24S WILL BEGIN TO INTERACT WITH THE MIDLATITUDE WESTERLIES WITH A
SHARP INCREASE IN VWS (30+ KNOTS), WHICH WILL LEAD TO RAPID
WEAKENING WHILE THE SYSTEM COMMENCES EXTRA-TROPICAL TRANSITION
(ETT). AFTER TAU 72, TC 24S WILL BECOME EMBEDDED WITHIN THE STRONG
WESTERLY FLOW, NEAR THE JET, WITH VWS INCREASING TO 30-40 KNOTS AND
SST VALUES COOLING TO LESS THAN 26C. TC 24S WILL COMPLETE ETT BY TAU
96 AS IT GAINS FRONTAL CHRACTERISTICS. MAXIMUM SIGNIFICANT WAVE
HEIGHT AT 020600Z IS 14 FEET. NEXT WARNINGS AT 022100Z AND 030900Z.
2. THIS CANCELS AND SUPERSEDES REF A (WTXS21 PGTW 011300).//
NNNN
INVEST 90P(HAROLD) SOUTH PACIFIC
As of 06:00 UTC Apr 02, 2020:
Location: 9.7°S 156.9°E
Maximum Winds: 30 kt ( 55km/h)
Minimum Central Pressure: 1000 mb
ABPW10 PGTW 020600
2. SOUTH PACIFIC AREA (WEST COAST OF SOUTH AMERICA TO 135 EAST):
A. TROPICAL CYCLONE SUMMARY: NONE.
B. TROPICAL DISTURBANCE SUMMARY:
(1) THE AREA OF CONVECTION (INVEST 90P) PREVIOUSLY LOCATED
NEAR 9.4S 153.8E IS NOW LOCATED NEAR 9.8S 156.7E, APPROXIMATELY 221
NM WEST OF HONIARA, SOLOMON ISLANDS. ANIMATED MULTISPECTRAL
SATELLITE IMAGERY AND A 020346Z GMI 89GHZ MICROWAVE IMAGE DEPICT
DEEP CONVECTIVE BANDING WRAPPING INTO A LOW LEVEL CIRCULATION CENTER
(LLCC). 90P IS IN A FAVORABLE ENVIRONMENT WITH DUAL CHANNEL OUTFLOW,
LOW TO MODERATE (10-20 KTS) VERTICAL WIND SHEAR, AND WARM (29-30C)
SEA SURFACE TEMPERATURE. GLOBAL MODELS GENERALLY AGREE THAT 90P WILL
CONTINUE TO CONSOLIDATE AND STRENGTHEN AS IT TRACKS SOUTHEASTWARD.
MAXIMUM SUSTAINED SURFACE WINDS ARE ESTIMATED AT 20 TO 25 KNOTS.
MINIMUM SEA LEVEL PRESSURE IS ESTIMATED TO BE NEAR 1002 MB. THE
POTENTIAL FOR THE DEVELOPMENT OF A SIGNIFICANT TROPICAL CYCLONE
WITHIN THE NEXT 24 HOURS IS UPGRADED TO HIGH. SEE REF A (WTPS21 PGTW
020600) FOR FURTHER DETAILS.
TC 24S: WARNING 1: PEAK INTENSITY ( 75KTS/CAT1) FORECAST IN 48H.
INVEST 90P: TROPICAL CYCLONE FORMATION ALERT
TC 24S: ASCAT AT 02/0528UTC
TC 24S: TRACK AND INTENSITY GUIDANCE
INVEST 90P: TRACK AND INTENSITY GUIDANCE
02/0830UTC
02/00UTC