ANIMATION: 05UTC. TC 14S ON THE RIGHT END AND TC 13S ON THE LEFT END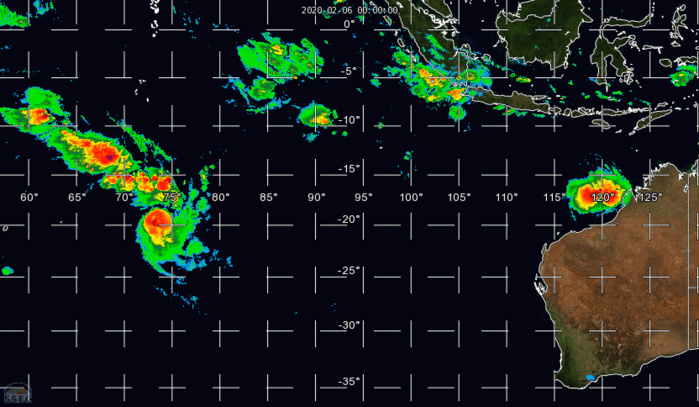 Location: 17.0°S 120.6°E
Maximum Winds: 35 kt ( 65km/h)
Gusts: 45 kt ( 85km/h)
Minimum Central Pressure: 998 mb
TPXS11 PGTW 060331
A. TROPICAL CYCLONE 14S (FOURTEEN)
B. 06/0300Z
C. 17.01S
D. 119.90E
E. FIVE/HMWRI8
F. T2.5/2.5/D1.0/24HRS STT: S0.0/03HRS
G. IR/EIR/VIS/MSI
H. REMARKS: 40A/PBO SBC/ANMTN. CNVCTN WRAPS .40 ON LOG10 SPIRAL
YIELDING A DT OF 2.5. MET AND PT AGREE. DBO DT.
I. ADDITIONAL POSITIONS:
05/2203Z 17.27S 120.98E SSMS
ELIAS
REMARKS:
TROPICAL CYCLONE 14S (FOURTEEN), LOCATED APPROXIMATELY
106 NM WEST-NORTHWEST OF BROOME, AUSTRALIA, HAS TRACKED WESTWARD
AT 09 KNOTS OVER THE PAST SIX HOURS. IMPROVING CONVECTIVE ORGANIZATION
AND RECENT AGENCY DVORAK SATELLITE INTENSITY ESTIMATES OF T2.5 FROM
PGTW AND APRF INDICATE THAT TC 14S HAS FORMED DURING THE PAST SIX
HOURS. THE CURRENT POSITION IS BASED ON RECENT MICROWAVE DATA,
INCLUDING 052202Z SSMIS SENSOR IMAGERY, RADAR IMAGERY, SURFACE
OBSERVATIONS AND SATELLITE POSITION FIXES FROM PGTW AND APRF. TC 14S
IS TRACKING WESTWARD ALONG THE PERIPHERY OF A DEEP-LAYERED RIDGE
SITUATED OVER WESTERN AUSTRALIA. THE SYSTEM IS EXPECTED TO FOLLOW THE
FLOW ASSOCIATED WITH THIS STEERING RIDGE THROUGHOUT THE FORECAST
PERIOD, INITIALLY WEST-SOUTHWESTWARD THROUGH TAU 24 AND POLEWARD
THEREAFTER. PASSAGE OVER VERY WARM WATER (29-30C), STRONG UPPER-LEVEL
OUTFLOW AND LOW VERTICAL WIND SHEAR (5-10 KNOTS) WILL SUPPORT STEADY
INTENSIFICATION IN THE NEAR-TERM. ADDITIONAL INTENSIFICATION ABOVE THE
CURRENT FORECAST IS POSSIBLE IF A PERIOD OF RAPID INTENSIFICATION
OCCURS. BY TAU 48, LAND INTERACTION AND A LESS FAVORABLE VERTICAL WIND
SHEAR PATTERN SHOULD BRING AN END TO THE INTENSIFICATION PHASE. SLOW
DISSIPATION OVER LAND, BY TAU 96, WILL FOLLOW. NUMERICAL MODEL
GUIDANCE IS IN GOOD OVERALL AGREEMENT, ALTHOUGH THE UKMET AND UK
ENSEMBLE TRACKERS DEPICT A TIGHTER TURN AND LANDFALL NEAR OR OVER PORT
HEADLAND. THE CURRENT FORECAST TRACK LIES WITHIN THE MAJORITY GROUPING
TO THE WEST AND NEAR THE MULTI-MODEL CONSENSUS, WHICH HAS BEEN
CONSISTENT OVER THE PAST SEVERAL RUNS. DESPITE MINOR MODEL
DISAGREEMENT, THERE IS HIGH CONFIDENCE IN THE CURRENT JTWC TRACK
FORECAST. MAXIMUM SIGNIFICANT WAVE HEIGHT AT 060000Z IS 12 FEET. NEXT
WARNINGS AT 060900Z, 061500Z, 062100Z AND 070300Z. REFER TO TROPICAL
CYCLONE 13S (FRANCISCO) WARNINGS (WTXS31 PGTW) FOR TWELVE-HOURLY
UPDATES.
2. THIS CANCELS AND SUPERSEDES REF A (WTPS21 PGTW 050330).//
NNNN
TC 13S(FRANCISCO) SOUTH INDIAN
Location: 17.9°S 71.0°E
Maximum Winds: 40 kt ( 75km/h)
Gusts: 50 kt ( 95km/h)
Minimum Central Pressure: 995 mb
TPXS10 PGTW 060348
A. TROPICAL CYCLONE 13S (FRANCISCO)
B. 06/0300Z
C. 18.74S
D. 71.54E
E. FIVE/MET8
F. T2.0/2.5/W0.5/24HRS STT: W0.5/03HRS
G. IR/EIR/VIS/MSI
H. REMARKS: 40A/PBO SBC/ANMTN. CNVCTN WRAPS .30 ON LOG10 SPIRAL
YIELDING A DT OF 2.0. MET AND PT AGREE. DBO DT.
I. ADDITIONAL POSITIONS:
05/2325Z 17.97S 71.07E SSMS
06/0127Z 18.27S 71.25E SSMS
ELIAS
TC 14S: WARNING 1: ADDITIONAL INTENSIFICATION ABOVE THE CURRENT FORECAST IS POSSIBLE IF A PERIOD OF RAPID INTENSIFICATION OCCURS
TC 14S: TRACK AND INTENSITY GUIDANCE
TC 13S: TRACK AND INTENSITY GUIDANCE
JTWC: 02/06 02UTC
02/06 00UTC