SOUTH INDIAN OCEAN ANIMATION: 02/12 17UTC. CLICK IF NECESSARY.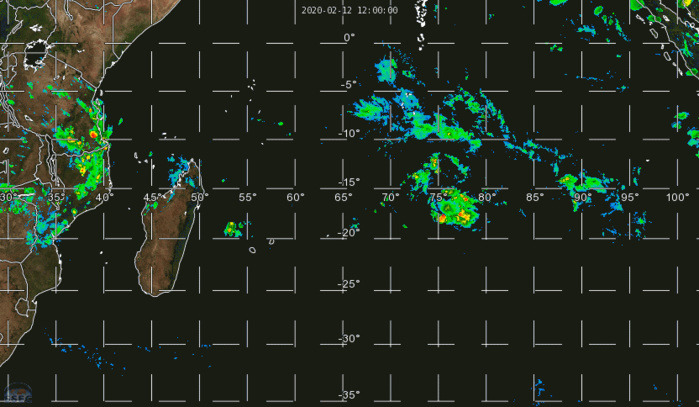 Location: 15.0°S 75°E
Maximum Winds: 15 kt
Minimum Central Pressure: 1010 mb
Development potential next 24hours: LOW
ABIO10 PGTW 121800
2. SOUTH INDIAN OCEAN AREA (135E WEST TO COAST OF AFRICA):
A. TROPICAL CYCLONE SUMMARY: NONE.
B. TROPICAL DISTURBANCE SUMMARY:
(1) AN AREA OF CONVECTION (INVEST 94S) HAS PERSISTED NEAR
15.0S 75.0E, APPROXIMATELY 484 NM SOUTH-SOUTHEAST OF DIEGO GARCIA.
ANIMATED ENHANCED INFRARED SATELLITE IMAGERY REVEALS A VERY BROAD
LOW LEVEL CIRCULATION (LLC) SURROUNDED BY LARGE AREAS OF CONVECTION,
WITH LIMITED CONVECTION OVERHEAD. A 121255Z WINDSAT 37GHZ PARTIAL
MICROWAVE IMAGE DEPICTS THE SURROUNDING CONVECTION AS SLIGHTLY
FRAGMENTED WITH SOME ORGANIZATION DEVELOPING TO THE SOUTH. 94S IS
CURRENTLY IN A FAVORABLE ENVIRONMENT WITH GOOD POLEWARD OUTFLOW, LOW
(5 TO 10 KNOT) VERTICAL WIND SHEAR, AND WARM (29 TO 30 CELSIUS) SEA
SURFACE TEMPERATURES. GLOBAL MODELS ARE IN GOOD AGREEMENT THAT 94S
WILL REMAIN QUASI-STATIONARY FOR THE NEXT FEW DAYS WITH MINIMAL
INTENSIFICATION, BEFORE MOVING SOUTHEASTWARD AND INTENSIFYING.
MAXIMUM SUSTAINED SURFACE WINDS ARE ESTIMATED AT 10 TO 15 KNOTS.
MINIMUM SEA LEVEL PRESSURE IS ESTIMATED TO BE NEAR 1010 MB. THE
POTENTIAL FOR THE DEVELOPMENT OF A SIGNIFICANT TROPICAL CYCLONE
WITHIN THE NEXT 24 HOURS IS LOW.
TRACK AND INTENSITY GUIDANCE
02/12 1633UTC