CLICK TO ANIMATE: EPS(ECMWF)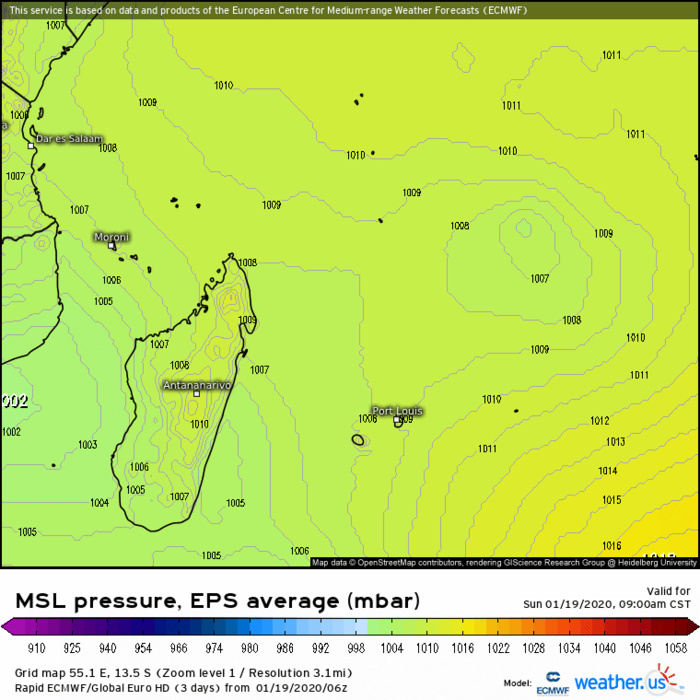 WEATHER US
INVEST 94S SOUTH INDIAN
Location: 10.6°S 63.2°E
Maximum Winds: 25 kt
Minimum Central Pressure: 1002 mb
ABIO10 PGTW 191330
2. SOUTH INDIAN OCEAN AREA (135E WEST TO COAST OF AFRICA):
A. TROPICAL CYCLONE SUMMARY: NONE.
B. TROPICAL DISTURBANCE SUMMARY:
(1) AN AREA OF CONVECTION (INVEST 94S) PREVIOUSLY LOCATED NEAR
9.0S 64.9E IS NOW LOCATED NEAR 10.6S 63.2E APPROXIMATELY 590 NM WEST-
SOUTHWEST OF DIEGO GARCIA. ANIMATED MULTISPECTRAL SATELLITE IMAGERY
AND A 191109Z SSMIS 85GHZ IMAGE DEPICT FLARING DEEP CONVECTION OVER
A PARTIALLY EXPOSED LOW LEVEL CIRCULATION CENTER (LLCC). UPPER LEVEL
ANALYSIS INDICATES LOW TO MODERATE (10-20KT) VERTICAL WIND SHEAR AND
GOOD EQUATORWARD OUTFLOW. SEA SURFACE TEMPERATURES (29-30C) ARE
FAVORABLE FOR FURTHER DEVELOPMENT. GLOBAL MODELS DEPICT INVEST 94S
INTENSIFYING AS IT TRACKS SOUTH-SOUTHEASTWARD. MAXIMUM SUSTAINED
SURFACE WINDS ARE ESTIMATED AT 20 TO 25 KNOTS. MINIMUM SEA LEVEL
PRESSURE IS ESTIMATED TO BE NEAR 1002 MB. THE POTENTIAL FOR THE
DEVELOPMENT OF A SIGNIFICANT TROPICAL CYCLONE WITHIN THE NEXT 24
HOURS IS UPGRADED TO MEDIUM.
(2) NO OTHER SUSPECT AREAS.
C. SUBTROPICAL SYSTEM SUMMARY: NONE.
3. JUSTIFICATION FOR REISSUE: UPGRADED AREA IN PARA 2.B.(1) TO
MEDIUM.
NNNN
01/19 06UTC: GFS ENSEMBLE