INVEST 92S: UPGRADED TO HIGH. EXPECTED TO INTENSIFY RAPIDLY NEXT 72H.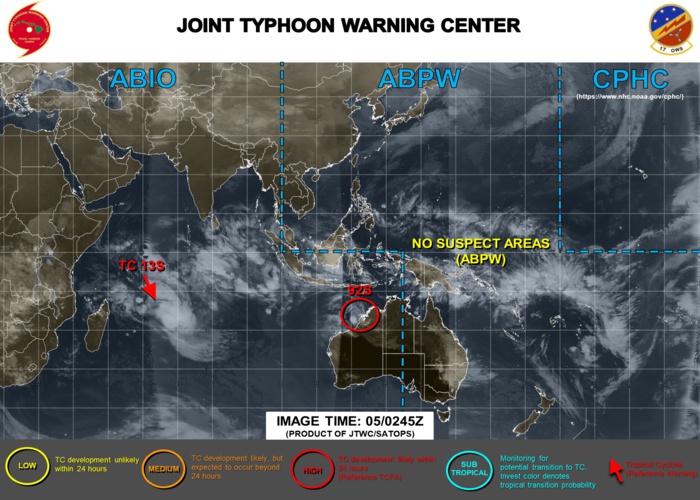 INVEST 92S: GFS ENSEMBLE
Location: 16.5°S 123.0°E
Maximum Winds: 25 kt
Minimum Central Pressure: 1004 mb
ABIO10 PGTW 050300
B. TROPICAL DISTURBANCE SUMMARY:
(1) THE AREA OF CONVECTION (INVEST 92S) PREVIOUSLY LOCATED
NEAR 16.1S 126.7E IS NOW LOCATED NEAR 16.5S 123.0E, APPROXIMATELY
100NM NORTH-NORTHEAST OF BROOME. ANIMATED ENHANCED INFRARED
SATELLITE AND A 042215Z SSMIS 91 GHZ MICROWAVE IMAGE SHOWS BANDING
WRAPPING INTO A DEFINED LOW LEVEL CIRCULATION CENTER (LLCC)
CURRENTLY PLACED OVER LAND WITH FLARING CONVECTION. THE CONTINUED
IMPROVING STRUCTURE EVIDENT IN THE ANIMATED IMAGERY REFLECTS STEADY
CONSOLIDATION AS INVEST 92S HAS BEGUN TO TRACK OVER WATER. A
0500100Z ASCAT-A PASS SHOWS WINDS (25-30 KNOTS) WRAPPING TOWARDS THE
LLCC FROM OFF THE NORTHERN COAST OF AUSTRALIA. 92S IS EXPECTED TO
RAPIDLY DEVELOP AS IT CONTINUES TO TRACK GENERALLY WESTWARD THROUGH
A REGION OF VERY WARM WATER (30-32C), LOW (10-15 KNOTS) VWS, AND
IMPROVING DIFFLUENCE ALOFT. GLOBAL MODELS CONTINUE TO AGREE ON THE
WEST-SOUTHWESTWARD TRACK OVER THE NEXT 48 HOURS. MAXIMUM SUSTAINED
SURFACE WINDS ARE ESTIMATED AT 25 TO 30 KNOTS. MINIMUM SEA LEVEL
PRESSURE IS ESTIMATED TO BE NEAR 1004 MB. THE POTENTIAL FOR
DEVELOPMENT OF A SIGNIFICANT TROPICAL CYCLONE WITHIN THE NEXT 24
HOURS IS UPGRADED TO HIGH. SEE REF B (WTXS21 PGTW 050330) FOR
FURTHER DETAILS.
NNNN
INVEST 92S: GFS ENSEMBLE TRACK AND INTENSITY GUIDANCE
02/05 0010UTC: 25/30KT WINDS WRAPPING TOWARDS THE LOW LEVEL CIRCULATION CENTER.