13/08UTC ANIMATION OVER 6H.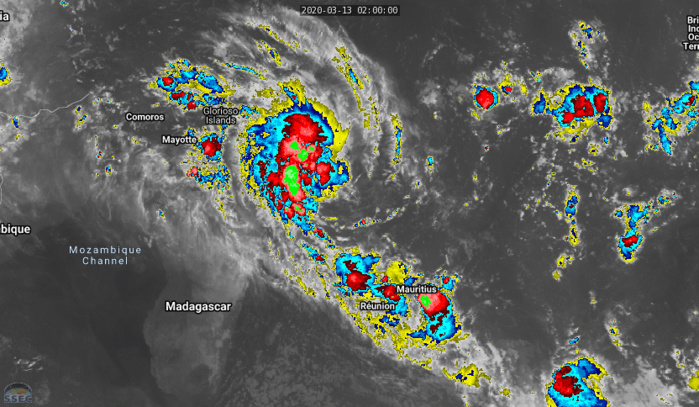 Location: 14.3°S 52.4°E
Maximum Winds: 35 kt ( 65km/h)
Gusts: 45 kt ( 85km/h)
Minimum Central Pressure: 1004 mb
REMARKS:
130900Z POSITION NEAR 14.4S 52.3E.
13MAR20. TROPICAL CYCLONE (TC) 22S (TWENTYTWO), LOCATED APPROXIMATELY
447 NM NORTHWEST OF PORT LOUIS, MAURITIUS, HAS TRACKED WEST-
SOUTHWESTWARD AT 04 KNOTS OVER THE PAST SIX HOURS. ANIMATED ENHANCED
INFRARED SATELLITE IMAGERY DEPICTS PERSISTENT DEEP CONVECTIVE
BANDING OVER THE WESTERN SEMICIRCLE OF A CONSOLIDATING SYSTEM. A
130522Z MHS 89GHZ COMPOSITE IMAGE INDICATES A PARTIALLY-EXPOSED LOW-
LEVEL CIRCULATION (LLC) WITH SHALLOW BANDING WRAPPING TIGHTLY INTO A
DEFINED CENTER WITH CONVECTIVE BANDING WRAPPING INTO THE NORTH
QUADRANT OF THE LLC. ALTHOUGH THE WIND FIELD REMAINS ASYMMETRIC, A
130523Z ASCAT-B IMAGE SHOWS A SWATH OF 30 TO 35 KNOT WINDS OVER THE
NORTHERN SEMICIRCLE WITH A WELL-DEFINED CENTER, WHICH SUPPORTS THE
INITIAL POSITION AND INITIAL INTENSITY ASSESSMENT OF 35 KNOTS WITH
GOOD CONFIDENCE. DVORAK INTENSITY ESTIMATES OF T2.0 (30 KNOTS) FROM
PGTW AND KNES ARE SLIGHTLY BELOW THE INITIAL INTENSITY ASSESSMENT.
TC 22S IS CURRENTLY LOCATED WITHIN A WEAK STEERING ENVIRONMENT BUT
IS FORECAST TO DRIFT SOUTHWARD TO SOUTHEASTWARD THROUGH TAU 48 ALONG
THE WESTERN PERIPHERY OF A WEAK STEERING RIDGE POSITIONED TO THE
EAST. AFTER TAU 48, THE SYSTEM IS FORECAST TO ACCELERATE EAST-
SOUTHEASTWARD TO SOUTHEASTWARD ALONG THE SOUTHERN PERIPHERY OF A
BUILDING NEAR-EQUATORIAL RIDGE POSITIONED TO THE NORTH AND
NORTHEAST. WITH THE EXCEPTION OF NAVGEM, THE SOLE OUTLIER, GLOBAL
MODEL GUIDANCE IS IN GOOD AGREEMENT WITH A SPREAD OF 130-135NM AT
TAU 72 TO TAU 96. AFTER TAU 96, MODEL GUIDANCE DIVERGES PRIMARILY
DUE TO SIGNIFICANT DIFFERENCES IN TRACK SPEED AS THE SYSTEM BEGINS
INTERACTING WITH SUBTROPICAL WESTERLIES. OVERALL, THERE IS HIGH
UNCERTAINTY IN THE JTWC FORECAST TRACK DUE TO THE WEAK STEERING /
ERRATIC TRACK ANTICIPATED WITHIN THE FIRST TWO DAYS. TC 22S IS
EXPECTED TO INTENSIFY STEADILY THROUGH TAU 72 WITH GOOD EQUATORWARD
OUTFLOW AND ENHANCED POLEWARD OUTFLOW, ASSOCIATED WITH AN
APPROACHING MIDLATITUDE SHORTWAVE TROUGH, AS WELL AS LOW VERTICAL
WIND SHEAR (VWS) AND WARM SST VALUES (28-29C). AFTER TAU 72, A SHARP
WEAKENING TREND SHOULD OCCUR AS THE SYSTEM INTERACTS WITH THE
AFOREMENTIONED SUBTROPICAL TROUGH, ENCOUNTERS MODERATE TO STRONG
VWS, AND GRADUALLY TRANSITIONS TO A SUBTROPICAL CYCLONE. MAXIMUM
SIGNIFICANT WAVE HEIGHT AT 130600Z IS 10 FEET. NEXT WARNINGS AT
132100Z AND 140900Z.
2. THIS CANCELS AND SUPERSEDES REF A (WTXS21 PGTW 130330).//
NNNN

WARNING 1: FORECAST TO REACH 90KTS ( CAT 2 US) IN 72H.
TRACK AND INTENSITY GUIDANCE
13/0523UTC
13/0845UTC