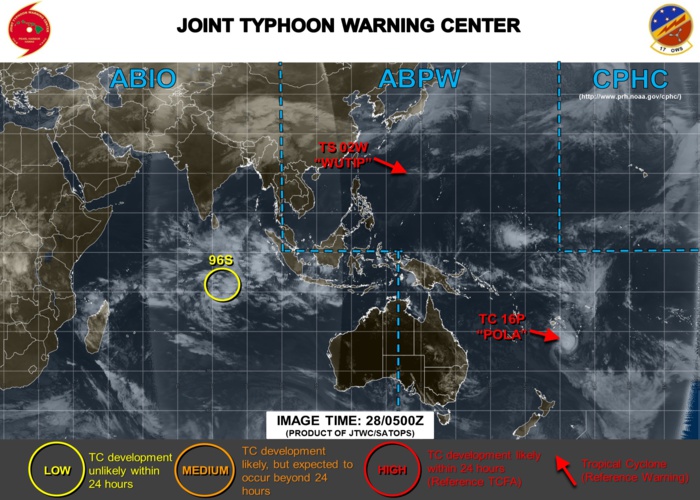 Location: 7.9°S 81.4°E
Maximum Winds: 15 kt
Minimum Central Pressure: 1010 mb
ABIO10 PGTW 271800
2. SOUTH INDIAN OCEAN AREA (135E WEST TO COAST OF AFRICA):
A. TROPICAL CYCLONE SUMMARY: NONE.
B. TROPICAL DISTURBANCE SUMMARY:
(1) AN AREA OF CONVECTION (INVEST 96S) HAS PERSISTED NEAR 5.7S
79.9E, APPROXIMATELY 442 NM EAST-NORTHEAST OF DIEGO GARCIA. ANIMATED
ENHANCED INFRARED SATELLITE IMAGERY AND AN 271605Z MHS METOP-A 89GHZ
MICROWAVE IMAGE DEPICT A POORLY ORGANIZED LOW LEVEL CIRCULATION
(LLC) WITH CYCLING DEEP CONVECTION. UPPER LEVEL ANALYSIS SHOWS THAT
MODERATE TO STRONG (20-30 KNOT) VERTICAL WIND SHEAR IS OFFSET BY
GOOD DIFFLUENCE ALOFT. A RECENT PARTIAL ASCAT PASS DEPICTS A BROAD
AND ELONGATED CIRCULATION EMBEDDED IN THE MONSOON TROUGH. SEA
SURFACE TEMPERATURES (28-30 CELSIUS) IN THE SURROUNDING WATERS ARE
FAVORABLE FOR FUTURE DEVELOPMENT. GLOBAL MODELS INDICATE THAT THE
SYSTEM WILL TRACK SOUTHWEST AND GRADUALLY STRENGTHEN OVER THE NEXT
48-72 HOURS. MAXIMUM SUSTAINED SURFACE WINDS ARE ESTIMATED AT 10 TO
15 KNOTS. MINIMUM SEA LEVEL PRESSURE IS ESTIMATED TO BE NEAR 1010
MB. THE POTENTIAL FOR THE DEVELOPMENT OF A SIGNIFICANT TROPICAL
CYCLONE WITHIN THE NEXT 24 HOURS IS LOW.
(2) NO OTHER SUSPECT AREAS.//
NNNN