Meteosat High resolution at 01/22 1245UTC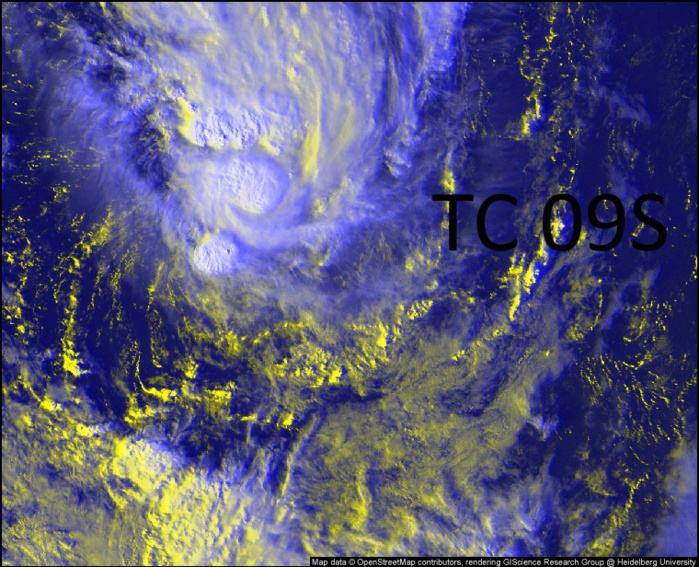 WEATHER US
TC 09S SOUTH INDIAN
Location: 20.2°S 69.9°E
Maximum Winds: 35 kt ( 65km/h)
Gusts: 45 kt ( 85km/h)
Minimum Central Pressure: 1000 mb
REMARKS:
221500Z POSITION NEAR 20.7S 70.1E.
22JAN20. TROPICAL CYCLONE (TC) 09S (NINE), LOCATED APPROXIMATELY 710
NM EAST OF PORT LOUIS, MAURITIUS, HAS TRACKED SOUTHEASTWARD AT 10
KNOTS (KTS) OVER THE PAST SIX HOURS. ANIMATED MULTISPECTRAL SATELLITE
IMAGERY (MSI) DEPICTS CONVECTIVE BANDING WRAPPING INTO A LOW LEVEL
CIRCULATION CENTER (LLCC) WITH A LARGE AREA OF CONVECTION OVERHEAD
AND EXTENDING TO THE NORTHEAST. THE INITIAL POSITION IS SET WITH GOOD
CONFIDENCE BASED OFF OF AN EXTRAPOLATION OF A 220850Z AMSR2 89 GHZ
MICROWAVE IMAGE AND THE AFOREMENTIONED MSI. THE CURRENT INTENSITY OF
35 KTS IS BASED ON MULTI-AGENCY DVORAK CURRENT INTENSITY ESTIMATES OF
T2.0-2.5 FROM PGTW/KNES/FMEE, LENDING GOOD CONFIDENCE TO THE INITIAL
INTENSITY. TC 09S HAS AN ASYMMETRIC STRUCTURE, WITH HIGHER (30-35 KT)
WINDS ON THE EASTERN SIDE AND LOWER (10-15 KT) WINDS ON THE WESTERN
SIDE. OVERALL, CONVECTION HAS CONTINUED TO CYCLE OVER AND TO THE
NORTHEAST OF THE LLCC. THE SYSTEM IS LOCATED IN A REGION OF MODERATE
(15-20 KTS) VERTICAL WIND SHEAR (VWS) WITH AN EQUATORWARD OUTFLOW
CHANNEL. SEA SURFACE TEMPERATURES (SST) ARE FAVORABLE AT 28-29
CELSIUS. TC 09S IS TRACKING SOUTHEASTWARD ALONG THE SOUTHWESTERN
PERIPHERY OF A DEEP-LAYER SUBTROPICAL RIDGE (STR) WHICH WILL REMAIN
THE MAJOR STEERING FEATURE THROUGHOUT THE FORECAST PERIOD. AS THE
SYSTEM TRACKS SOUTHEASTWARD, CONDITIONS WILL REMAIN MARGINALLY
FAVORABLE FOR CONTINUED DEVELOPMENT THROUGH TAU 24. BEYOND THAT, SST
WILL BEGIN TO DROP BELOW 26 CELSIUS AND VWS WILL BEGIN TO RAPIDLY
INCREASE AS THE SYSTEM BEGINS INTERACTING WITH THE POLAR FRONT JET TO
THE SOUTH. AROUND TAU 36, THE SYSTEM WILL BEGIN EXTRATROPICAL
TRANSITION WITH COMPLETION EXPECTED BY TAU 72, IF NOT SOONER, AS THE
SYSTEM BECOMES EMBEDDED IN THE JET FLOW. NUMERICAL MODEL GUIDANCE IS
IN STRONG AGREEMENT FOR THE DURATION OF THE FORECAST, PLACING HIGH
CONFIDENCE IN THE JTWC FORECAST TRACK. MAXIMUM SIGNIFICANT WAVE
HEIGHT AT 221200Z IS 15 FEET. NEXT WARNINGS AT 230300Z AND 231500Z.
2. THIS CANCELS AND SUPERSEDES REF A (WTXS21 PGTW 220900).
NNNN
WARNING 1: EXTRATROPICAL TRANSITION SET TO BEGIN IN 36H
TRACK AND INTENSITY GUIDANCE
01/22 1730UTC