INVEST 92S IS STILL OVER WESTERN AUSTRALIA BUT IS LIKELY TO DEVELOP OVER OPEN WATER WITHIN 72H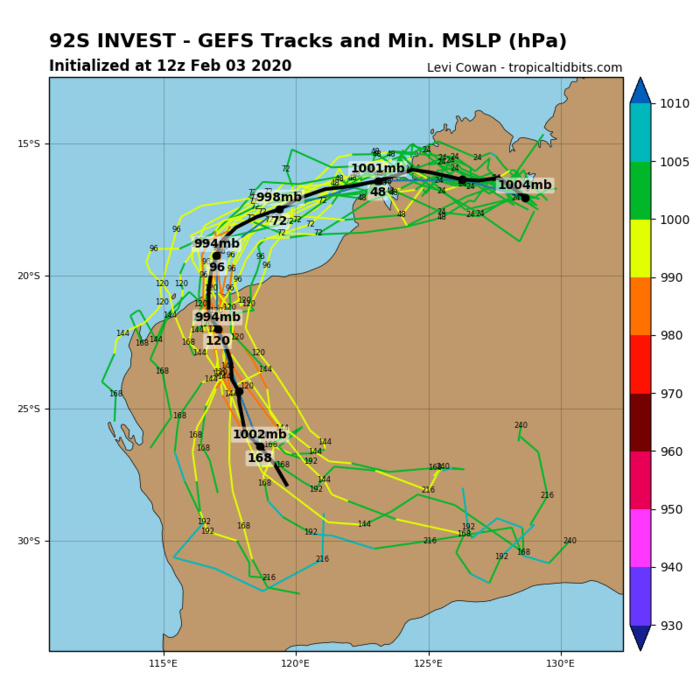 INVEST 92S: GFS ENSEMBLE
Location: 16.2°S 127.9°E
Maximum Winds: 15 kt
Minimum Central Pressure: 1010 mb
INVEST 90S SOUTH INDIAN
Location: 14.0°S 64.6°E
Maximum Winds: 25 kt
Minimum Central Pressure: 1006 mb
ABIO10 PGTW 031800
2. SOUTH INDIAN OCEAN AREA (135E WEST TO COAST OF AFRICA):
A. TROPICAL CYCLONE SUMMARY: NONE.
B. TROPICAL DISTURBANCE SUMMARY:
(1) THE AREA OF CONVECTION (INVEST 90S) PREVIOUSLY LOCATED
NEAR 12.5S 62.8E IS NOW LOCATED NEAR 13.3S 63.8E, APPROXIMATELY 550
NM NORTHEAST OF MAURITIUS. ANIMATED MULTISPECTRAL SATELLITE IMAGERY
AND A 031442Z SSMIS 91GHZ IMAGE DEPICT CONTINUED BUILDING CONVECTION
OVER AN ELONGATED LOW LEVEL CIRCULATION. UPPER LEVEL ANALYSIS
INDICATES INVEST 90S IS IN A FAVORABLE ENVIRONMENT WITH GOOD DUAL
CHANNEL OUTFLOW AND LOW (<15KTS) VERTICAL WIND SHEAR. WARM (29-31C)
SEA SURFACE TEMPERATURES ARE ALSO FAVORABLE FOR DEVELOPMENT. GLOBAL
MODELS ARE IN GOOD AGREEMENT THAT INVEST 90S WILL GRADUALLY
CONSOLIDATE AND INTENSIFY, WITH THE STRONGER WINDS WRAPPING IN FROM
THE NORTH, AS IT TRACKS SOUTH-SOUTHEASTWARD. MAXIMUM SUSTAINED
SURFACE WINDS ARE ESTIMATED AT 20 TO 25 KNOTS. MINIMUM SEA LEVEL
PRESSURE IS ESTIMATED TO BE NEAR 1004 MB. THE POTENTIAL FOR THE
DEVELOPMENT OF A SIGNIFICANT TROPICAL CYCLONE WITHIN THE NEXT 24
HOURS IS UPGRADED TO MEDIUM.
INVEST 90S: STILL ELONGATED AND POORLY DEFINED BUT SHOULD INTENSIFY MODERATELY NEXT 48/72H.
02/03 18UTC