CLICK TO ANIMATE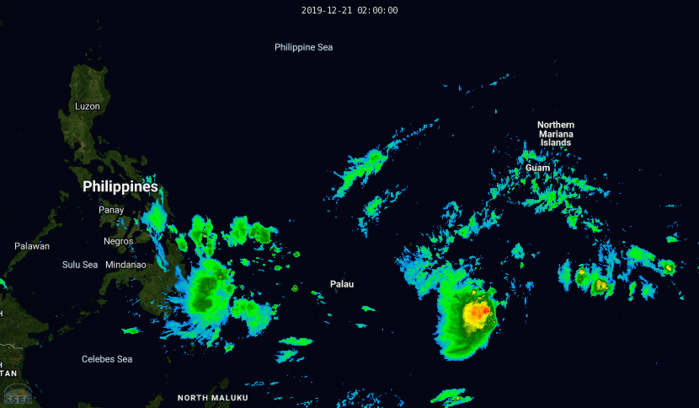 Location: 5.3°N 142.5°E
Maximum Winds: 20 kt
Minimum Central Pressure: 1002 mb
WTPN21 PGTW 210300
MSGID/GENADMIN/JOINT TYPHOON WRNCEN PEARL HARBOR HI//
SUBJ/TROPICAL CYCLONE FORMATION ALERT (INVEST 98W)//
RMKS/
1. FORMATION OF A SIGNIFICANT TROPICAL CYCLONE IS POSSIBLE WITHIN
160 NM EITHER SIDE OF A LINE FROM 4.9N 143.2E TO 7.4N 137.6E
WITHIN THE NEXT 12 TO 24 HOURS. AVAILABLE DATA DOES NOT JUSTIFY
ISSUANCE OF NUMBERED TROPICAL CYCLONE WARNINGS AT THIS TIME.
WINDS IN THE AREA ARE ESTIMATED TO BE 18 TO 23 KNOTS. METSAT
IMAGERY AT 210000Z INDICATES THAT A CIRCULATION CENTER IS LOCATED
NEAR 4.9N 142.7E. THE SYSTEM IS MOVING WESTWARD AT 11 KNOTS.
2. REMARKS: AN AREA OF CONVECTION (INVEST 98W), PREVIOUSLY LOCATED
NEAR 4.8N 148.7E IS NOW LOCATED NEAR 4.9N 142.7E, APPROXIMATELY 384
NM SOUTHEAST OF YAP, FSM. ANIMATED MULTISPECTRAL IMAGERY DEPICTS
CONVECTIVE BANDING WRAPPING INTO A LOW LEVEL CICULATION CENTER
EVIDENT IN A 202314 METOP-A 89GHZ MICROWAVE IMAGE. A 210030Z METOP-B
ASCAT PASS DEPICTS 25 KNOT WINDS WRAPPING AROUND THE NORTHERN AND
WESTERN PERIPHERY OF THE SYSTEM WITH SOME 30 KNOT WINDS TO THE
NORTH. HOWEVER, WINDS TO THE SOUTH AND EAST REMAIN WEAK (10 TO 15
KNOTS), BUT ONLY A SLIGHT IMPROVEMENT IN THE STRUCTURE OF THE SYSTEM
WILL ENABLE IT TO REACH WARNING CRITERIA. WARM (30-31C) SEA SURFACE
TEMPERATURES AND POLEWARD OUTFLOW ALOFT ARE CONDUCIVE FOR SOME
FURTHER DEVELOPMENT. HOWEVER, THESE FAVORABLE CONDITIONS ARE OFFSET
BY MODERATE (15-25 KTS) VERTICAL WIND SHEAR, WHICH WILL BE A
SIGNIFICANT LIMITING FACTOR IN THE NEAR TERM, SO ANY FURTHER
DEVELOPMENT IS EXPECTED TO BE GRADUAL. GLOBAL MODELS SUGGEST A TRACK
TOWARD THE WEST-NORTHWEST AS 98W SLOWLY INTENSIFIES. MAXIMUM
SUSTAINED SURFACE WINDS ARE ESTIMATED AT 18 TO 23 KNOTS. MINIMUM SEA
LEVEL PRESSURE IS ESTIMATED TO BE NEAR 1005 MB. THE POTENTIAL FOR
THE DEVELOPMENT OF A SIGNIFICANT TROPICAL CYCLONE WITHIN THE NEXT 24
HOURS IS HIGH.
3. THIS ALERT WILL BE REISSUED, UPGRADED TO WARNING OR CANCELLED BY
220300Z.
//
NNNN
TRACK AND INTENSITY GUIDANCE: GFS