CLICK ON THE IMAGERIES BELOW TO GET THEM ENLARGED.
WESTERN NORTH PACIFIC: INVEST 90W. ADVISORY(ABPW) ISSUED AT 10/1530UTC.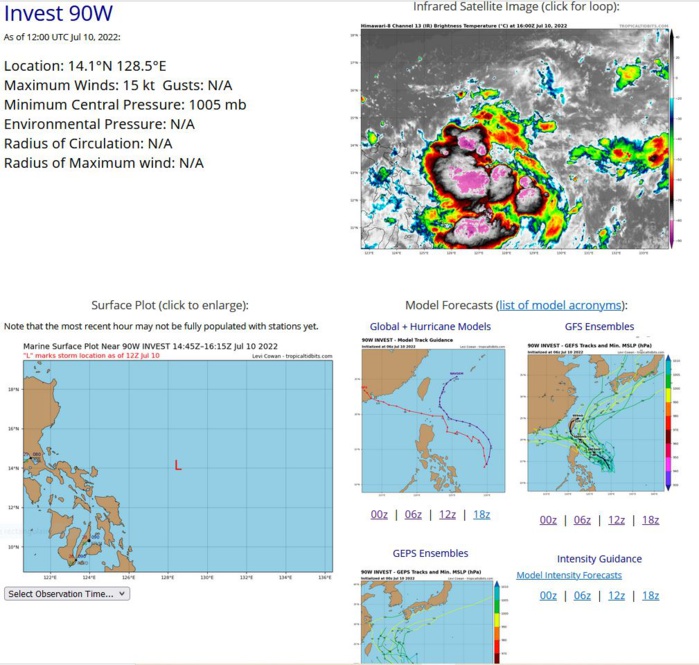 AN AREA OF CONVECTION (INVEST 90W) HAS PERSISTED NEAR 14.1N 128.5E, APPROXIMATELY 520 KM EAST-NORTHEAST OF LEGAZPI, PHILIPPINES. ANIMATED ENHANCED INFRARED IMAGERY (EIR) AND A 101015Z SSMIS IMAGE DEPICTS FLARING CONVECTION TO THE WEST AND SOUTHWEST OF A WEAKLY DEFINED LOW LEVEL CIRCULATION (LLC). UPPER LEVEL ANALYSIS INDICATES FAVORABLE VERTICAL WIND SHEAR (5 TO 10 KNOTS) AND FAIR WESTWARD OUTFLOW, WITH WARM (29-30C) SEA SURFACE TEMPERATURES. CMC AND GFS INDICATE WEAK MODEL DEVELOPMENT. MAXIMUM SUSTAINED SURFACE WINDS ARE ESTIMATED AT 15 TO 20 KNOTS. MINIMUM SEA LEVEL PRESSURE IS ESTIMATED TO BE NEAR 1005 MB. THE POTENTIAL FOR THE DEVELOPMENT OF A SIGNIFICANT TROPICAL CYCLONE WITHIN THE NEXT 24 HOURS IS UPGRADED TO LOW.
WP, 90, 2022070900,107N, 1307E, 15, 1005
WP, 90, 2022070906,115N, 1302E, 15, 1005
WP, 90, 2022070912,124N, 1299E, 15, 1005
WP, 90, 2022070918,131N, 1296E, 15, 1005
WP, 90, 2022071000,136N, 1293E, 15, 1005
WP, 90, 2022071006,139N, 1289E, 15, 1005
WP, 90, 2022071012,141N, 1285E, 15, 1005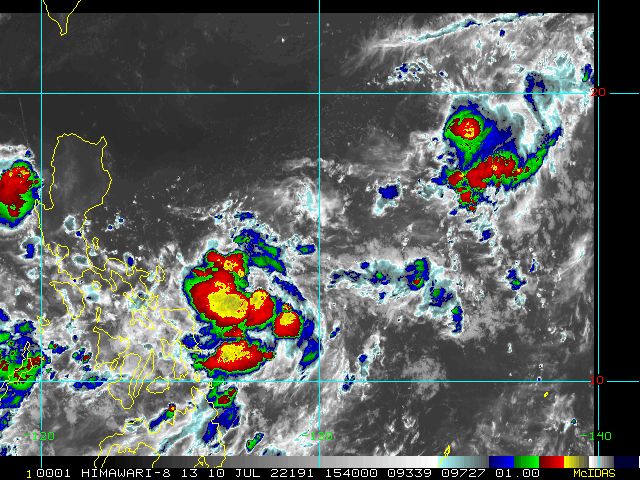 ESATERN NORTH PACIFIC: TS 05E(DARBY). WARNING 4 ISSUED AT 10/16UTC. NHC COMMENTS.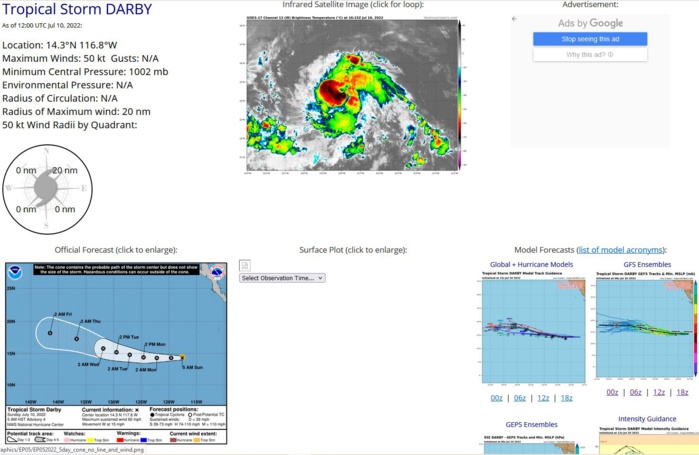 EP, 05, 2022070912,138N, 1110W, 30, 1008
EP, 05, 2022070918,142N, 1128W, 35, 1006
EP, 05, 2022071000,143N, 1142W, 40, 1004
EP, 05, 2022071006,143N, 1155W, 40, 1004
EP, 05, 2022071012,143N, 1168W, 50, 1002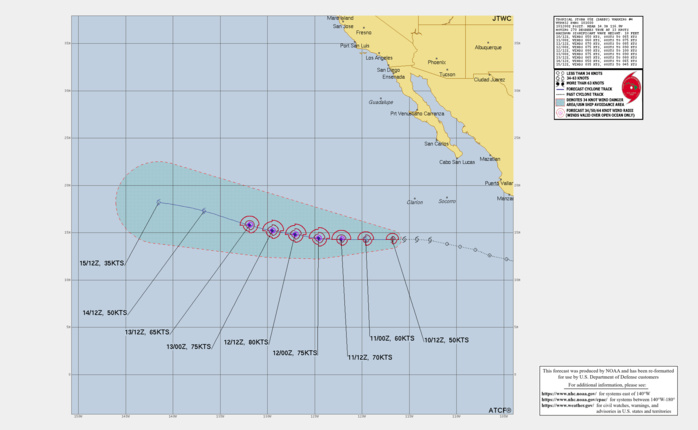 000 WTPZ45 KNHC 101445 TCDEP5 Tropical Storm Darby Discussion Number 4 NWS National Hurricane Center Miami FL EP052022 500 AM HST Sun Jul 10 2022 Darby has become better organized this morning. A 0916 UTC AMSR2 and more recent 1216 UTC SSMIS microwave pass have revealed increased banding over the eastern semicircle of the storm and an improved low-level inner core structure. Early-light visible satellite imagery also shows an increase in banding and the development of a small CDO feature. Subjective Dvorak intensity estimates have responded accordingly and are now up to 45 and 55 kt from TAFB and SAB, respectively. Therefore, the initial intensity has been raised to 50 kt for this advisory. There still appears to be some entrainment of drier mid-level air over the northwestern portion of the circulation, but with low environmental shear and warm sea-surface temperatures (SSTs) ahead, Darby should be able to strengthen over the next 36-48 hours. The updated NHC intensity forecast shows a faster rate of strengthening during the first day or so, primarily due to the higher initial intensity. The new forecast calls for Darby to become a hurricane in about 24 hours, and then peak in intensity in a couple of days. After that time, gradually decreasing SSTs and a more stable environment should lead to steady weakening during the remainder of the forecast period. The NHC wind speed forecast is near the high end of the guidance during the first 24-48 hours and is in best agreement with the European-based SHIPS model. Thereafter, it is close to the various consensus aids. Darby continues to move westward at about 13 kt. The cyclone should continue on a westward motion to the south of a mid-level ridge extending westward from the northern portion of Baja California. In a few days the western portion of the ridge is forecast to weaken which should cause Darby to turn west-northwestward. The track guidance is in general agreement on this scenario, though the UKMET model depicts a much weaker Darby and shows a faster westward motion. The NHC forecast is closest to the ECMWF, which is a little slower than the consensus aids due to the contribution from the much faster UKMET model.