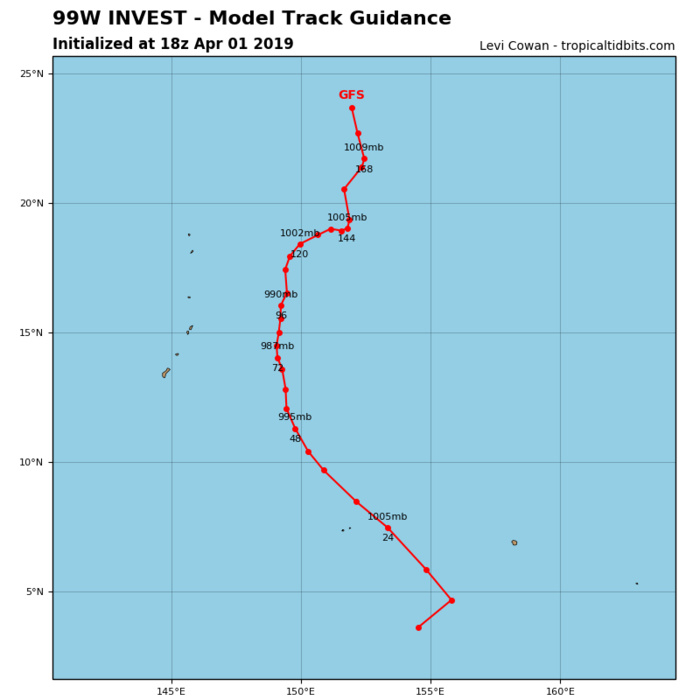 Location: 3.6°N 154.1°E
Maximum Winds: 15 kt
Minimum Central Pressure: 1008 mb
ABPW10 PGTW 020100
1. WESTERN NORTH PACIFIC AREA (180 TO MALAY PENINSULA):
A. TROPICAL CYCLONE SUMMARY: NONE.
B. TROPICAL DISTURBANCE SUMMARY:
(1) AN AREA OF CONVECTION (INVEST 99W) HAS PERSISTED NEAR 3.3N
153.0E, APPROXIMATELY 244 NM SOUTH-SOUTHEAST OF CHUUK. ANIMATED
MULTISPECTRAL IMAGERY DEPICTS AN AREA OF BROAD TURNING WITH NO
DISCERNIBLE LOW LEVEL CIRCULATION CENTER. A 012012Z SSMIS 91GHZ
MICROWAVE IMAGE EMPHASIZES THAT THERE IS DISORGANIZED, FLARING
CONVECTION IN THE VICINITY OF THE SYSTEM. THE ENVIRONMENT IS
MARGINAL FOR DEVELOPMENT WITH GOOD POLEWARD OUTFLOW, WARM SEA
SURFACE TEMPERATURES (29-30C), AND STRONG VERTICAL WIND SHEAR (30-40
KTS). AS THE SYSTEM CONTINUES ON A NORTH TO NORTHWEST TRAJECTORY,
PER GLOBAL MODELS, WIND SHEAR WILL BECOME MORE FAVORABLE AND ENHANCE
DEVELOPMENT. GLOBAL MODELS ARE IN RELATIVELY GOOD AGREEMENT ON THE
SYSTEM'S MOVEMENT BUT DIFFER ON THE TIMING OF THE SYSTEM'S
DEVELOPMENT INTO A TROPICAL CYCLONE VARYING FROM 36 TO 48 HOURS.
MAXIMUM SUSTAINED SURFACE WINDS ARE ESTIMATED AT 10 TO 15 KNOTS.
MINIMUM SEA LEVEL PRESSURE IS ESTIMATED TO BE NEAR 1010 MB. THE
POTENTIAL FOR THE DEVELOPMENT OF A SIGNIFICANT TROPICAL CYCLONE
WITHIN THE NEXT 24 HOURS IS LOW.