TC 04P. CLICK TO ANIMATE.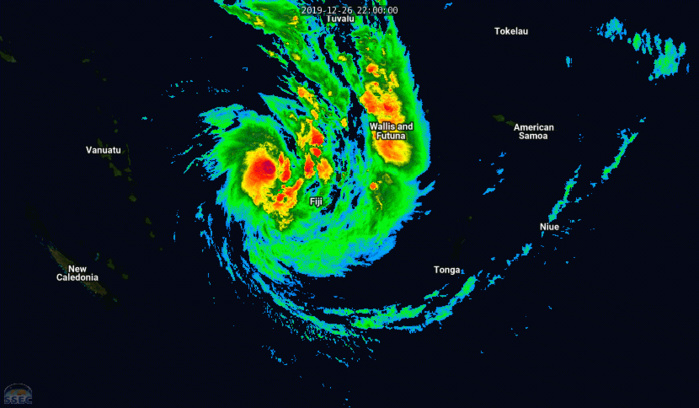 Location: 14.7°N 116.9°E
Maximum Winds: 70 kt ( 130km/h)
Gusts: 85 kt ( 160km/h)
CATEGORY US: 1
WDPN31 PGTW 270300
MSGID/GENADMIN/JOINT TYPHOON WRNCEN PEARL HARBOR HI//
SUBJ/PROGNOSTIC REASONING FOR TYPHOON 30W (PHANFONE) WARNING NR 022//
RMKS/
1. FOR METEOROLOGISTS.
2. 6 HOUR SUMMARY AND ANALYSIS.
TYPHOON (TY) 30W (PHANFONE), LOCATED APPROXIMATELY 504 NM EAST OF
DA NANG, VIETNAM, HAS TRACKED NORTHWESTWARD AT 05 KNOTS OVER THE
PAST SIX HOURS. ANIMATED MULTISPECTRAL SATELLITE IMAGERY SHOWS THAT
DEEP CONVECTION CONTINUES TO WEAKEN AROUND THE LOW LEVEL CIRCULATION
CENTER (LLCC). THE INITIAL POSITION IS PLACED WITH GOOD CONFIDENCE
AND IS BASED ON A 262237Z SSMIS 37GHZ IMAGE WHICH SHOWS A PARTIAL
MICROWAVE EYE. THE INITIAL INTENSITY OF 70 KNOTS IS BASED ON A
SATCON ESTIMATE OF 69 KNOTS FROM 262237Z. TY 30W IS EXPERIENCING
MODERATE TO UNFAVORABLE VERTICAL WIND SHEAR (20 TO 25 KNOTS) WHICH
IS OFFSET BY AN EXCELLENT POLEWARD OUTFLOW CHANNEL. SEA SURFACE
TEMPERATURES REMAIN FAVORABLE BETWEEN 26 AND 27 DEGREES CELSIUS. TY
30W IS TRACKING NORTHWESTWARD WHILE POSITIONED ON THE SOUTHWESTERN
EDGE OF A SUBTROPICAL RIDGE (STR) LOCATED TO THE NORTHEAST.
3. FORECAST REASONING.
A. THERE IS NO SIGNIFICANT CHANGE TO THE FORECAST PHILOSOPHY FROM
THE PREVIOUS PROGNOSTIC REASONING MESSAGE.
B. AS THE DEEP CONVECTION AROUND THE LLCC CONTINUES TO WEAKEN,
THE PRIMARY STEERING FEATURE WILL SHIFT FROM THE STR TO THE LOWER
LEVEL SURGE FLOW FROM THE NORTHEAST. UNFAVORABLE VERTICAL WIND SHEAR
AND COOLER SEA SURFACE TEMPERATURES WILL ALLOW TY 30W TO WEAKEN AS
IT TRACKS WESTWARD. DYNAMIC MODEL GUIDANCE IS NOW IS SLIGHTLY BETTER
AGREEMENT BUT IS STILL IN POOR AGREEMENT OVERALL. NAVGEM IS THE
PRIMARY OUTLIER INDICATING A NORTHWESTWARD TRACK. THE REMAINING
MODEL GUIDANCE SUGGESTS A GENERALLY WESTWARD TRACK. THE JTWC TRACK
IS PLACED WITH LOW CONFIDENCE AND IS POSITIONED JUST TO THE NORTH OF
THE MUTLI-MODEL CONSENSUS.//
NNNN
-------------------------------------------------------------------------------------------------------
Location: 16.6°S 175.4°E
Maximum Winds: 50 kt ( 95km/h)
Gusts: 65 kt ( 120km/h)
REMARKS:
270300Z POSITION NEAR 17.0S 175.5E.
27DEC19. TROPICAL CYCLONE (TC) 04P (SARAI), LOCATED APPROXIMATELY
194 NM WEST-NORTHWEST OF SUVA, FIJI, HAS TRACKED SOUTHWARD AT 09
KNOTS OVER THE PAST SIX HOURS. ANIMATED MULTISPECTRAL SATELLITE
IMAGERY SHOWS A BROAD AREA OF ELONGATED AND DEEP CONVECTION WHICH
CONTINUES TO CONSOLIDATE. THE INITIAL POSITION IS PLACED WITH FAIR
CONFIDENCE AND IS BASED ON A PARTIAL 262115Z METOP-A ASCAT IMAGE. THE
INITIAL INTENSITY OF 50 KNOTS IS BASED ON DVORAK CURRENT INTENSITY
(CI) ESTIMATES OF T3.0 (45 KNOTS) FROM PGTW AND T3.5 (55 KNOTS) FROM
KNES. TC 04P IS EXPERIENCING FAVORABLE VERTICAL WIND SHEAR (10 TO 15
KNOTS) AND HAS AN EXCELLENT POLEWARD OUTFLOW CHANNEL BUT LIMITED
EQUATORWARD OUTFLOW. SEA SURFACE TEMPERATURES ARE FAVORABLE FOR
ADDITIONAL DEVELOPMENT, NEAR 28 DEGREES CELSIUS. TC 04P IS TRACKING
SOUTHWARD WHILE POSITIONED ON THE SOUTHWESTERN EDGE OF A NEAR
EQUATORIAL RIDGE (NER). AS THE NER SHIFTS EQUATORWARD AND REORIENTS,
TC 04P WILL BEGIN TO TRACK SOUTHEASTWARD AND EVENTUALLY EASTWARD BY
TAU 72. FAVORABLE VERTICAL WIND SHEAR, UPPER LEVEL OUTFLOW, AND SEA
SURFACE TEMPERATURES WILL ALLOW TC 04P TO STEADILY INTENSIFY, REACHING
65 KNOTS BY TAU 36. BEYOND TAU 72, TC 04P WILL SLOWLY BEGIN TO WEAKEN
DUE TO DETERIORATING UPPER LEVEL CONDITIONS. DYNAMIC MODEL GUIDANCE IS
IN FAIRLY GOOD AGREEMENT THROUGH TAU 36. HOWEVER, THERE IS A WIDE
SPREAD IN MODEL GUIDANCE OF 1030 NM BY TAU 120 WITH ECMWF AND GALWEM
THE OUTLIERS. THE JTWC FORECAST TRACK IS PLACED NEAR THE MULTI-MODEL
CONSENSUS WHICH IS NEAR A CLUSTER OF THE REMAINING MODELS. DUE TO THE
WIDE SPREAD IN MODEL GUIDANCE THERE IS LOW CONFIDENCE IN THE JTWC
FORECAST TRACK. MAXIMUM SIGNIFICANT WAVE HEIGHT AT 270000Z IS 24 FEET.
NEXT WARNINGS AT 270900Z, 271500Z, 272100Z AND 280300Z.//
NNNN
INVEST 96S SOUTH INDIAN
Location: 11.3°S 54.3°E
Maximum Winds: 20 kt
ABIO10 PGTW 270130
2. SOUTH INDIAN OCEAN AREA (135E WEST TO COAST OF AFRICA):
A. TROPICAL CYCLONE SUMMARY: NONE.
B. TROPICAL DISTURBANCE SUMMARY:
(1) THE AREA OF CONVECTION (INVEST 96S) PREVIOUSLY LOCATED
NEAR 12.9S 53.3E IS NOW LOCATED NEAR 11.3S 54.3E, APPROXIMATELY 569
NM NORTH-NORTHWEST OF MAURITIUS. ANIMATED MULTISPECTRAL
SATELLITE IMAGERY AND A 262138Z AMSR2 89GHZ SATELLITE IMAGE DEPICT
CONVECTION CONSOLIDATING AROUND A BROAD LOW LEVEL CIRCULATION.
INVEST 96S IS IN A MARGINALLY FAVORABLE ENVIRONMENT FOR
DEVELOPMENT WITH MODERATE TO HIGH (20-30 KNOTS) VERTICAL WIND SHEAR
IN THE NORTHERN PERIPHERY, AND LOW (<15 KNOTS) VERTICAL WIND SHEAR
IN THE SOUTHERN PERIPHERY, WARM (29-30C) SEA SURFACE TEMPERATURES,
EQUATORWARD OUTFLOW AND A DEVELOPING POLEWARD OUTFLOW CHANNEL.
GLOBAL MODELS SUGGEST THAT 96S WILL CONSOLIDATE AND STRENGTHEN AS IT
TRACKS SOUTH-SOUTHEASTWARD. MAXIMUM SUSTAINED SURFACE WINDS ARE
ESTIMATED AT 15 TO 20 KNOTS. MINIMUM SEA LEVEL PRESSURE IS ESTIMATED
TO BE NEAR 1005 MB. THE POTENTIAL FOR THE DEVELOPMENT OF A
SIGNIFICANT TROPICAL CYCLONE WITHIN THE NEXT 24 HOURS IS UPGRADED TO
MEDIUM.
TY 30W: WEAKENING
TC 04P: SLOWLY INTENSIFYING NEAR FIJI
TY 30W: TRACK AND INTENSITY GUIDANCE
TC 04P: TRACK AND INTENSITY GUIDANCE