CLICK ON THE IMAGERIES BELOW TO GET THEM ENLARGED
WESTERN NORTH PACIFIC: REMNANTS OF 29W(PAKHAR). ESTIMATED LOCATION AND INTENSITY AT 13/06UTC.
WARNING 9/FINAL ISSUED AT 12/21UTC.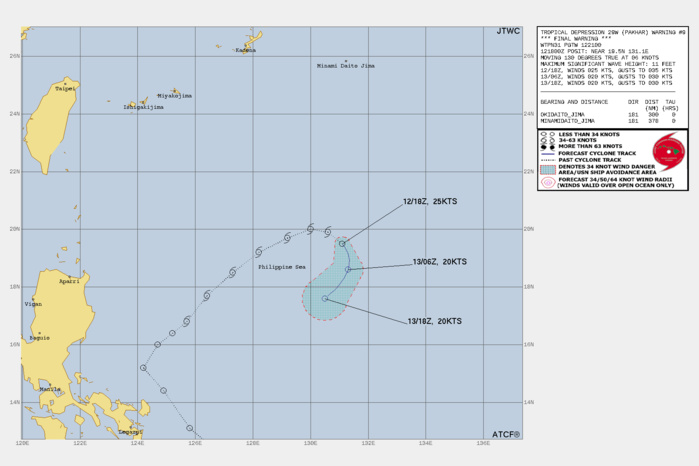 ROPICAL DEPRESSION (TD) 29W (PAKHAR), LOCATED APPROXIMATELY 649 NM EAST-NORTHEAST OF MANILA, PHILIPPINES, HAS TRACKED SOUTHEASTWARD AT 06 KNOTS OVER THE PAST SIX HOURS. ANIMATED ENHANCED INFRARED (EIR) SATELLITE IMAGERY SHOWS THE SYSTEM HAS BECOME DIFFICULT TO IDENTIFY AND PINPOINT ITS LOCATION AS IT HAS BECOME MORE ELONGATED AND EMBEDDED IN THE TAIL END OF A STATIONARY FRONTAL BOUNDARY IN THE PHILIPPINE SEA. THE ASSOCIATED CONVECTION HAS BECOME MORE LINEAR, FRAGMENTED, AND SHALLOW. THE INITIAL POSITION IS PLACED WITH LOW CONFIDENCE BASED ON LOW CLOUD TRACING IN THE EIR LOOP. THE INITIAL POSITION IS BASED ON THE PGTW DVORAK FINAL T-NUMBER 1.5/25KTS AND REFLECTS THE RAPID DETERIORATION. THE REMNANTS OF TD 29W ARE EXPECTED TO OPEN INTO A WAVE AND SLOWLY DRIFT BACK TOWARD THE SOUTHWEST WITH THE TRADEWIND FLOW, BUT IS NOT FORECAST TO RE-INTENSIFY. THIS IS THE FINAL WARNING ON THIS SYSTEM BY THE JOINT TYPHOON WRNCEN PEARL HARBOR HI.
ESTIMATED PEAK INTENSITY WAS 50KT.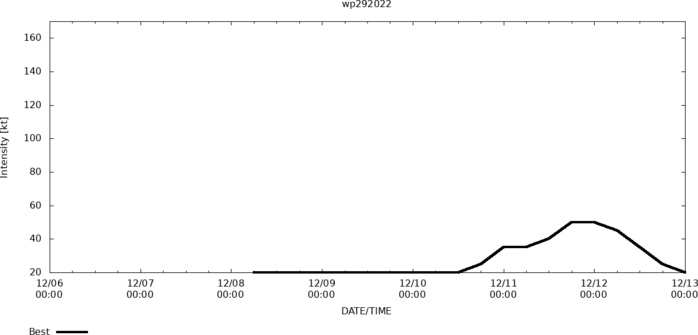 WP, 29, 2022120600,45N, 1407E, 15, 1009, DB
WP, 29, 2022120606,48N, 1395E, 15, 1008, DB
WP, 29, 2022120612,52N, 1387E, 15, 1008, DB
WP, 29, 2022120618,54N, 1381E, 15, 1006, DB
WP, 29, 2022120700,56N, 1376E, 15, 1005, DB
WP, 29, 2022120706,57N, 1372E, 15, 1004, DB
WP, 29, 2022120712,57N, 1367E, 15, 1006, DB
WP, 29, 2022120718,58N, 1361E, 15, 1010, DB
WP, 29, 2022120800,60N, 1348E, 15, 1010, DB
WP, 29, 2022120806,65N, 1339E, 20, 1008, DB
WP, 29, 2022120812,72N, 1329E, 20, 1008, DB
WP, 29, 2022120818,87N, 1311E, 20, 1005, DB
WP, 29, 2022120900,96N, 1297E, 20, 1004, DB
WP, 29, 2022120906,107N, 1282E, 20, 1004, DB
WP, 29, 2022120912,121N, 1270E, 20, 1003, DB
WP, 29, 2022120918,131N, 1258E, 20, 1003, DB
WP, 29, 2022121000,144N, 1249E, 20, 1003, DB
WP, 29, 2022121006,152N, 1242E, 20, 1003, DB
WP, 29, 2022121012,160N, 1247E, 20, 1005, DB
WP, 29, 2022121018,164N, 1252E, 25, 1002, TD
WP, 29, 2022121100,168N, 1257E, 35, 1000, TS
WP, 29, 2022121106,177N, 1264E, 35, 1000, TS
WP, 29, 2022121112,185N, 1273E, 40, 997, TS
WP, 29, 2022121118,192N, 1282E, 50, 995, TS
WP, 29, 2022121200,197N, 1292E, 50, 992, TS
WP, 29, 2022121206,200N, 1300E, 45, 996, TS
WP, 29, 2022121212,199N, 1306E, 35, 1000, TS
WP, 29, 2022121218,191N, 1312E, 25, 1004, TD
WP, 29, 2022121300,186N, 1312E, 20, 1007, DB
WP, 29, 2022121306,179N, 1312E, 20, 1007, DB
SOUTH INDIAN OCEAN: INVEST 98S. ESTIMATED LOCATION AND INTENSITY AT 13/12UTC. ADVISORY(ABIO) ISSUED AT 13/08UTC.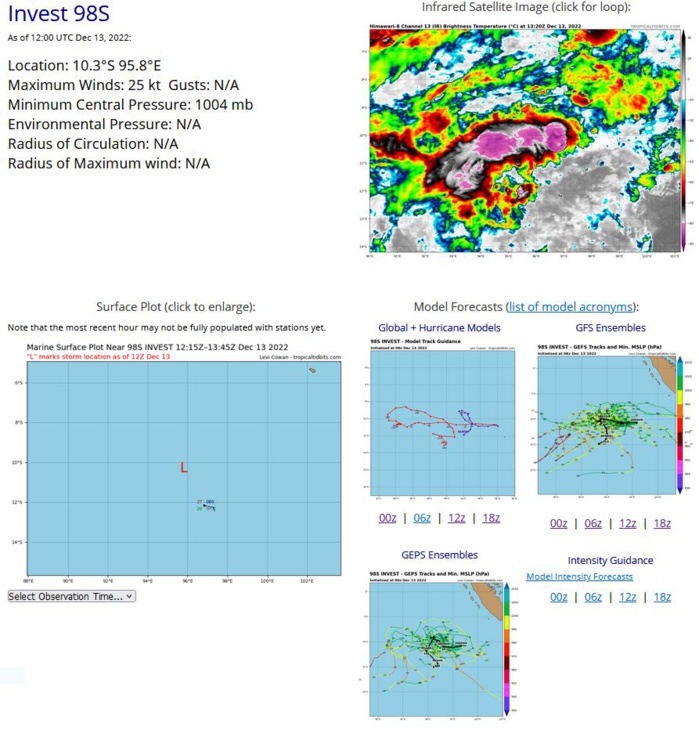 AN AREA OF CONVECTION (INVEST 98S) HAS PERSISTED NEAR 10.5S 96.2E, APPROXIMATELY 108 NM NORTH-NORTHWEST OF COCOS ISLAND. ANIMATED MULTISPECTRAL SATELLITE IMAGERY AND A 130615Z GOES-13 IMAGE DEPICT A FULLY EXPOSED LOW LEVEL CIRCULATION CENTER (LLCC) WITH CONVECTION SHEARED TO THE SOUTHWEST. UPPER-LEVEL ANALYSIS INDICATES 98S IS IN A FAVORABLE ENVIRONMENT FOR DEVELOPMENT WITH LOW TO MODERATE (10-15KT) VWS OFFSET BY STRONG DIVERGENCE ALOFT AND WARM (28-29C) SEA SURFACE TEMPERATURES. GLOBAL MODELS ARE IN GOOD AGREEMENT THAT 98S WILL CONTINUE TO TRACK WESTWARD. MAXIMUM SUSTAINED SURFACE WINDS ARE ESTIMATED AT 18 TO 23 KNOTS. MINIMUM SEA LEVEL PRESSURE IS ESTIMATED TO BE NEAR 1004 MB. THE POTENTIAL FOR THE DEVELOPMENT OF A SIGNIFICANT TROPICAL CYCLONE WITHIN THE NEXT 24 HOURS IS LOW.
SH, 98, 2022121106,96S, 959E, 15, 1008, DB
SH, 98, 2022121112,97S, 965E, 15, 1008, DB
SH, 98, 2022121118,99S, 971E, 15, 1007, DB
SH, 98, 2022121200,101S, 977E, 25, 1006, TD
SH, 98, 2022121206,106S, 977E, 25, 1005, TD
SH, 98, 2022121212,108S, 974E, 25, 1004, TD
SH, 98, 2022121218,109S, 970E, 25, 1004, TD
SH, 98, 2022121300,107S, 966E, 25, 1004, TD
SH, 98, 2022121306,105S, 962E, 25, 1004, TD
SH, 98, 2022121312,103S, 958E, 25, 1004, TD
NORTH INDIAN OCEAN/ARABIN SEA: INVEST 97A. ESTIMATED LOCATION AND INTENSITY AT 13/12UTC.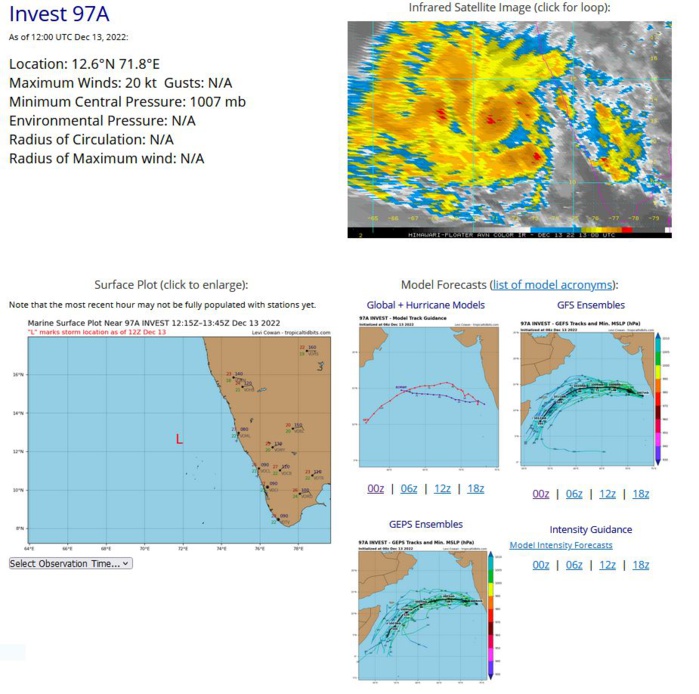 IO, 97, 2022121212,123N, 751E, 15, 1010, DB
IO, 97, 2022121218,123N, 740E, 15, 1010, DB
IO, 97, 2022121300,125N, 733E, 15, 1010, DB
IO, 97, 2022121306,125N, 725E, 20, 1007, DB
IO, 97, 2022121312,126N, 718E, 20, 1007, DB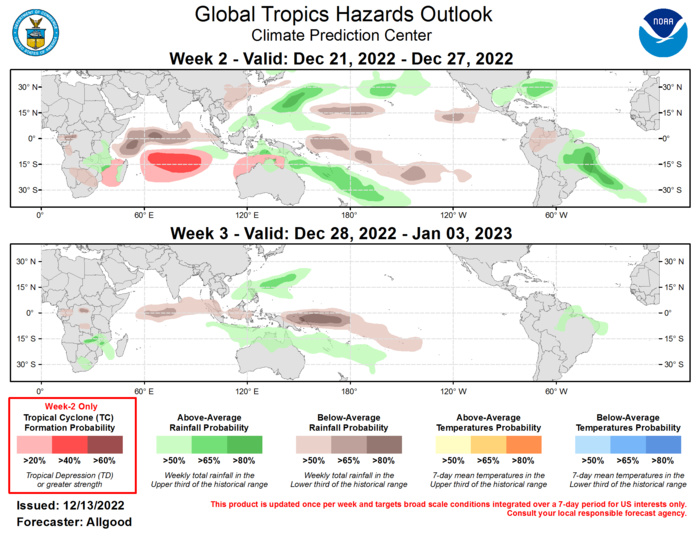 Last Updated - 12/13/22 Valid - 12/21/22 The global tropical convective pattern appears to be dominated by two distinct modes: the ongoing La Nina across the tropical Pacific, and an active Madden-Julian Oscillation (MJO) signal crossing the Indian Ocean. Enhanced convection has persisted across both the Northwest Pacific and South Pacific Convergence Zone (SPCZ) regions since early December, which is consistent with the enhanced Walker circulation driven by La Nina though these features have not been often observed previously with this particular event due to the extent of negative sea surface temperature anomalies west of the Date Line. MJO activity during November succeeded in generating a downwelling oceanic Kelvin wave, which is reducing the extent of available cold water that the trade winds can upwell near the Date Line. The enhanced West Pacific convection may also be contributing to a fairly weak presentation of the MJO on the RMM-based index, though the intraseasonal signal is still clearly apparent in the upper-level velocity potential anomaly field. Dynamical model MJO index forecasts are generally supportive of continued eastward propagation of the signal, with many ensemble members from both the GEFS and ECWMF depicting the MJO crossing the Maritime Continent and entering the West Pacific basin over the next few weeks. Substantial differences exist during Week-1, however, with the GEFS showing substantial westward retrogression and amplification over the Indian Ocean, likely tied to Rossby wave activity and potential tropical cyclone activity over the southern Indian Ocean. Based on these recent observations and model forecasts, the MJO is favored to continue influencing the global tropical convective pattern through the Weeks 2-3 period, and the signal may teleconnect into the downstream Northern Hemisphere midlatitude pattern. During the past week, Tropical Storm Mandous formed on December 7th east of Sri Lanka, making landfall just south of Chennai, India on December 10th. The remnants of TS Mandous may redevelop into a tropical cyclone over the Arabian Sea. Tropical Storm Pakhar formed east of the Philippines on December 10th, bringing enhanced rainfall without making landfall. During the next several weeks, influence from the MJO may cause the southern Indian Ocean to become increasingly active. Dynamical models favor several regions of development during Week-2: The Mozambique Channel, the south-central Indian Ocean, and later in the period, close to Australia's Kimberley Coast. The highest forecast confidence exists over the south-central Indian Ocean, with the GEFS favoring the western portion of the hazard region and the ECMWF favoring an area west of the Cocos Islands. The precipitation forecast for Weeks 2-3 is based on a consensus of dynamical model guidance, as well as an anticipation of continued influences from the MJO and La Nina. The MJO may constructively interfere with the La Nina response as its enhanced convective phase crosses the Maritime Continent, but during the Week 2-3 period, increasingly destructive interference between the two signals becomes more likely as the enhanced phase attempts to enter the West Pacific. This interference reduces confidence overall, but enhanced convection over the Northwest Pacific and SPCZ regions remains fairly likely, as it would be supported by both signals. Across the Western Hemisphere, a significant cold air outbreak is favored over the contiguous United States during Week-2, though there is uncertainty whether significant freezes will threaten the citrus growing regions of Florida, southern Texas, and northeastern Mexico. A baroclinic zone south of the cold airmass favors enhanced precipitation for the Gulf of Mexico, Florida Peninsula, and the northern Bahamas, while an enhanced Brazil monsoon is forecast for Week-2.