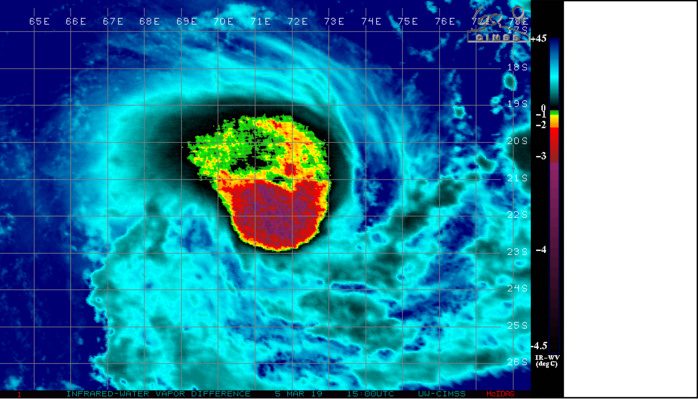 15UTC
Microwave data are still depicting a clear-cut eye feature with a rather solid eyewall.
TC HALEH 17S
https://www.facebook.com/groups/1817419381676514/
As of 12:00 UTC Mar 05, 2019:
Location: 21.1°S 71.7°E
Maximum Winds: 95 kt (175km/h)
Gusts: 115 kt (215km/h)
Minimum Central Pressure: 955 mb
REMARKS:
051500Z POSITION NEAR 21.4S 71.4E.
TROPICAL CYCLONE (TC) 17S (HALEH), LOCATED APPROXIMATELY 920 NM EAST
OF ST DENIS, REUNION, HAS TRACKED SOUTHWESTWARD AT 08 KNOTS OVER THE
PAST SIX HOURS. ANIMATED ENHANCED INFRARED SATELLITE IMAGERY DEPICTS
AN ASYMMETRIC CONVECTIVE CORE WITH A CLOUD-FILLED 20-25NM EYE. A
051116Z SSMIS 91GHZ MICROWAVE IMAGE SHOWS WEAK CONVECTIVE BANDING
WITH A SOLID EYEWALL SURROUNDING A MICROWAVE EYE FEATURE. THEREFORE,
THERE IS GOOD CONFIDENCE IN THE INITIAL POSITION. THE INITIAL
INTENSITY IS ASSESSED AT 95 KNOTS BASED ON DVORAK CURRENT INTENSITY
ESTIMATES RANGING FROM 5.0 TO 6.0 (90 TO 115 KNOTS). UPPER-LEVEL
ANALYSIS REVEALS A MARGINALLY-FAVORABLE ENVIRONMENT WITH LOW (10-15
KNOTS) VERTICAL WIND SHEAR (VWS) AND GOOD POLEWARD OUTFLOW. HOWEVER,
CONVERGENT FLOW ASSOCIATED WITH UPPER-LEVEL TROUGHING OVER THE
NORTHERN PERIPHERY AND WESTERN PERIPHERY IS HINDERING OUTFLOW. TC
17S IS TRACKING SOUTHWESTWARD ALONG THE WESTERN PERIPHERY OF A
NORTH-SOUTH ORIENTED SUBTROPICAL RIDGE (STR) WITH ANOTHER STR
POSITIONED TO THE SOUTH. AS THE SYSTEM TRACKS POLEWARD, THE STR TO
THE SOUTH WILL BECOME THE PRIMARY STEERING INFLUENCE WITH A GENERAL
SOUTHWESTWARD TRACK EXPECTED THROUGH TAU 36. AFTER TAU 36, THE STR
TO THE SOUTH IS FORECAST TO WEAKEN AND SHIFT EAST ALLOWING THE
SYSTEM TO TURN SOUTH-SOUTHWESTWARD THROUGH TAU 72. AFTER TAU 72, TC
HALEH WILL RECURVE SOUTH-SOUTHEASTWARD AND BECOME EMBEDDED WITHIN A
MIDLATITUDE SHORTWAVE TROUGH AND QUICKLY COMPLETE EXTRA-TROPICAL
TRANSITION. THE SYSTEM IS FORECAST TO WEAKEN STEADILY AFTER TAU 12
AS VWS INCREASES AND SST VALUES DECREASE. MORE SIGNIFICANT WEAKENING
SHOULD OCCUR AFTER TAU 48 DUE TO STRONG (25-35 KNOTS) VWS AND COOLER
SST VALUES (LESS THAN 26C INITIALLY AND COOLING TO 19C BY TAU 96).
WITH THE EXCEPTION OF NAVGEM, NUMERICAL MODEL GUIDANCE REMAINS IN
GOOD AGREEMENT, THEREFORE, THERE IS HIGH CONFIDENCE IN THE JTWC
FORECAST TRACK. MAXIMUM SIGNIFICANT WAVE HEIGHT AT 051200Z IS 30
FEET. NEXT WARNINGS AT 052100Z, 060300Z, 060900Z AND 061500Z.//
NNNN