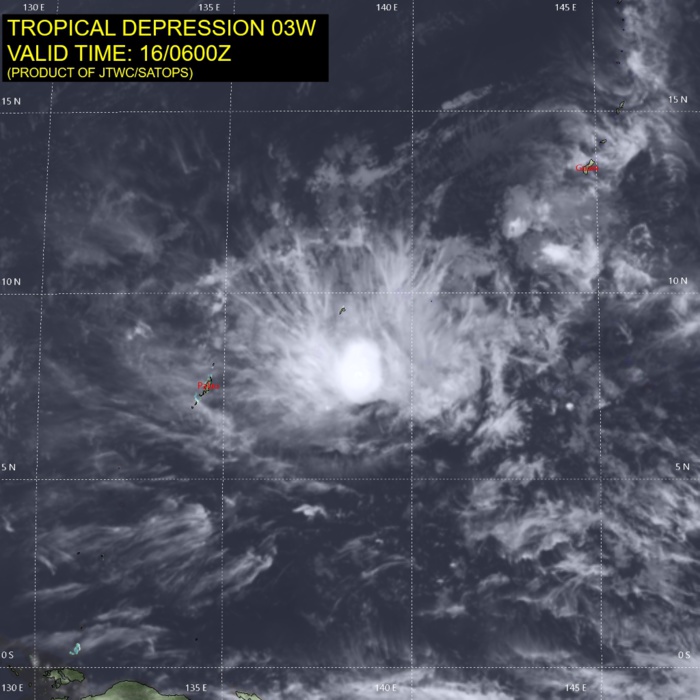 06UTC
https://www.facebook.com/groups/1817419381676514/
Location: 7.6°N 138.8°E
Maximum Winds: 25 kt ( 45km/h)
Gusts: 35 kt ( 65km/h)
Minimum Central Pressure: 1005 mb
WDPN31 PGTW 160900
MSGID/GENADMIN/JOINT TYPHOON WRNCEN PEARL HARBOR HI//
SUBJ/PROGNOSTIC REASONING FOR TROPICAL DEPRESSION 03W (THREE)
WARNING NR 006//
RMKS//
1. FOR METEOROLOGISTS.
2. 6 HOUR SUMMARY AND ANALYSIS.
TROPICAL DEPRESSION (TD) 03W (THREE), LOCATED APPROXIMATELY 121
NM SOUTH-SOUTHEAST OF YAP, FSM, HAS TRACKED WESTWARD AT 12 KNOTS
(KTS)OVER THE PAST SIX HOURS. ANIMATED MULTISPECTRAL SATELLITE
IMAGERY SHOWS A SYSTEM WITH FLARING CONVECTION AND WEAK FRAGMENTED
BANDS LOOSELY FEEDING INTO AN OBSCURED LOW-LEVEL CIRCULATION (LLC).
THE INITIAL POSITION IS PLACED WITH FAIR CONFIDENCE BASED ON A NOTCH
FEATURE IN THE 160529Z SSMI NEAR-SURFACE 37GHZ COLORIZED IMAGE. THE
INITIAL INTENSITY OF 25 KNOTS IS BASED ON THE PGTW DVORAK ESTIMATE OF
T1.5/25KTS AND CONSISTENT WITH NEARBY SURFACE OBSERVATIONS INCLUDING
YAP. UPPER LEVEL ANALYSIS INDICATES THE SYSTEM IS IN AN AREA WITH
MODERATE (15-20KT) VERTICAL WIND SHEAR (VWS) AND WEAK POLEWARD
OUTFLOW THAT IS PROVIDING VENTILATION TO THE WEAK CONVECTION. SEA
SURFACE TEMPERATURES IN THE PHILIPPINE SEA ARE CONDUCIVE AT 29C. THE
CYCLONE IS TRACKING ALONG THE SOUTHERN PERIPHERY OF A SUBTROPICAL
RIDGE (STR) TO THE NORTH.
3. FORECAST REASONING.
A. THERE IS NO CHANGE TO THE FORECAST PHILOSOPHY SINCE THE
PREVIOUS PROGNOSTIC REASONING MESSAGE.
B. TD 03W WILL TRACK GENERALLY WESTWARD TO WEST-SOUTHWESTWARD
THROUGHOUT THE FORECAST UNDER THE STR. THE MARGINAL ENVIRONMENT MAY
PROMOTE A MODEST INTENSIFICATION UP TO 30 KTS OVER THE NEXT 24 HOURS.
AFTERWARD, INCREASING VWS, THEN LAND INTERACTION WITH THE SOUTHERN
PHILIPPINE ISLAND OF MINDANAO WILL LEAD TO GRADUAL DECAY AND EVENTUAL
DISSIPATION BY TAU 72, POSSIBLY SOONER, AFTER TD 03W MAKES LANDFALL
NEAR DAVAO. DYNAMIC MODEL GUIDANCE SIGNIFICANTLY SPREADS OUT UP TO
330 NM BY TAU 72, LENDING LOW CONFIDENCE IN THE JTWC TRACK FORECAST,
WHICH IS PLACED CLOSE TO CONSENSUS.//
NNNN