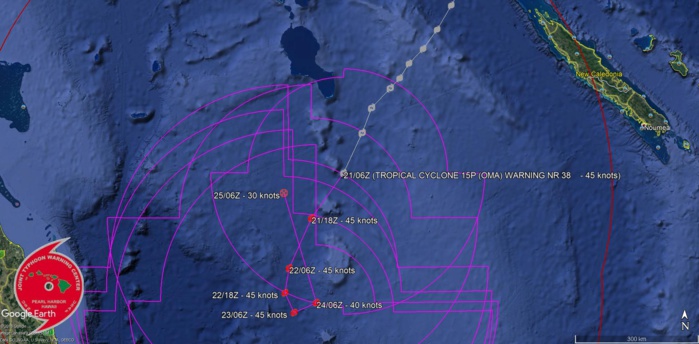 2019 FEB 21 11UTC SOUTH PACIFIC
TC
#
OMA
#
15P
This system is currently analysed as a 45knots TC.
WARNING 38/JTWC
Click on the TC graphic to read the Remarks for Warning 38 and view sat pics and charts .
Satellite bulletins are to be found in the comments of this post on JTWC BIS.
As of 06:00 UTC Feb 21, 2019:
Location: 23.4°S 159.8°E
Maximum Winds: 45 kt ( 85km/h)
Gusts: 55 kt ( 100km/h)
Minimum Central Pressure: 981 mb
https://www.facebook.com/groups/1817419381676514/
Cheers,
Patrick Hoareau
REMARKS:
210900Z POSITION NEAR 23.6S 159.6E.
TROPICAL CYCLONE (TC) 15P (OMA), LOCATED APPROXIMATELY 357 NM WEST-
SOUTHWEST OF NOUMEA, NEW CALEDONIA, HAS TRACKED SOUTH-SOUTHWESTWARD
AT 09 KNOTS OVER THE PAST SIX HOURS. ANIMATED MULTISPECTRAL SATELLITE
IMAGERY (MSI) SHOWS AN EXPANSIVE SYSTEM THAT CONTINUES TO WEAKEN AS
EVIDENCED BY UNRAVELING RAIN BANDS LEADNING TOWARD AN OBSCURED LOW
LEVEL CIRCULATION (LLC). THE INITIAL POSITION IS PLACED WITH HIGH
CONFIDENCE BASED ON A DEFINED LLC IN THE 210524Z SSMIS MICROWAVE
IMAGE. THE INITIAL INTENSITY IS BASED ON THE DVORAK ESTIMATE OF
T3.0/45KTS FROM PGTW AND IS SUPPORTED BY OBJECTIVE DVORAK ESTIMATES.
UPPER LEVEL ANALYSIS INDICATES LOW (5-10 KNOT) VWS AND STRONG
POLEWARD OUTFLOW; HOWEVER, UPPER LEVEL CONVERGENCE ON THE NORTH SIDE
AND MARGINAL SSTS AT 26 CELSIUS ARE OFFSETTING THE FAVORABLE VWS AND
OUTFLOW, RESULTING IN A NEUTRAL ENVIRONMENT AND SUSTAINED INTENSITY.
TC OMA WILL CONTINUE TO SLOWLY TRACK POLEWARD UNDER THE STEERING
INFLUENCE OF A WEAK SUBTROPICAL RIDGE (STR) TO THE EAST. AFTER TAU
24, A SECONDARY STR APPROACHING FROM THE SOUTHWEST WILL COMPETE FOR
STEERING AND RESULT IN YET ANOTHER QUASI-STATIONARY (QS) STORM
MOTION. AFTER TAU 48, THE VWS IS EXPECTED TO INCREASE AND SSTS TO
DECREASE, EXACERBATED BY UPWELLING AS A RESULT OF THE QS MOTION. THIS
COMBINATION WILL ACCELERATE THE DETERIORATION OF TC OMA, LEADING TO
DISSIPATION BY TAU 96. NUMERICAL MODELS ARE SIGNIFICANTLY SPREAD
AFTER TAU 24 WITH VARYING SOLUTIONS IN RESPONSE TO THE COMPETING
STEERING MECHANISMS. IN VIEW OF THIS, THERE IS LOW CONFIDENCE IN THE
JTWC FORECAST TRACK. MAXIMUM SIGNIFICANT WAVE HEIGHT AT 210600Z IS
20 FEET. NEXT WARNINGS AT 211500Z, 212100Z, 220300Z AND 220900Z.//
NNNN