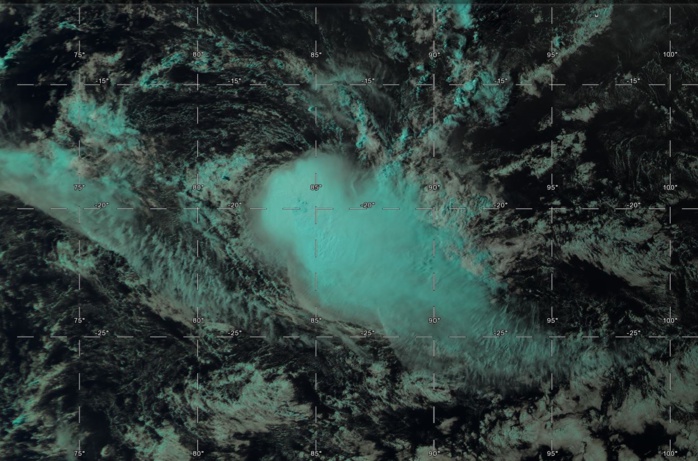 0830UTC
https://www.facebook.com/groups/1817419381676514/
Location: 19.1°S 83.7°E
Maximum Winds: 40 kt ( 75km/h)
Gusts: 50kt ( 95km/h)
Minimum Central Pressure: 993 mb
REMARKS:
200900Z POSITION NEAR 19.1S 83.4E.
TROPICAL CYCLONE 19S (SAVANNAH), LOCATED APPROXIMATELY 972 NM
SOUTHEAST OF DIEGO GARCIA, HAS TRACKED WEST-SOUTHWESTWARD AT 03
KNOTS OVER THE PAST SIX HOURS. ANIMATED MULTISPECTRAL SATELLITE
IMAGERY (MSI) SHOWS A PARTIALLY EXPOSED LOW LEVEL CIRCULATION CENTER
(LLCC) WITH DISSIPATING DEEP CONVECTION TO THE EAST. THE INITIAL
POSITION IS PLACED WITH HIGH CONFIDENCE BASED ON THE EXPOSED LLCC IN
THE MSI LOOP. THE INITIAL INTENSITY OF 40 KNOTS IS HEDGED ABOVE
AGENCY DVORAK ESTIMATES OF T2.0 (30 KNOTS) BASED ON A 200409Z METOP-
B ASCAT PASS THAT SHOWS A BROAD SWATH OF 40 KT WINDS TO THE
SOUTHWEST, AS WELL AS 35 AND 40 KT WIND BARBS EXTENDING OVER 75 NM
TO THE SOUTHEAST. A 200055Z SATCON ESTIMATE OF 42 KTS SUPPORTS THE
INITIAL INTENSITY ASSESSMENT. THE SYSTEM HAS TRACKED SOUTHWESTWARD
UNDER THE STEERING INFLUENCE OF MID-LEVEL FLOW ASSOCIATED WITH
RIDGING TO THE SOUTH. POLEWARD OUTFLOW IS TEMPORARILY ENHANCED AS TC
19S MOVES UNDER THE MIDLATITUDE WESTERLIES, BUT IS BEING OFFSET BY
HIGH (25-40 KNOTS) VERTICAL WIND SHEAR AND LOW OCEAN HEAT CONTENT.
TS 19S IS FORECAST TO TRACK WEST-SOUTHWESTWARD OVER THE NEXT 36
HOURS WHILE GRADUALLY DISSIPATING UNDER THE PERSISTENT INFLUENCE OF
STRONG VERTICAL WIND SHEAR. NUMERICAL MODEL GUIDANCE REMAINS IN GOOD
AGREEMENT WITH A SPREAD OF 150NM AT TAU 36, LENDING OVERALL HIGH
CONFIDENCE TO THE JTWC FORECAST TRACK. MAXIMUM SIGNIFICANT WAVE
HEIGHT AT 200600Z IS 14 FEET. NEXT WARNINGS AT 201500Z, 202100Z,
210300Z AND 210900Z. REFER TO TROPICAL CYCLONE 21S (VERONICA)
WARNINGS (WTXS32 PGTW) FOR SIX-HOURLY UPDATES.//
NNNN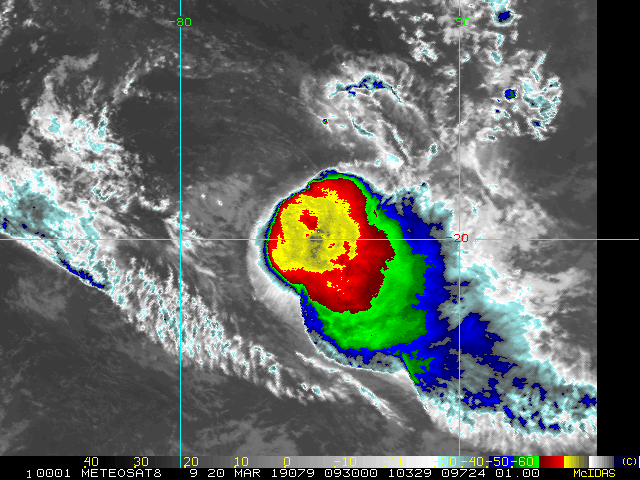 0930UTC