CLICK TO ANIMATE.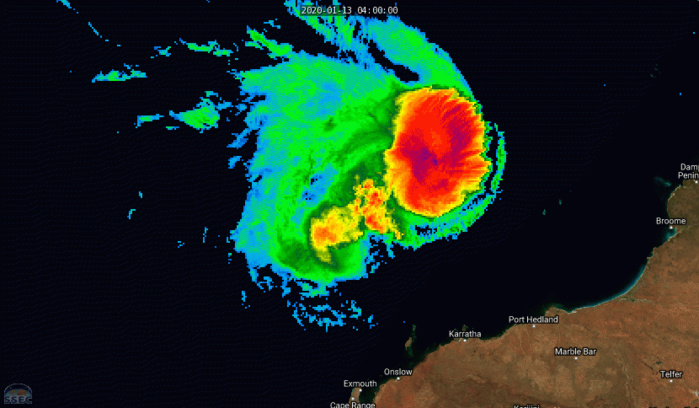 TC 07S (CLAUDIA) SOUTH INDIAN/WESTERN AUSTRALIA
As of 12:00 UTC Jan 13, 2020:
Location: 17.6°S 113.7°E
Maximum Winds: 80 kt ( 150km/h)
Gusts: 100 kt ( 185km/h)
Minimum Central Pressure: 975 mb
CATEGORY US: 1
REMARKS:
131500Z POSITION NEAR 17.8S 113.1E.
13JAN20. TROPICAL CYCLONE (TC) 07S (CLAUDIA), LOCATED APPROXIMATELY
283 NM NORTH OF LEARMONTH, AUSTRALIA, HAS TRACKED WEST-SOUTHWESTWARD
AT 19 KNOTS (KTS) OVER THE PAST SIX HOURS. ANIMATED ENHANCED INFRARED
SATELLITE IMAGERY REVEALS TIGHTLY WRAPPING DEEP CONVECTION OBSCURING
THE LOW LEVEL CIRCULATION CENTER (LLCC). BASED ON AN EXTRAPOLATION OF
A 131055Z SSMIS 37 GHZ MICROWAVE IMAGE DEPICTING A MICROWAVE EYE
FEATURE, THE INITIAL POSITION IS SET WITH HIGH CONFIDENCE. THE
INITIAL INTENSITY IS SET AT 80 KTS WITH GOOD CONFIDENCE BASED ON A
CONSENSUS OF AN ADVANCED DVORAK TECHNIQUE CURRENT INTENSITY ESTIMATE
OF T4.6 (80 KTS), MULTI-AGENCY DVORAK CURRENT ESTIMATES OF T4.5 (77
KTS) FROM KNES AND PGTW, AND A 130618Z SATELLITE CONSENSUS ESTIMATE
OF 79 KTS. TC 07S REMAINS IN A REGION OF UNFAVORABLE (25-30 KTS)
VERTICAL WIND SHEAR. HOWEVER, THE NEGATIVE IMPACT OF THE SHEAR IS
OFFSET BY THE FACT THAT THE SHEAR AND STORM MOTION ARE IN-PHASE. TC
07S HAS EXCELLENT EQUATORWARD OUTFLOW AND FAIR POLEWARD OUTFLOW AS IT
TRANSITS THROUGH AN AREA OF WARM (28-29 CELSIUS) SEA SURFACE
TEMPERATURES. TC 07S IS TRACKING WEST-SOUTHWESTWARD ALONG THE
NORTHWEST PERIPHERY OF A SUBTROPICAL RIDGE (STR) LOCATED OVER CENTRAL
AUSTRALIA. THIS STR WILL ACT AS THE PRIMARY STEERING INFLUENCE FOR
THE SYSTEM THROUGH TAU 72. THROUGHOUT THE REMAINDER OF THE FORECAST
PERIOD, STEADILY COOLING SEA SURFACE TEMPERATURES AND DECREASING
DIVERGENCE ALOFT WILL BEGIN TO WEAKEN TC 07S. THE SYSTEM WILL TRACK
WEST-SOUTHWESTWARD UNTIL TAU 72 AT WHICH POINT IT WILL BEGIN A
NORTHWESTWARD TURN AS IT ENCOUNTERS A SECONDARY STR, WHICH BECOMES
THE MAJOR STEERING INFLUENCE. DYNAMIC MODEL GUIDANCE REMAINS IN GOOD
AGREEMENT THROUGH TAU 36, WITH A MODEL SPREAD OF 140 NM. ALL MODEL
SOLUTIONS SHOW THE EXPECTED NORTHWESTWARD TURN. HOWEVER, THERE IS
SOME ALONG-TRACK VARIATION IN THE TIMING OF THE TURN. THUS, MODEL
SPREAD INCREASES IN THE LATER TAUS. OVERALL, THERE IS GOOD CONFIDENCE
IN THE JTWC FORECAST TRACK WHICH IS PLACED NEAR THE MULTI-MODEL
CONSENSUS. MAXIMUM SIGNIFICANT WAVE HEIGHT AT 131200Z IS 31 FEET.
NEXT WARNINGS AT 132100Z, 140300Z, 140900Z AND 141500Z.//
NNNN
WARNING 9. TC 07S IS DEEMED TO HAVE PEAKED. WEAKENING LIKELY FROM NOW ON DUE TO DECREASING SSTs, SHEAR AND DRY AIR ENTRAINMENT.
01/13 1357UTC. ASCAT READ TYPHOON-FORCE WINDS.
01/13 1055UTC. MICROWAVE DEPICTING WEAKENING EYE FEATURE
TRACK AND INTENSITY GUIDANCE.