TC 05S. CLICK TO ANIMATE.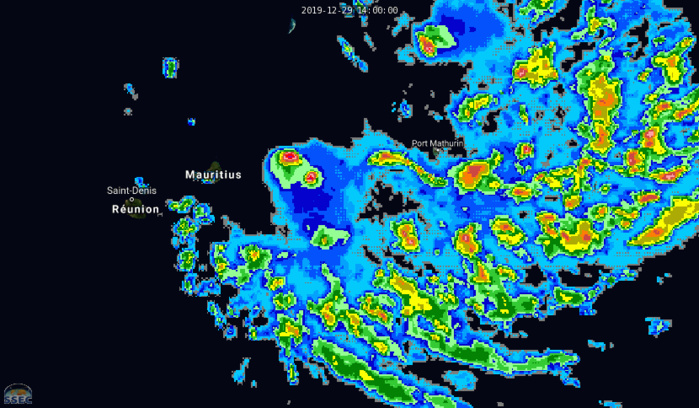 TC 05S(CALVINIA) SOUTH INDIAN

Location: 19.4°S 59.8°E
Maximum Winds: 35 kt ( 65km/h)
Gusts: 45 kt ( 85km/h)
REMARKS:
291500Z POSITION NEAR 19.7S 59.7E.
29DEC19. TROPICAL CYCLONE (TC) 05S (CALVINIA), LOCATED
APPROXIMATELY 147 NM EAST-NORTHEAST OF PORT LOUIS, MAURITIUS, HAS
TRACKED SOUTH-SOUTHWESTWARD AT 14 KNOTS (KTS) OVER THE PAST SIX
HOURS. ANIMATED ENHANCED INFRARED (EIR) SATELLITE IMAGERY SHOWS A
PARTIALLY EXPOSED LOW LEVEL CIRCULATION CENTER (LLCC) WITH DEEP,
FLARING CONVECTION WITHIN THE EASTERN AND SOUTHERN SEMI-CIRCLES OF
THE SYSTEM. THERE IS GOOD CONFIDENCE IN THE INITIAL POSITION BASED
ON A 291202Z SSMIS 91 GHZ MICROWAVE IMAGE SHOWING CONVECTIVE
BANDING WRAPPING INTO THE LLCC. THE INITIAL INTENSITY IS SET AT 35
KTS WITH GOOD CONFIDENCE BASED ON THE A 290534Z METOP-C ASCAT PASS
WHICH DEPICTS A BROAD REGION OF 30-35 KT WINDS AROUND THE
CIRCULATION. TC 05S IS IN A FAVORABLE ENVIRONMENT WITH GOOD
POLEWARD OUTFLOW, MODERATE (15-20 KTS) VERTICAL WIND SHEAR (VWS),
AND WARM (27-28 CELSIUS) SEA SURFACE TEMPERATURES (SST). TC 05S IS
UNDER THE STEERING INFLUENCE OF A NEAR EQUATORIAL RIDGE (NER) TO
THE NORTH AND A SUBTROPICAL RIDGE TO THE EAST, TRACKING SOUTH-
SOUTHWESTWARD. IN THE NEAR-TERM, TC 05S IS EXPECTED TO CONTINUE
TRACKING SOUTH-SOUTHWESTWARD THROUGH TAU 24. FOLLOWING THIS, THE
SYSTEM WILL TURN TO A SOUTH-SOUTHEASTWARD TRACK AS IT ROUNDS THE
STR AXIS AROUND TAU 24. THE SYSTEM WILL CONTINUE TO TRACK SOUTH-
SOUTHEASTWARD FOR THE REMAINDER OF THE FORECAST PERIOD. NEAR TAU
72, THE SYSTEM WILL BEGIN TO INTERACT WITH A PASSING MID-LATITUDE
TROUGH CAUSING TC 05S TO ACCELERATE SOUTHEASTWARD AND BEGIN
EXTRATROPICAL TRANSITION AS IT INTERACTS WITH THE BAROCLINIC ZONE.
NUMERICAL MODELS ARE IN FAIR AGREEMENT WITH ALL MODEL SOLUTIONS
DEPICTING A RECURVE SCENARIO. HOWEVER, THE TIMING OF THE RECURVE
VARIES BETWEEN MODELS. OF NOTE, GFS, GFS ENSEMBLE, AND NAVGEM
TRACK TC 05S FURTHER SOUTHWEST PRIOR TO RECURVING BETWEEN TAU 24
AND 36. THE JTWC FORECAST TRACK IS PLACED CLOSER TO THE GALWEM,
UKMET, AND UKMET ENSEMBLE SOLUTIONS AS THESE APPEAR MORE
DYNAMICALLY ACCURATE AT THIS TIME. DUE TO THE UNCERTAINTY IN THE
TIMING OF THE RECURVE, THERE IS LOW CONFIDENCE IN THE JTWC TRACK
FORECAST. MAXIMUM SIGNIFICANT WAVE HEIGHT AT 291200Z IS 15 FEET.
NEXT WARNINGS AT 300300Z AND 301500Z.
INTENSITY FORECAST TO PEAK WITHIN 36H
ASCAT 29/0459UTC
TRACK AND INTENSITY GUIDANCE