EASTERN NORTH PACIFIC OCEAN: HU 01E(AGATHA). LOCATION AND MAXIMUM WINDS ESTIMATED AT 30/00UTC. WARNING 9 ISSUED AT 30/04UTC. CLICK ON THE IMAGERIES BELOW TO GET THEM ENLARGED.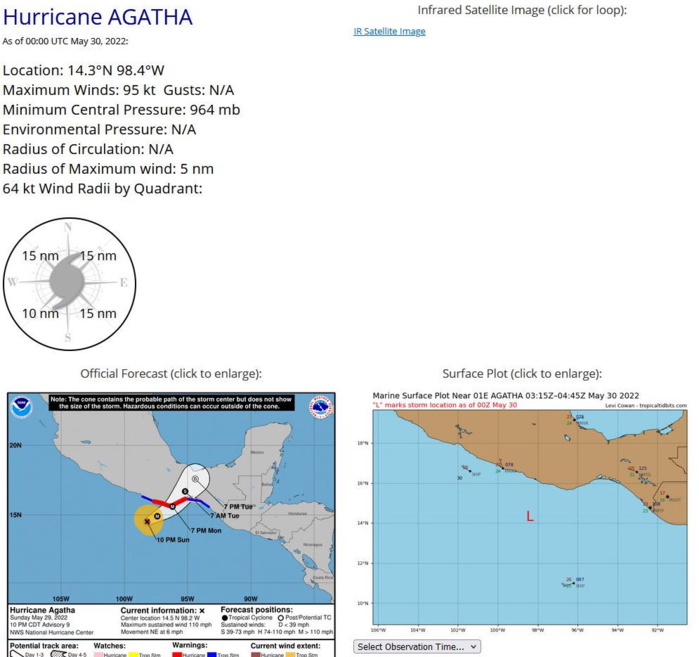 EP, 01, 2022052900,138N, 988W, 55
EP, 01, 2022052906,139N, 990W, 65
EP, 01, 2022052912,140N, 991W, 75
EP, 01, 2022052918,140N, 989W, 90
EP, 01, 2022053000,143N, 984W, 95

WARNING 9. NHC DISCUSSION.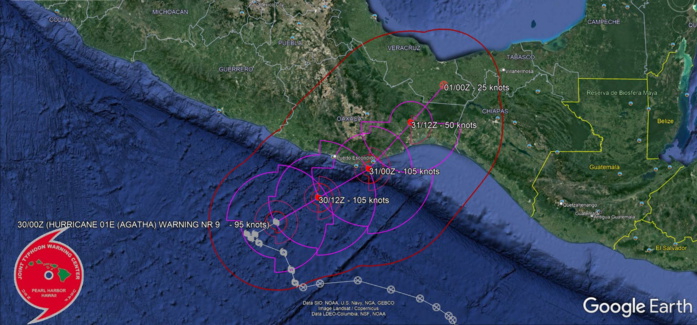 Hurricane Agatha Discussion Number 9 NWS National Hurricane Center Miami FL EP012022 1000 PM CDT Sun May 29 2022 It seems like the rapid intensification of Agatha has finally leveled off. Satellite images show that while the hurricane continues to have strong convection near the center, there is no real sign of an eye emerging. In addition, recent microwave data has degraded some since this afternoon, although the small inner core is not easily resolved on most instruments. The 00Z TAFB/SAB satellite classifications haven't changed from earlier, so the initial wind speed will stay 95 kt on this advisory. Agatha still has about a day to intensify over very warm waters with light shear, and the hurricane should become a major hurricane before landfall late Monday. Similar to last night, guidance has come down from the last cycle, but I'm not falling for it this time. The new forecast is primarily based on the last forecast and the overall conducive environment for strengthening up until landfall. Agatha is finally moving to the northeast, estimated at 055/5 kt. The hurricane should continue moving to the northeast or east-northeast at a little faster rate as it becomes embedded in low- to mid-level southwesterly flow. Model guidance has shifted slightly eastward since this afternoon, perhaps since the now vertically deeper hurricane could feel the upper-level westerlies more. Regardless, almost all of the models show Agatha near the southern coast of the Mexican state of Oaxaca in about 24 hours, and the new forecast is nudged eastward to come into line with the latest consensus trackers. After landfall, rapid weakening is forecast and Agatha is expected to dissipate over the high terrain of southern Mexico late Tuesday.
WESTERN NORTH PACIFIC OCEAN: INVEST 93W. LOCATION AND MAXIMUM WINDS ESTIMATED AT 30/00UTC. ADVISORY(ABPW) ISSUED AT 30/06UTC.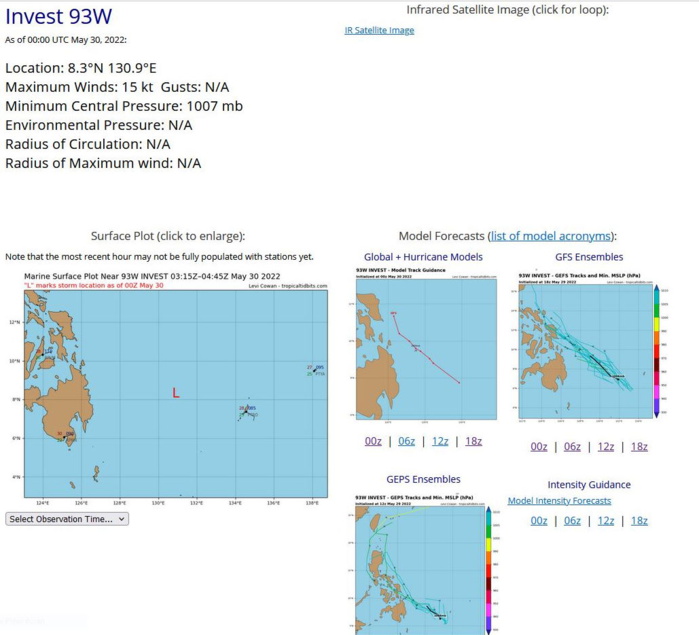 THE AREA OF CONVECTION (INVEST 93W) PREVIOSLY LOCATED NEAR 5.5N 132.1E IS NOW LOCATED NEAR 9.5N 129.5E, APPROXIMATELY 740 KM EAST-SOUTHEAST OF LEGAZPI, PHILIPPINES. A 292122Z ANIMATED MULTISPECTRAL SATELLITE IMAGE SHOWS DISORGANIZED, PERSISTING CONVECTION WITH A POORLY ORGANIZED LLC. A RECENT METOP-C ASCAT PASS REVEALS A PATCH OF 15-20KT WINDS IN THE SOUTHERN SEMICIRCLE OF THE AREA. ENVIRONMENTAL ANALYSIS SHOWS THAT THE INVEST IS IN A MARGINALLY FAVORABLE AREA FOR DEVELOPMENT DEFINED BY WESTWARD OUTFLOW, LOW (5-10KT) VERTICAL WIND SHEAR AND WARM SEA SURFACE TEMPERATURES (30C). GLOBAL MODEL GUIDANCE IS IN AGREEMENT THAT THE INVEST WILL TRACK GENERALLY NORTHWEST OVER THE NEXT 48 HOURS. MAXIMUM SUSTAINED SURFACE WINDS ARE ESTIMATED AT 15 TO 20 KNOTS. MINIMUM SEA LEVEL PRESSURE IS ESTIMATED TO BE NEAR 1008 MB. THE POTENTIAL FOR THE DEVELOPMENT OF A SIGNIFICANT TROPICAL CYCLONE WITHIN THE NEXT 24 HOURS REMAINS LOW.
WP, 93, 2022052900,53N, 1337E, 15
WP, 93, 2022052906,61N, 1330E, 15
WP, 93, 2022052912,68N, 1324E, 15
WP, 93, 2022052918,75N, 1317E, 20
WP, 93, 2022053000,83N, 1309E, 15
SOUTH INDIAN OCEAN: INVEST 92S. LOCATION AND MAXIMUM WINDS ESTIMATED AT 30/00UTC.ADVISORY(ABIO) ISSUED AT 29/18UTC.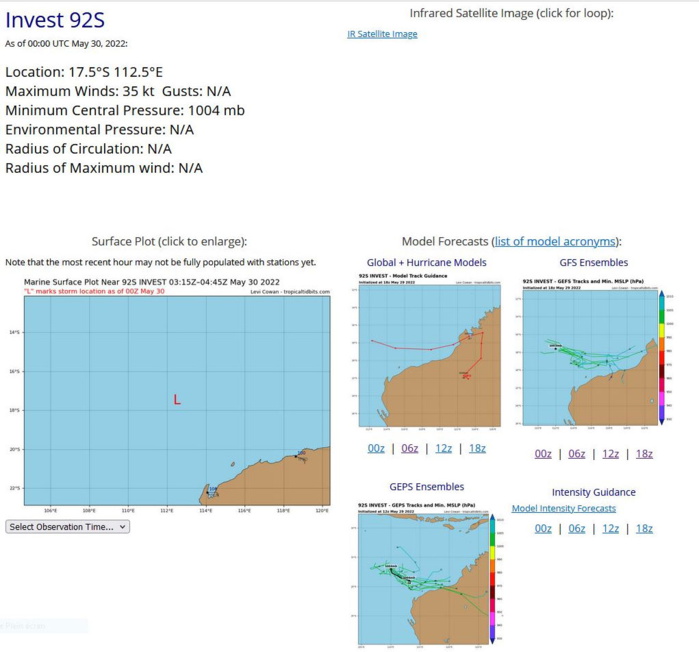 AN AREA OF CONVECTION (INVEST 92S) HAS PERSISTED NEAR 16.9S 111.3E, APPROXIMATELY 660 KM NORTH-NORTHWEST OF LEARMONTH, AUSTRALIA. THE SYSTEM IS CURRENTLY CLASSIFIED AS A SUBTROPICAL STORM, GENERALLY CHARACTERIZED AS HAVING BOTH TROPICAL AND MID- LATITUDE FEATURES. THE SYSTEM IS LOCATED POLEWARD OF THE SUBTROPICAL RIDGE, UNDER STRONG NORTHWESTERLY UPPER-LEVEL FLOW WITH A SUBTROPICAL JET TO THE SOUTH, AND IS INTERACTING WITH A MODERATE BAROCLINIC ZONE. ANIMATED ENHANCED INFRARED SATELLITE IMAGERY DEPICTS A BROAD, DISORGANIZED SYSTEM WITH DEEP CONVECTION SHEARED TO THE EAST DUE TO MODERATE TO STRONG NORTHWESTERLY VERTICAL WIND SHEAR. A 291620Z GMI 89GHZ COLOR COMPOSITE MICROWAVE IMAGE REVEALS SHALLOW BANDING WRAPPING INTO A BROAD, WEAKLY-DEFINED LOW-LEVEL CIRCULATION WITH THE BULK OF THE DEEP CONVECTION DISPLACED EAST. A 291434Z ASCAT-B IMAGE SHOWS A HIGHLY ASYMMETRIC WIND FIELD WITH 30- 35 KNOT WINDS OVER THE EASTERN AND SOUTHERN PERIPHERIES. GLOBAL MODELS INDICATE THIS SUBTROPICAL SYSTEM WILL SLOWLY TRACK SOUTHEASTWARD OVER NORTHWEST AUSTRALIA OVER THE NEXT TWO DAYS WITH GRADUAL WEAKENING. MAXIMUM SUSTAINED SURFACE WINDS ARE ESTIMATED AT 30 TO 35 KNOTS. MINIMUM SEA LEVEL PRESSURE IS ESTIMATED TO BE NEAR 1004 MB. FOR HAZARDS AND WARNINGS, REFERENCE THE FLEET WEATHER CENTER SAN DIEGO HIGH WINDS AND SEAS PRODUCT OR REFER TO LOCAL WMO DESIGNATED FORECAST AUTHORITY. THE POTENTIAL FOR THE SYSTEM TO TRANSITION INTO A SIGNIFICANT TROPICAL CYCLONE WITHIN THE NEXT 24 HOURS IS LOW.
SH, 92, 2022052800,128S, 1034E, 20
SH, 92, 2022052806,137S, 1045E, 20,
SH, 92, 2022052812, 146S, 1060E, 20
SH, 92, 2022052818, 152S, 1069E, 20
SH, 92, 2022052900, 153S, 1078E, 20
SH, 92, 2022052906, 156S, 1089E, 25
SH, 92, 2022052912, 162S, 1101E, 30
SH, 92, 2022052918, 169S, 1113E, 35
SH, 92, 2022053000, 175S, 1125E, 35
ECMWF ENSEMBLE AT 29/18UTC UP TO +240H.
ECMWF ENSEMBLE AT 29/18UTC UP TO +240H.