TC 25P . CLICK TO ANIMATE IF NECESSARY.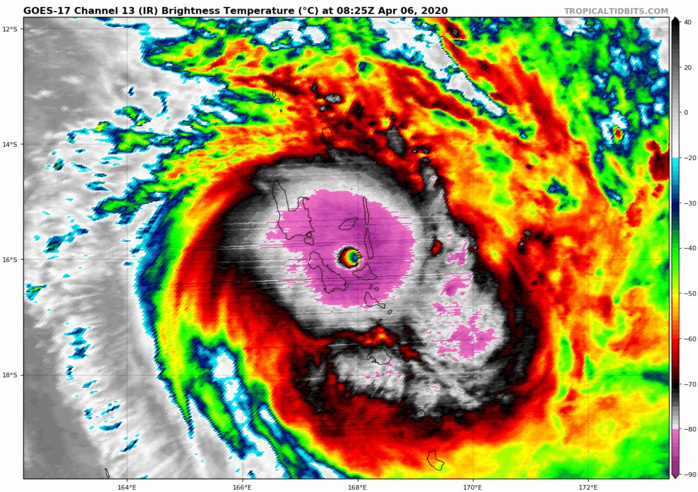 CIRA
TC
#
25P
#
HAROLD
SOUTH PACIFIC
As of 06:00 UTC Apr 06, 2020:
Location: 15.8°S 167.8°E
Maximum Winds: 135 kt ( 250km/h)
Gusts : 165 kt ( 305km/h)
Minimum Central Pressure: 920 mb
CATEGORY US: 4
NEAR PEAK INTENSITY
REMARKS:
060900Z POSITION NEAR 15.9S 168.3E.06APR20. TROPICAL CYCLONE 25P (HAROLD), LOCATED APPROXIMATELY 118NM NORTH-NORTHWEST OF PORT VILA, VANUATU, HAS TRACKED EAST-SOUTHEASTWARD AT 11 KNOTS OVER THE PAST SIX HOURS. ANIMATED ENHANCED INFRARED SATELLITE IMAGERY (EIR) SHOWS TC 25P HAS MAINTAINED A WELL DEFINED 15NM EYE WITH SYMMETRIC DEEP CONVECTION THROUGHOUT. THE INITIAL POSITION IS PLACED WITH HIGH CONFIDENCE BASED ON THE EYE FEATURE AND A MICROWAVE EYE SEEN IN THE 060554Z SSMIS 91GHZ IMAGE. THE INITIAL INTENSITY IS BASED ON THE DVORAK ESTIMATE OF T7.0 (140 KNOTS) FROM PGTW AND A 060610Z ADVANCED DVORAK TECHNIQUE ESTIMATE OF 127 KNOTS. ENVIRONMENTAL ANALYSIS INDICATES A VERY FAVORABLE ENVIRONMENT WITH LOW (10-15 KNOT) VERTICAL WIND SHEAR (VWS), STRONG POLEWARD OUTFLOW, AND HOT (29-30 DEGREES CELSIUS) SEA SURFACE TEMPERATURES (SST). TC 25P HAS BEGUN TO TRACK MORE POLEWARD AS THE SUBTROPICAL RIDGE TO THE NORTHEAST HAS ASSUMED STEERING. THE STRONG POLEWARD OUTFLOW AND WARM SST, WILL GRADUALLY BE TEMPERED BY INCREASING VWS AFTER TAU 48 WHICH WILL WEAKEN THE CYCLONE DOWN TO 60KTS BY TAU 96. BY TAU 72, TC HAROLD WILL BEGIN SUBTROPICAL TRANSITION AS TRACK SPEED RAPIDLY INCERASES, BECOMING SUBTROPICAL BY TAU 96. INTENSITY GUIDANCE IS IN FAIR AGREEMENT OVER THE NEXT 48 HOURS, BECOMING MORE CONCLUSIVE AS VWS BECOMES MORE PREDOMINATE. NUMERICAL TRACK GUIDANCE MODELS ARE IN TIGHT AGREEMENT, LENDING HIGH CONFIDENCE IN THE JTWC TRACK FORECAST. MAXIMUM SIGNIFICANT WAVE HEIGHT AT 060600Z IS 45 FEET. NEXT WARNINGS AT 061500Z, 062100Z, 070300Z AND 070900Z.//
NNNN
TC 25P. WARNING 15.
WARNING 15
TC 25P: TRACK AND INTENSITY GUIDANCE.
HIMAWARI-8 AT 06/0750UTC.
05/0730UTC
06/0721UTC
06/0545UTC
06/00UTC